Epic rock music is the vessel for a desire to tell stories through dramatic composition and instrumentation. It's a four-man group and a… four man creative system. The songs differ greatly from the first to the latest album, whilst a red thread is clearly present – being the progressive shape of the compositions and the character and playing style on the instruments.
Members
MARTIN BYRIAL – VOCAL, SYNTHESIZERS
TUE SCHMIDT RASMUSSEN – GUITAR, SYNTH
ASBJØRN HELBOE – BASS, WIND INSTRUMENT, SYNTH
JON GOTLEV – DRUMS, EFFECTS
ARTWORK BY NO HEROES // JON GOTLEV
EMAIL: JONGOTLEV@NOHEROES.DK – WWW.NOHEROES.DK
GET IN TOUCH // CONTACT@LISERSTILLE.COM
2012: The fourth full-length album NOUS was released once again on VME. The album was the first to be recorded in LISERSTILLE's own studio Cube of Eternal Doom on an old farm in the outskirts of Aarhus, DK. Once again mixed and mastered in the darkness of NIM by Anders Ruby, and once again critically high acclaimed all over Europe with even more countries on the list. NOUS is modern epic in high definition!
2010: Three years of intense composing later, the bombastic and truly epic album The Collibro was finally ready for release in spring 2010. After being recorded in complete solitude in a lodge by the band itself, the tracks were brought to the north where Magnus Lindberg, drummer and producer of Swedish prog metal band Cult Of Luna, did a deep and warm analog mix and master, which completed the complex album. The Collibro was released in Europe by VME and gained huge attention from music media all over the world. Especially the German magazines agreed on the groundbreaking quality of the album and Germany's biggest prog rock magazine, Eclipsed, awarded it 'Album of the month'. The release was followed up by several full European tours, which among others took the band to the famous Belgian festival for progressive music, Dunk!Festival.
2007: Exactly one year from the debut came the second album Apathobvious, which both started the close cooperation with producer Anders Ruby and put LISERSTILLEs music into a new and more professional approach to the recording process. One, which lives today stronger than ever and contributes to the many dimensions and layers in the songs – even after a countless number of plays. Massive touring in Denmark and Scandinavia followed up Apathobvious.
2006: The band recorded their first demo to present to the business. This however became their debut album when Target Records (DK) decided to release the 4 track – 43 minutes recording. Following the tremendous success of The Construction of the AmpTrain, LISERSTILLE opened the Danish SPOT festival, played Roskilde Festival and had showcases at PopKomm in Berlin. Legendary music journalist, David Fricke also mentioned LISERSTILLE in the American issue of Rolling Stone Magazine and compared the band with Sigur Rós and the early days of Pink Floyd.
2004: Formed as an art project designed to put music on the emotions derived from paintings, LISERSTILLE has always been on a quest to redefine the way we perceive music and question the traditions of modern rock.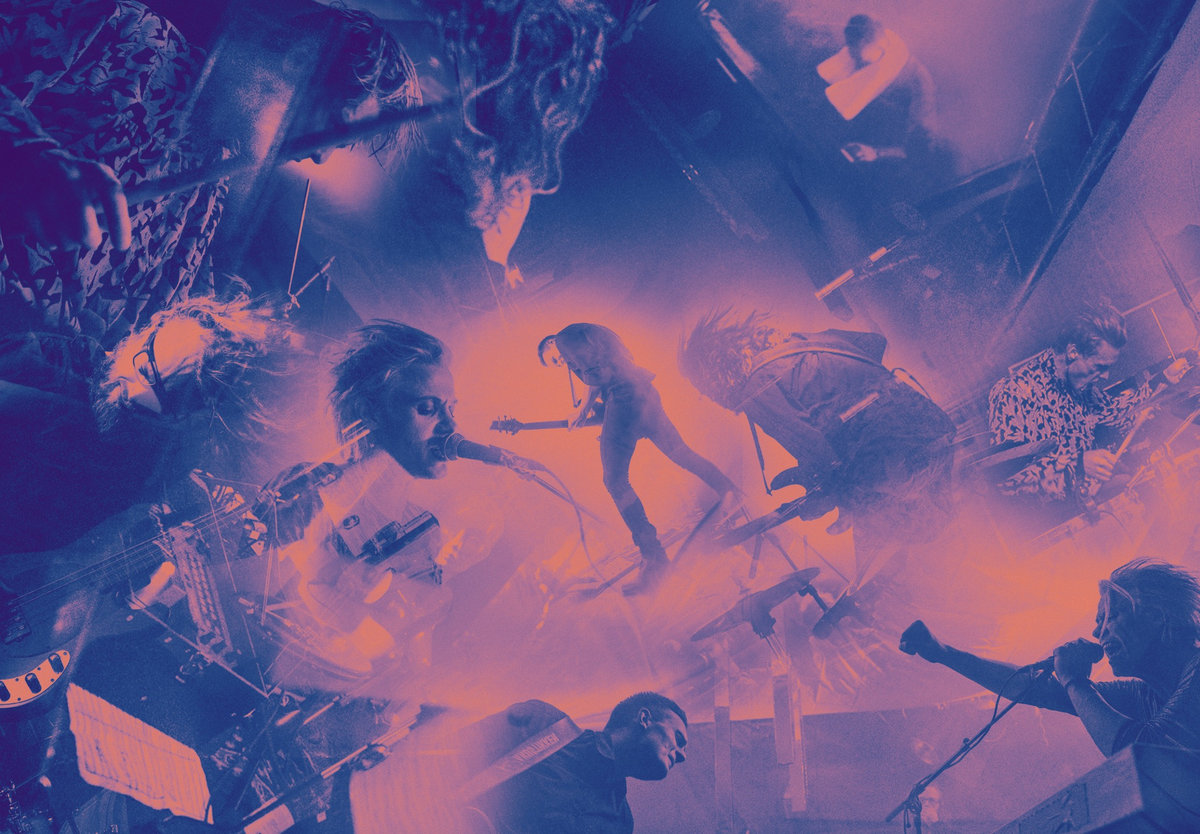 "MIDNIGHT WAVE" LIVE AT RADAR 2015
THE HISTORY
In the fall of 2018, LISERSTILLE exhibited a music composition. A piece was created from scratch in the shape of a 6 day live composition piece, through the faculty of an acousmonium with multiple speakers playing back the individual parts like a symphony. Ultimately the work of music was recorded binaurally in front of an intimate audience on the final day of the cycle. The result is the new album named Ilt – out on 15 March 2019.
2016: LISERSTILLE's ambition to put new colors on the institutionalized Danish music scene featured a full transformation of the venue Radar with 360 degrees stage, video art, light design and more. The event included a full two-hour concert starting at midnight and resulting in the first ever LISERSTILLE live album: MIDNIGHT WAVE (Live at Radar 2015).
2015: LISERSTILLE released the new full length, wide format album. Empirical Ghost was mixed in Seattle by producer Randall Dunn (Sunn O))), Earth, Steve Akron/Family) and released as digipak CD and luxurious double white vinyl by German G-Records/Rough Trade. The four gents' desires for modern epic are intact, but the album presents a structurally and sonically new world. Mr. Dunn's unmerciful priorities create a sparkling red thread that underlines why LISERSTILLE is Denmark's most incomparable rock band.
"Abysmal, gloomy, noisy, spherical, grandiose, experimental – Danish LISERSTILLE belong to the most exciting bands of the younger avant-garde-rock history." ROCK HARD – one of Germany's biggest print magazines – about Empirical Ghost.
2014: LISERSTILLE returned to the spotlight of the international music business once again in, with showcases at various festivals including the first travel overseas to the huge music business festival Canadian Music Week in Toronto, ON.
2013: The mini-album Flight of Belljár was released in fall 2013 containing three steps, three stories, circulating around the ultimate destruction of planet Earth – nothing less! Instruments are exchanged, and the result shows that the huge tension and release, always stated as the bands greatest strengths, is furthermore emphasized though a natural insecurity walking unknown territory. Then, when the musicians finally intake their signature positions, the release is enhanced far more than ever before!
Discography
MIDNIGHT WAVE (Live at Radar 2015)
EMPIRICAL GHOST (2015)
Flight of Belljár (2013)
NOUS (2012)
The Collibro (2010)
Apathobvious (2007)
The Construction Of The Amptrain (2006)
https://liserstille.bandcamp.com/merch
Videos
https://www.youtube.com/channel/UCe4kr8r0FiAevTRmuGIEanw
Rezensionen
Eigenartig – nach Jahren mehr oder weniger emsiger Tätigkeit sind auch Liserstille (Lis Er Stille? LisErStille?) nach dem gelungenen "Empirical Ghost" sozusagen schon seit Jahren auf Tauchstation. Nun gibt es aber mit "Ilt" doch ein neues Lebenszeichen der Dänen – oder nicht? Denn "Ilt" liegt gemessen an dem, was auf den bisherigen Alben der Band zu hören war, gewissermaßen etwas neben der Spur. Anstatt der gewohnten Mischung aus Post- und New Artrock im teils ganz schön krachigen Breitwandsound gibt es nämlich aktuell stattdessen ein ganzes Album voller Soundscape-Elektronik, Dingen also, die bislang allenfalls für Zwischenstücke oder den Hintergrund herangezogen wurden. So weit, so ungewöhnlich? Vielleicht nicht, denn eventuell haben's Riverside mit ihrem "Eye Of The Soundscape"-Album sogar vorgemacht, und auch sonst scheinen Ambient & Co. ja seit Fripps Zeiten ein beliebter Nebenschauplatz für Solowerke zu sein.
Andererseits allerdings steht damit auch die Innovation im Raum, denn die verschiedenen Sounds, die hier so komponiert werden, kennt man irgendwie alle schon. Wummernde Basstöne, seufzende Akkorde, heulend-schleifende Klänge, pochende Rhythmen, metallische Perkussion, abstraktes Röhren, womit sich jeweils mal kratzige Nervosität, mal harmonischer Wohlklang ergibt, und das alles jeweils an- und abschwellend sowie durchzogen von latenten Melodiefetzen – sowas gibt's eigentlich auf jeder besseren Genreplatte, und auch auf "Ilt" nimmt sich dergleichen mal mehr, mal weniger verträglich aus. In die nervenaufreibendere Kategorie fallen "Atom Traum" mit zerfetzten Heulklängen zu einem raschelnd-knisternden Hintergrund sowie "Next Bodies", das auf einer Xylofon-artigen Sequenz ganz im Hintergrund wiederum sägende Gitarrentöne legt. "Dun" und "Ardor" sind mit jeweils nur wenigen kombinierten Elementen wiederum in ihrem Minimalismus dürftig und träge ausgefallen. "Mykes" wiederum erinnert mit hallenden Gitarrentönen direkt an Popol Vuh oder Ash Ra Tempel, aber leider passiert hier auch nicht gerade viel.
Aber es gibt natürlich auch bessere Momente. Schon "Derelict" baut aus An- und Abschwellen eine gewisse Spannung auf, später erzeugen tief knurrende Töne, die jeweils summend hernierdersinken, eine interessante Form von Rhythmik. Auch "Sentinel" überrascht, wird hier doch nach einem abstrakten Noise-Intro erst mit Orgel-artigen Klängen Wohlklang erzeugt, dieser dann aber nach gut 2:10 mit schneidenderen Tönen auf diesem Instrument und bizarr-disharmonischen Bläserklängen verstörend aufgewirbelt. Auch "We Have To Stop" ist zumindest dahingehend konsistent, dass es sich recht schnell auf eine Melodie in einer Oboen-artigen Synth-Stimme konzentriert (leider zu eher behäbiger Rhythmik), schafft dann aber dennoch den Absprung, indem mit schrägeren Synthies abgehobene Akkorde intoniert werden und auch die übrige Klangkulisse diesen Überschwang aufnimmt.
Eine Sonderrolle nehmen natürlich noch die beiden abschließenden Longtracks ein. "Hegira" eröffnet wiederum mit markanten Orgel-artigen Akkordfolgen, latent sakral und erinnert damit beinahe an Czesław Niemens legendäres "Enigmatic". Steigerungen gibt's erst mal über diese Orgel selber, als würden höhere Register dazugeschaltet werden. Diesen Anstieg aber flankieren nervös flirrende Töne, die den pastoralen Hintergrund ab ca. 7:00 tatsächlich überdecken, und sirenenhafte Nervosität nimmt überhand. Zum Ende folgt noch eine kurze Remineszenz an das Orgelmotiv vom Anfang, das im Finale aber wiederum zerlegt wird. Das ist soweit ziemlich schlüssig. "To The End Of Things" ist dagegen wieder abstrakter und minimalistischer, bringt dafür aber auch die Gitarre (oder das, was man dafür halten kann) ins Spiel und weist auch eine kleinteiligere Strukturierung auf – ist aber angesichts des nervöseren Sounds wohl schwerer zu schlucken. Immerhin bemerkenswert ist, dass "Ilt" damit mal nicht in allumfassender Harmonie ausklingt.
Unterm Strich weist "Ilt" damit neben den generellen klanglichen Merkmalen auch alle Vor- und Nachteile dieses Genres aus und ist so gesehen an sich auch akzeptabel. Fraglich wäre allerdings, inwiefern diese Platte Liserstille nun voranbringt, denn sie wirkt eher wie ein Destillat von bislang im Stil der Band enthaltenen Elementen denn wie eine Erweiterung desselben. Das zeigt sich am ehesten in "Horizon", das tatsächlich eine bislang im Liserstille-Kosmos existente Melodik ausbreitet. Aber, wer weiß: Vielleicht folgt auf diese Form der Konzentration ja die Neuausrichtung und -gewichtung der bisherigen Elemente, und vielleicht wird ein "künstiges" Album der Band – ähnlich wie letztes Jahr "ET EX" von Gösta Berlings Saga – die rockige Seite nurmehr als Juniorpartner neben die elektronische stellen. Man darf gespannt sein, ob Liserstille mit "Ilt" zumindest zum andauernden Engagement zurückgefunden haben.
http://www.babyblaue-seiten.de/album_18240.html
http://www.liserstille.com/portfolio/midnightwave/
Brilliant compositions and virtuosity is a trademark of this band, there is a growing degree of creativity from the first to the last album, always staying true to its essence, congratulations, great group.