It is one of the most interesting Brazilian bands today. Drinking from sources of genres ranging from post-rock to post-hardcore to indie and emo, the guys released their debut album, Foundation, in 2018.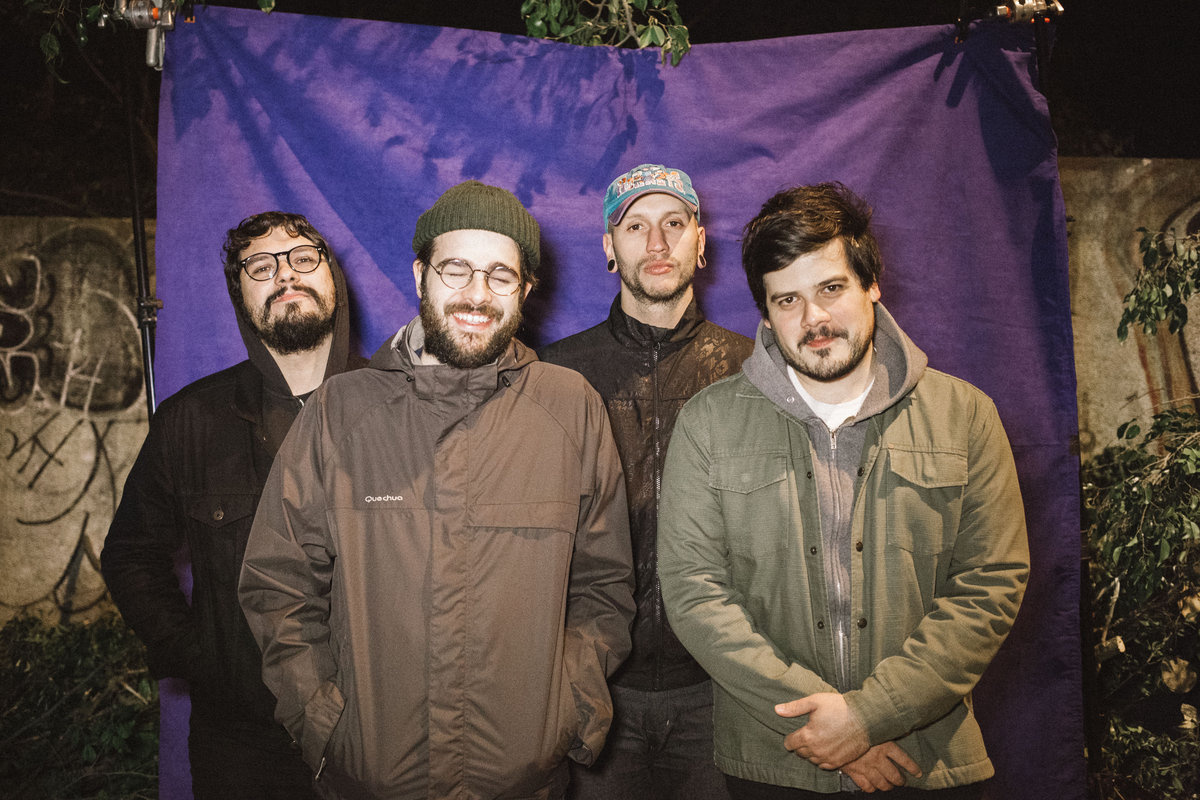 The band is from São Paulo, formed by Lucas Theodoro (Guitar), Luden Viana (Guitar), Luccas Villela (Bass) and Rafael Jonke (Drums).
In his discography we have the EPs "E A Terra Never Seemed So Distant" (2013), "Vazio" (2014), "Fear of Dying / Fear of Trying" (2016). Singles "HIP 13044b" (2013), "Luz Acesa" (2014), and the first studio album "Fundação" released in 2018 by the Balaclava Records label. Many cities in the country have played, played in many festivals and this year will be one of the attractions of the third day of Lollapalooza Brasil. In fact it will be the first instrumental band in history to play at the festival.
Alternative rock, post rock, but evolving and expanding the horizons in its influences on the last album. It is very likely that liking instrumental music requires a little more patience, losing the urge to wait for the whisper of a voice. They tell us stories even if by sound, they can serve as a soundtrack without even realizing it.
The feeling that the band gives in their music ranges from deeper reflection to the most aggressive way of exposing feelings hidden in the most complex parts of our being. All the songs are an invitation to imagination and interpretation, adding day to day experiences and past memories.
Hearing from home you realize how much the band explores the sound, especially on the last album. We have many layers of guitars, timbres, the mark of the bass and drums (including a song with saxophone that you will have to listen to find out which one it is), and for the first time a song "sung". But it is live that you feel the intensity, complexity and simplicity of how the sound is and how all this is translated by the band in its presentation.
text Rocknbold
Discography
Fundação sep/2018
21/09/2018 By: Cleber Facchi
In 2014, when members of the São Paulo band E A Terra Never Seemed So Distant gave life to the first two unpublished EPs of their career, Vazio and a homonymous record of four tracks, there was a clear interest by the group to dive into the formation of atmospheric bases and extensive environments, naturally intimate with post-rock classics conceived in the late 1990s. Compositions assembled in a proper measure of time, without haste, as instrumental landscapes deliciously worked in a way to hypnotize the listener.
Without necessarily perverting this same detailed structure that has been explored by musicians Lucas Theodoro, Luccas Vilella, Luden Viana and Rafael Jonke, it is curious to notice in the recent Foundation (2018, Balaclava Records), the debut album of the São Paulo quartet, a new aesthetic direction. As indicated during the launch of Daiane, a composition chosen to announce the record, the peaceful sound of yesteryear opens the door to the formation of an energetic material, sometimes urgent, as a partial escape from the concept that had been explored until the compact Fear of Dying / Fear of Trying (2016).
An example of this is the one-two composed by the title track of the album and Karoshi, right at the opening of the work. It takes just over five minutes in which guitars loaded with effects and steady beats mix at all times, resulting in a deeply energetic act, a creative bridge for the rest of the work. Instrumental variations ranging from the post-hardcore of groups like Fugazi to jazz, a concept that was intelligently reinforced in the short film If so, where would we end up ?, a composition that shows the complete versatility of the group.
Of course, the search for a less contained sound does not interfere in the production of essentially detailed tracks, intimate with the band's old works. This is the case of A Caminho De, music that preserves the acceleration imposed by the quartet, however, it allows itself to taste small creative breaths and instrumental layers that reflect the care of each member of the EATNMPTD. Seventh song of the disc, As what is not repeated is another cut of the album that calls the attention for the small rhythmic variations. Arrangements that grow in small doses, as if designed to surround the listener.
Of the few moments in which the quartet distances itself from this predominant energetic base, it is interesting to notice the appearance of some of the most precious compositions on the disc. It is the case of Every day his memory strikes me, but it does not matter, music in which the São Paulo group allows itself to taste electronic themes, playing with the insertion of climatic environments, always welcoming. In the final If the answer generates doubt, then it is not the solution, guitars and synthesizers worked in a contained way, starting point for the cyclical poetry sung by the band members as a mantra ("If the answer generates doubt, then it is not the solution / If the answer generates doubt, then it is not the solution ").
I go even further in relation to the material that was being produced by EATNMPTD, Fundação, as its name implies, establishes a series of new concepts, rules and instrumental preferences of the São Paulo quartet, serving as a creative foundation for the future records of the band. It is as if each composition of the disc were worked as an isolated object, a proposal that at no time impairs the coherence of the work. Moments of brief recollection, fury and agitation that show the strength and capacity of the group to reinvent itself within the studio.
E a terra nunca me pareceu tão distante nov/2013
"Banda paulistana, with only a small EP released, shows that it knows how to do Post ‐ Rock like few others." – Monkeybuzz"Indispensable for those who like to listen to music with their soul." – Indie ShoePost-Rock. Sao Paulo. Brazil.And Terra Never Seemed So Distant is based on post-rock, but it also mixes with elements of punk and independent music from the 90s. The compositions stroll between guitars loaded with "delay" that build characteristic post-rock arrangements and quickly become heavy with passages accompanied by extremely intense drum lines and minimalist and safe bass.In August 2013 the band records and mixes a demo of 2 songs on their own: Nem Tanto, Nem So Tão. With all physical copies with a handwriting number written by the band.Three months later they entered the studio to record, mix, master and release their first EP in the same month with a show at CCJ. Homonymous, the debut EP of the São Paulo quartet contains 26 minutes spread over 4 tracks.At the end of 2013 the band was mentioned in several lists of best albums of the year, pointed out on sites like Scream & Yell and Catárticos.Currently the band seeks to tour to play and take their music to as many places as possible.
Vazio nov/2014
Post-Rock is one of the most human musical genres in existence. The environments and the consequent interpretations that are created from ethereal, reverberated and playful instruments have a very close relationship with the conscious and unconscious of their composers, being one of the most effective translators of feelings.
The most incredible thing is that all the immensity of this universe is created, most of the time, without voices or letters, therefore, the interpretation of each one is very wide and varies a lot with the experiences lived by the listener. We found strong names of the genre on the international scene, but with the release of their new EP, Vazio, the band from São Paulo, E A Terra Never Seemed So Far To Me shows that this world of dreams is not so far from us.
Since their first EP, released in 2013, the band has an interesting proposal to name their beautiful compositions with great titles that, at times, seem to be taken from a great narrative. This contributes to give us an idea of ​​what inspired the band to compose and, also, to direct us in a world as ethereal and big as the one of Vazio. Every Body Has a Little Prison shows us that we are facing a record focused on a theme of solitude and confinement, be it physical or psychological. The abrupt guitar chords are heavy but, at the same time, they have a beauty that shows us, in a way, the good side of isolation.
Anyway, it is a more melancholy record than the first. Open Window is one of the moments when we have this sadness erased, as if we were looking out the window of our prison. … And you wait for so long that you no longer remember why it justifies an existentialist atmosphere, full of guitar effects that give a smooth dynamic, but at the same time, tense. When You Will Know That I Have Caught Enough creates a comfortable sound texture, but at the same time disorienting, as if the band constantly wanted to remember that, even though you are in this beautiful dream world, you are still trapped.
And Terra Never Seemed So Distant shows us an EP that needs no comparison with his latest work. We have the same beauty as the band, applied to a different narrative. It is good to know that we have national artists concerned with this dynamic and sound identity. This record creates great anxiety for a future release, be it an EP or a complete album.
The void has never sounded so good.
Interview with Jardimeletrico.com
How was the beginning of the band? Who had the initial idea?
Me (Rafael) and Luden have always played together, as well as Lucas and Marcelo, since kids. A previous project of ours (mine and Luden's) was over and, as we always had this need to play, to be active, we decided that, after some time, it was time to start something new. There were some changes in formation, but always with me, Luden and Lucas. The exchanges, in fact, have always been of the bass players. We signed up with Marcelo and he recorded Demo, EPs and Singles with us. And after his departure came Luccas, with whom we have been playing since the beginning of the year and composing the new songs.
How did you approach instrumental music?
I think this is a very personal thing for everyone. I had my immersion in instrumental music and today I don't listen as much as I used to. But I believe that I speak for everyone when I say that this is how we like to play. Freedom of creation and power to express ourselves more freely.
Where did the name "And the land never seemed so distant" come from?
The name was Luden's idea, right at the beginning of the band, for a supposed EP that we would release. We thought of several possibilities for naming the band, but it ended up looking more correct for what we do and what we feel. And today we like him very much!
How was the production of the EP "Vazio"? And the experience with crowdfunding?
It was a little more dense than the first EP. At the time of recording the songs, we had already spent almost two years playing together, traveling and increasing coexistence in general. Many melodies from the eponymous EP of 2013 were "leftovers" from other projects of ours or old music ideas, "Vazio" was a process that started from scratch and we ended up writing and giving directions to the tracks much more together (instead of someone introducing a more closed idea of ​​music in the composition process). The name itself came a little from the idea that we had a blank space for the first time to fill (or represent).
Crowdfunding greatly influenced the production of the EP. Starting with the basics that we wouldn't have the money to record the songs if it weren't for people's collaboration, hahaha. But at the time it came as an incredible surprise because, for the first time, we had a palpable idea of ​​how many people accompanied us and were willing to invest in a record that they had never even heard before.
Of course, this ends up generating a kind of unconscious responsibility. After all, in addition to knowing how many people were waiting for this launch, they were people who had invested their money in this production. This was never discussed between us or anything like that, but deep down I think that each one carried a little weight of knowing that those songs would be heard by people who already had a basis for comparison with songs that we had released before. The two EPs have their proximity, but we took risks in several ways on these songs, so there was an anxiety to understand how people would react.
But we are forever grateful to everyone who helped with this project and, certainly, it is a fundraising format that we want to repeat.
Still on the EP "Vazio", are the songs interconnected? I feel it when I listen.
In our two EPs the songs are interconnected in some way. We always try to think of albums as a unit to be heard from beginning to end as a single work. Whether by changing tracks or repeating themes, we care a lot about how the whole connects.
That's why we left out a song from each EP and released it as singles. They were songs that we believed worked very well on their own, but they didn't belong to the whole of what we were trying to create.
How does composition work? Does everyone make up?
We usually work on guitar lines created by Lucas and Luden. Based on that, we build the music by playing, holding meetings, talking a lot, presenting new ideas and so on.
How do you evaluate the independent scenario today?
This is a question that deserves a master's thesis, hahaha. There is a lot of good going on in different parts of the country. A lot of good band and lots of nice people doing their part in their cities. But it is complex. Unfortunately, there are still many concert halls and people producing shows that are not concerned with giving the minimum structure and support to the bands that are willing to play. They often put you in the position of doing yourself a favor and opening the house for you to play, you know? We haven't played for a while simply because we can't find people and places willing to organize a show that is honest with the band or the audience.
On the other hand, there are many extremely competent, honest and important venues for the independent scene that are going through difficult times. This is the case of 92 Graus in Curitiba and Audio Rebel in Rio de Janeiro. It is difficult to map exactly what happens, but it hurts to see places as great as these going through a bad phase (since they have always been places that helped bands and built a local scene in their respective cities.
Meanwhile there is a lot of extremely expensive gringo shows crowding concert halls that don't even open the doors for smaller bands to show their show.
It's difficult. There are many factors. But music always finds its way to endure. We believe a lot in this and in the union of people.
Has anyone had another music project? Which are?
Luden and Rafael had Go-Tango, Lucas and Marcelo Doppelgangers !, in addition to Lucas and Luden's solo projects, which was also part of Petrichor. Rafael is also part of Block 77 – The Originals of Punk and Luccas played at Jennifer Lo-Fi, plays at Quarto Negro and Lisabi.
How is the reception at the shows going?
The shows have been incredible. It is the moment where everything makes sense to us. The moment where we can present the songs in a cruder and as sincere way as possible to people. In addition to being in contact with those who accompany the band or even know us watching the show. For us to play is the moment to feel and show how we feel, in the most sincere way possible.
Has the band played outside of São Paulo? Do you have a tour plan for the rest of the country?
We always play in Campinas, Barão Geraldo, which is a very dear place for us. We have already done some shows in the interior of São Paulo and in Rio de Janeiro as well. We just closed a show at the end of the year in Belo Horizonte and we are running after Curitiba and Goiânia. We don't have very specific predictions, but we are mapping several states that we want to touch. We intend to play in as many places as possible, because that's what we like.
Share Button