Alex Henry Foster (AHF) is a Canadian musician, singer, author, producer, and composer, best known as the frontman of Juno Awards nominee Post-Rock / Noise band Your Favorite Enemies (YFE).

On November 9, 2018, Foster released a first solo music project, an intimate poetry essay about finding peace, faith and hope through the context of grief, depression, and distress.
About
ALEX HENRY FOSTER & WINDOWS IN THE SKY
"For a son, a father's death is often the end of innocence, and the illusions that come with it," says Alex Henry Foster. He speaks from experience: the loss of his own father in 2016 prompted him to put his group, successful Montreal underground rock collective Your Favorite Enemies, on ice and hole up in Morocco, trying to make sense of his loss and the ways that the world felt differently now. This "emotional detox" led him to the songs that would compose his debut solo album Windows In The Sky, chronicling his dark nights of the soul, and taking the listener on a journey through grief and confusion that's as uplifting as it is challenging, and as honest and powerful as any you're going to experience this year.
For Foster, music has always been a refuge, a gateway to other worlds. His father's Led Zeppelin and Black Sabbath albums and his mother's old rock'n'roll singles provided escape from the realities of growing up poor in Montreal. "That town does not treat poor people well," he says. "I come from a difficult background, very blue collar. Music kept us together as a family. It was the most beautiful gift I could have received. My parents had nothing, and, in music, they gave me everything."
Foster's own dedication was absolute: in his teens, he'd rather eat from cans than waste money on a decent meal that he could be spending on records. With a guitar-playing colleague he met as a social worker after graduation, he formed Your Favorite Enemies. Inspired by groups like Fugazi, they were fiercely Do-It-Yourself, operating from a former Catholic church in Drummondville they'd transformed into a recording studio, scoring Juno nominations at home and plaudits abroad for their four albums. But after his father passed away in 2016, Foster stepped away and relocated to Tangier, to come to terms with his loss, and make sense of his life.
His relationship with his father was complex. "He was this big guy, 6'4, 2-300 pounds, who I'd always admired as a kid, and despised as a teenager. He'd been an alcoholic when I was growing up. He was searching for himself, in a way I maybe understand now. Then he became a born-again Christian when I was a teenager, and that didn't sit well with me. I wasn't that keen to forget the baggage we had."
They hadn't spoken in five years when his father got in contact in July 2016. He was seriously ill. "He looked so physically diminished, so weak and fragile," Foster remembers. "Everything we'd never resolved became so vivid to me. I had so many things I wanted to know and understand, before he died." His father, however, believed his god would heal him. And while Foster sought the conversations that might establish that connection with his father he craved, the man himself was more focused on a salvation that ultimately wouldn't arrive. He passed away a week later.
Four days afterwards, Your Favorite Enemies headlined the Ho Hai Yan Festival in Taiwan. "It was the biggest audience we'd ever played to. And all I could think was, 'This is wrong, I can't be here, I can't commune with these people, I have nothing to give. I just lost my father.' Afterwards, I told the band, 'I cannot do this anymore. There's something broken inside me; I need to be by myself and figure myself out.' I was on a self-destructive path, emotionally."
Tangier offered the isolation and anonymity Foster craved. "I needed a place where I could be sad and not bump into someone who knows me," he says. He took inspiration from the call to prayer from the local mosque. "The act of prayer was like taking a moment to reflect on things. And I needed to take a moment on myself, to reflect my father, my grief, and my confusion."
He began to write songs, many songs, "to purge what I had inside – just keep writing, writing, writing. Like some emotional detox. I wrote like I was in a trance, abandoning myself to the emotion." He returned to the music that had inspired him as a teenager – Glenn Branca's turbulent, sweeping guitar symphonies and the scourging No Wave of Swans – and lost himself in performances by local musicians who would chase the same melody and rhythm for forty minutes at a time.
A year into his stay, his writing began to take recognisable form, melodies forming where earlier there had only been rage. And when Foster's bandmates visited him in Tangier to see how he was doing, he played them these fragments he'd been working upon. Soon, their week-long stay extended to six months, as they collaborated with Foster to bring his songs to fruition, recording in a tiny studio he'd built on the busiest strip in Tangier.
The music they recorded sounded vast as the emotional canvas Foster was painting upon. It tapped into the music of his adolescence – Swans, Branca – but added aching melodies over its building, tempestuous cloudbursts, as Foster narrated his anguish and confusion following his father's death, and his quest for identity and peace. On The Pain That Bonds, he falls to his knees, and has to acknowledge his frailty. On The Hunter (By The Seaside Window) – written after his return from Tangier, an epic piece that was originally half an hour long – Foster's depression stalks him like prey, the Slint-esque soundscapes growing more and more claustrophobic. In the studio, he would conduct his bandmates; the music, he says, "needed to be raw… There could be no compromise."
The songs are cathartic, thrilling, uncovering traces of hope and trascendence amid Foster's introspection. The roiling tumult of Summertime Departures is a powerful musing on the finality of mortality, on what remained of his father and his legacy after his death. Its momentous sonic storm captures the confusion and anguish within Foster – it is, he says, about those times when we are "lost in the winds, when there's no right or wrong" – but, he adds, its theme is his belief that "there is permanence amid the most painful of sorrows, and love, just like stone, will endure." The brooding, magnificent Lavender Sky was initially inspired by the stunning sunsets he witnessed in Tangier, but evolved into a treatise on fear, rootlessness and powerlessness in the face of mortality. "It's about accepting our lack of control," Foster says, "but that acceptance isn't defeat. And our fear makes us human."
Foster's ambition wasn't to record a solo album – he was making this music for its own sake, for his sake. He wasn't concerned with choruses and middle-eights; his aim was to "play the emotion, to express myself, beyond the rock'n'roll tricks and gimmicks." But by the time he returned to Canada, the songs "were no longer just therapy. They were something real, something coherent." Still, he struggled over whether or not to share these most private moments with the world, up until the very release date. It's a dilemma he admits he's still not entirely at peace with, even as Windows In The Sky topped the Canadian iTunes chart and won Foster both critical acclaim, and hitherto unimaginable mainstream attention.
"I was just breathing in, healing my heart," he says, of the months when he was making this music. "I'm a writer, an artist, and I find it easier to deal with my emotions this way than sitting down with someone and talking to them. Emotions like those I was dealing with, they're like flashes of extreme bright light, which blind you momentarily. But if you can open yourself up to them, and translate them into words and music somehow, you can understand yourself better."
Albums
Snowflakes in July – EP
Lavender Sky – EP
Windows in the Sky
The Hunter – EP
Summertime Departures – EP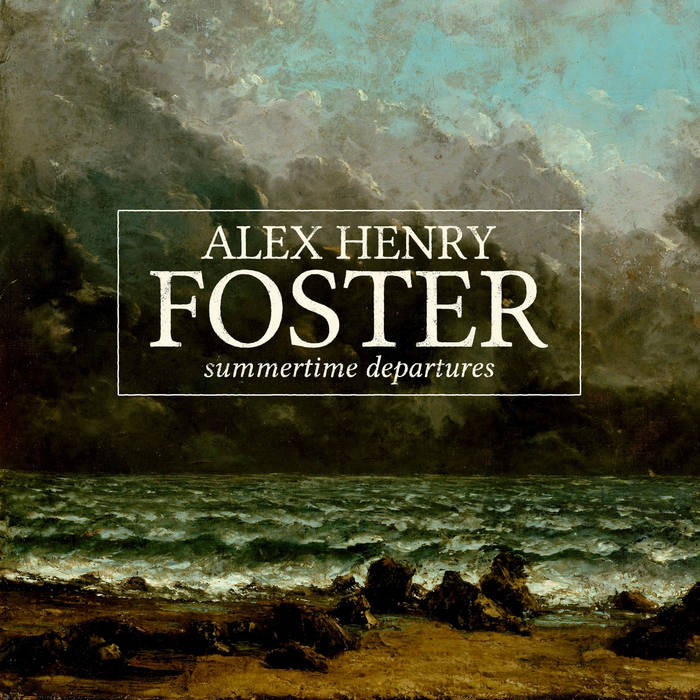 Videos
https://alexhenryfoster.bandcamp.com/music
https://en.wikipedia.org/wiki/Alex_Henry_Foster
http://smarturl.it/windowsinthesky
https://www.facebook.com/alexhenryfosterofficial/
https://www.youtube.com/channel/UCPJ9svra9xkqsC0ZIKZdZ0w
Alex Henry Foster: Windows In The Sky – album review
By Nathan Whittle -April 30, 2020
ALEX HENRY FOSTER
WINDOWS IN THE SKY
2LP / DL
Out now!
Alex Henry Foster, frontman of Your Favorite Enemies, gets worldwide release for his solo album. A swooping post-rock cinematic vision that examines loss, hope, and transcendence.
The pulsing tremolo-laden distortion that opens up the first track of the new album from Alex Henry Foster raises early on that this is going to be a record that layers the instrumentation like brush strokes across its post-rock canvass. Over crashes of reverberating piano, sparsely hit along with the guitar that finds it's way slowly through from within, an urging beast that rolls inside the song, Foster speaks plaintively, examining the main focus of the album – the loss of his father and his subsequent cathartic journey that led him to the writing of the album. Talking about the songs, Foster himself states that this song, titled The Pain That Bonds (The Beginning Is The End), part of a longer essay, addresses his reflection on personal ghosts and the need to free oneself from them. Windows In The Sky is an exercise in catharsis, courageously laid bare for all who desire to see.
While the spark for the album may be one of loss, the album, primarily made up of spoken word pieces and obviously dense and dark in moments, is also uplifting in places. The rising chorus on Winter Coming In is an early sunrise to break the night, and Snowflakes In July is driven much more by a rousing chorus that moves the narration slightly out of earshot. But that said, the poetry and narrative of self-examination are what really permeates the album. It is a deft touch to include a recording of Allen Ginsberg reading his poem Song. The reading bookends the song Shadows Of Our Evening Tides, a lighter piece that sees Foster's vocals delicately, wistfully yearning. "The weight of the world is love." is both the opening and final line that seals the song off perfectly.
The album, on the whole, is cinematic, driven by emotions in which he soaks the music as much as his own delivery. Sitting in the middle of the record is his most ambitious piece, one that takes up almost a quarter of the whole album. The Hunter (By The Seaside Window) moves like tides between softly whispered narration and engulfing waves of urgency. Written during his time living in the mountains over Tangier while dealing with the loss of his father, the song regards its protagonist as both predator and prey. It's that entanglement, the inner fight between fatalism and hope that drives not only this song but much of the record itself.
On Summertime Departures, the subtle piano-led opening, delicate with a touch of dread, builds into a crescendo of crashing dense noise. Throughout the album, he is clearly indebted to the likes of Mogwai, Godspeed You! Black Emperor, and Sonic Youth, but the project feels always like a personal essay, a more intense self-analysis than those who have previously laid such a path. On Windows In The Sky, Foster and his seven-piece band blend perfectly his poetry with the sonic soundscape that engulfs it.
Find Alex Henry Foster on Facebook