Russian Circles is an American instrumental band based in Chicago, Illinois, United States. The band was originally formed by childhood friends Mike Sullivan and Dave Turncrantz after their previous musical projects dissolved. After parting ways with their original bass player Colin DeKuiper in 2007, the trio was rounded out by Brian Cook. The band has gained widespread recognition based on a series of critically acclaimed albums and extensive international touring. Their name is taken from a drill exercise used in ice hockey, a sport Sullivan and Turncrantz grew up playing in their original hometown of St. Louis.
History
Russian Circles was formed in late 2004 by guitarist Mike Sullivan and bassist Colin DeKuiper (both formerly of instrumental band Dakota/Dakota), they quickly recruited drummer Dave Turncrantz, formerly of St. Louis band Riddle of Steel.
In the autumn of 2007, it was announced that the band had parted ways with Colin DeKuiper. As a result, the bass tracks on their second album, titled Station, were handled by ex-Botch/These Arms Are Snakes bass player Brian Cook, who then joined the band permanently. The group's third full-length, Geneva, was released on October 20, 2009 and reached No. 24 on the Billboard Heatseekers chart.
In 2011, Russian Circles signed to Sargent House who had previously only exclusively released the band's albums on limited edition vinyl. Their fourth studio album Empros was released on October 25, 2011. A supporting tour with Deafheaven followed the release. In May, 2013 the group began recording their fifth studio album, produced by Brandon Curtis. Memorial was released at the end of October 2013 and featured a guest-vocal by Chelsea Wolfe. Together they embarked on a co-headlining UK/European tour in the fall.
Russian Circles released its sixth studio album Guidance on August 5, 2016 through Sargent House. The album was produced by Kurt Ballou of Converge fame. On August 1, 2019, they released their seventh studio album, Blood Year, recorded at GodCity Studio in Salem and Steve Albini's Electrical Audio Studio in Chicago and again produced by Kurt Ballou.
RUSSIAN CIRCLES
Guidance
At the end of 2014, Chicago trio Russian Circles celebrated the10-year anniversary of their first show. A decade is a long time for any band to persevere, let alone a band that mines the relatively unmarketable niche of protracted instrumental dirges. But whereas many bands on the louder end of the rock-based instrumental world are content to work within the confines of the crescendos and washed-out timbres laid out by their predecessors, Russian Circles persistently expand their creative boundaries by working with a wider swath of sounds and structures. In many ways, their last album Memorial was a fitting cap to that first decade; it was an elegy to the past, a token of remembrance to the aural explorations of the band's formative years. It encompassed the many facets of the band's catalog: harrowing gloom, cinematic majesty, primitive bludgeonings, bittersweet dexterity, and morose minimalism.

With their sixth album Guidance, Russian Circles carry on in their quest to conjure multi-dimensional dramatic instrumental narratives and to scout out new textures from their respective instruments. Songs aren't constructed out of highbrow concepts; they're forged out of gut instinct and base emotional response. Nor was the band—as is often the case with artists later in their career—interested in testing their fans' patience or securing a new broader audience with a radical reinvention. Instead, Russian Circles use Guidance to continue examining the polarity of quiet and loud, complexity and simplicity, ugliness and beauty. Every Russian Circles album has had its share of new sonic vistas, and Guidance finds the band still searching out new sounds while continuing to play to the collective strengths of guitarist Mike Sullivan, drummer Dave Turncrantz, and bassist Brian Cook. Starting with the meditative restraint of album opener "Asa", Guidance sets off on a path of metallic savagery ("Vorel", "Calla"), arpeggio tectonics ("Mota"), mercurial anthems ("Afrika"), somber segues ("Overboard"), and seismic Americana noir ("Lisboa"). With the help of engineer/co-producer Kurt Ballou and his God City Studio, Russian Circles were able to capture this broad tonal palette and wide array of emotional motifs into a cohesive journey through the tumultuous corners of human existence.

We often expect artists to fall into patterns and formulas, but for Russian Circles the creative method is still a mystery. Songs develop at their own pace. Inspiration comes from strange sources. If anything, the process of writing is every bit the enigma it was back when the band crafted their first song in 2004. Life itself is a struggle with the unknown and a search for meaning, and the creative process for Russian Circles has mirrored that pursuit. The radical dynamic shifts and straightforward production of Enter, the lockstep metallic attack and pensive comedowns of Station, the symphonic grandeur of Geneva, the grit and grime of Empros, and the oscillation between melancholy and wrath on Memorial were all incremental steps towards an ideal, and Guidance brings the band that much closer to that realization. In the interim between albums, a veteran handed off an envelope of war photos to the spouse of a band member. The photos depicted a man being led to his execution. There was no context for the traumatic scenes, no history, no background. Yet the dignity this anonymous figure exuded in his fatalistic march resonated with the band. Here was someone that knew his fate and marched boldly towards his destiny. The band used these photos for the Guidance album art, knowing that we all march towards our own conclusions, and we can only hope that we face our futures with the same honor and nobility. If the band's fourth album Empros (Greek translation: Onward) was a statement of perseverance, Guidance became a statement of striding into the future undeterred by what lies ahead.

Guidance comes out August 5th on Sargent House. The album is available on vinyl and CD, as well in all standard digital formats.
Discography
Blood Year
Live at Dunk! Fest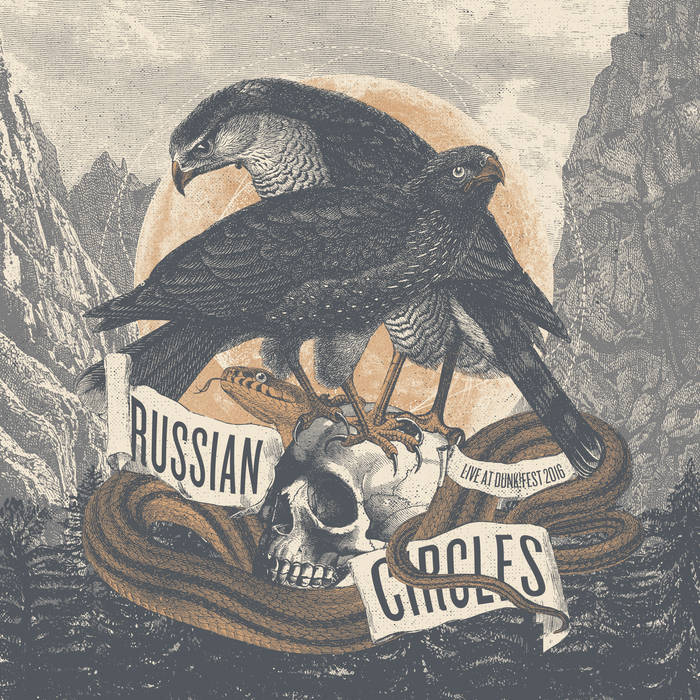 Guidance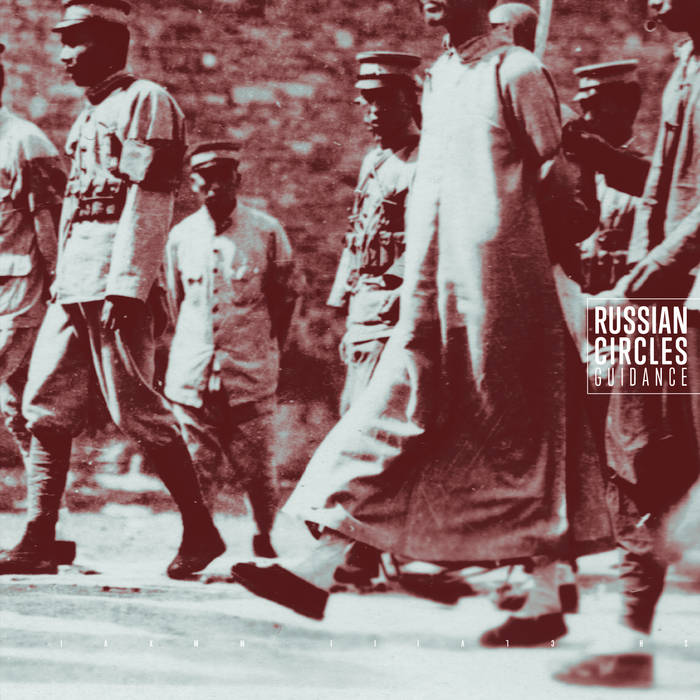 Memorial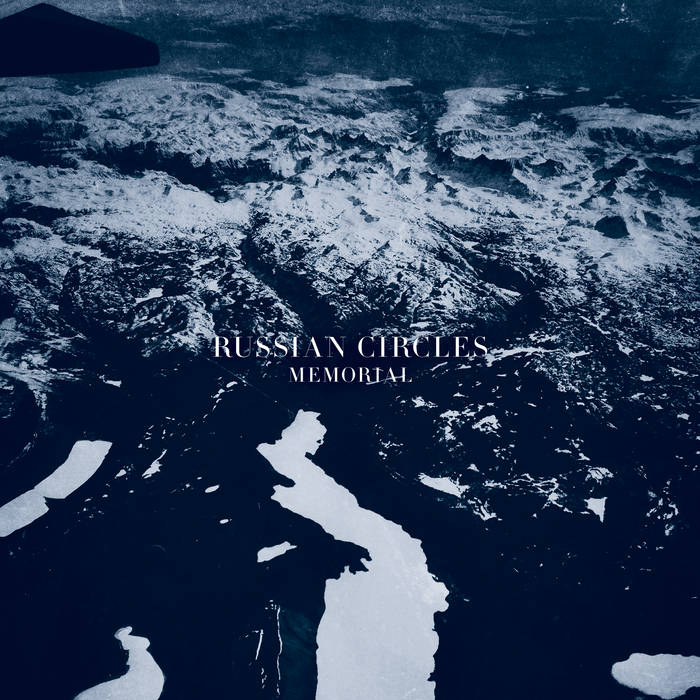 Empros
Geneva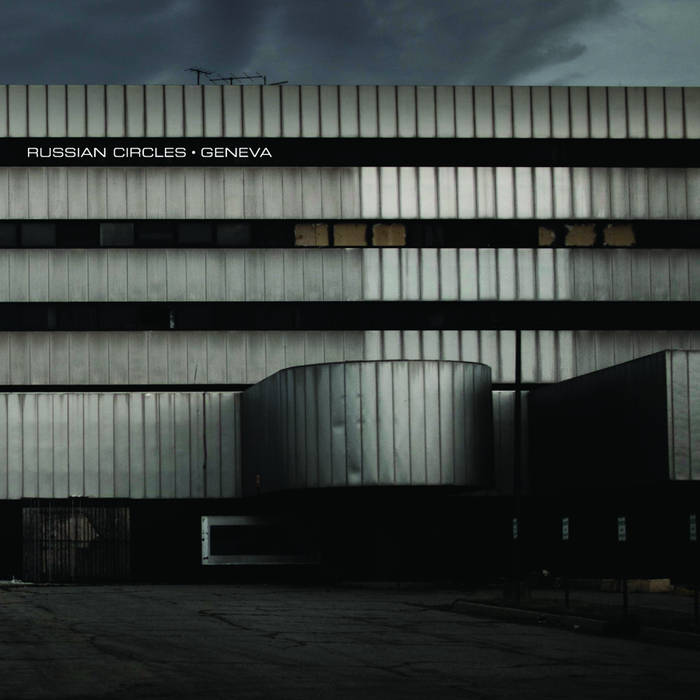 Station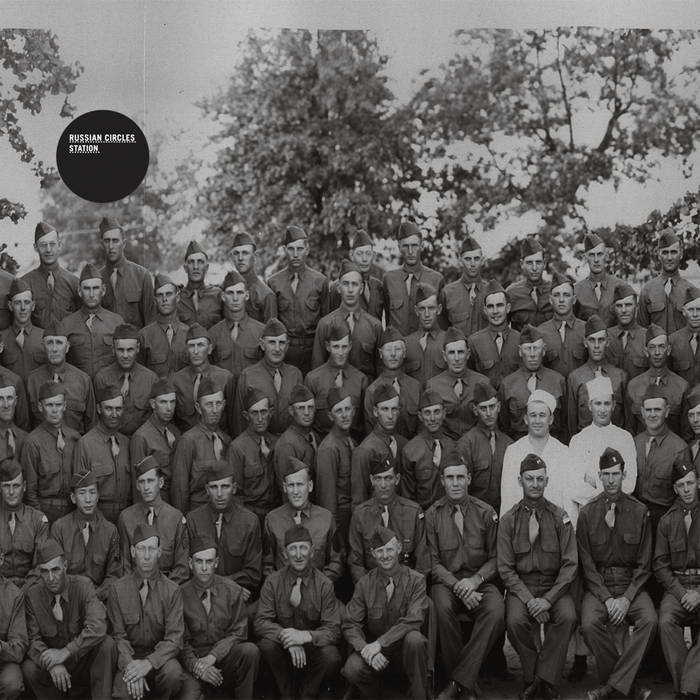 Enter
Videos
A sustained career in a heavy genre is a marathon event. After a certain number of years amplifying the volume and aggression in every album, you come to the realization decibels and BPM are finite resources. As bands like Baroness and Converge have alluded to in interviews, the creative and physical tolls of vying for a more crushing sound on each album gives way to new avenues for finding the heavy.
Russian Circles have come to their own understanding of this phenomenon. It's been ten years since the release of the Chicago outfit's first album, Enter, and their talent for infusing discordant aggression into Post-rock, a genre known for more emotional leanings, has only grown with time. After guitarist Mike Sullivan and drummer Dave Turncrantz incorporated hardcore veteran Brian Cook on bass and keys on their second album, Station, the trio have made a calling card out of sparse soundscapes and torrential squalls.
Their sixth studio album, Guidance, comes out later this week and capitalizes on the voiceless roar the band has developed over their career with a new type of "heavy" coming in part from producer Kurt Ballou. We talked with drummer Dave Turncrantz about the writing process, recording with Ballou, and developing a sound over the course of a decade.
How long were you guys on tour in support of Memorial?
Oh man, it's been about three years since the record was released, so we've been on and off touring for the past two and a half years, which is a lot. We played all stuff from Memorial on our last time through Europe, our third or fourth time, so we're glad to be playing some new stuff now.
How did you start developing new songs?
We took some time off to write, but Mike [Sullivan, guitarist] and I both live in Chicago while Brian [Cook, bassist] lives in Brooklyn. The way it usually goes is Mike and I will collaborate and get all the riffs that Mike has down; he usually has like 200 riffs, and maybe 13 of them will be something we can use. The other ones can be too low or not the right style, but Mike's super creative with coming up with a ton of different riffs.
We go about it in a way that Mike and I kind of make a skeleton of the song, and then Brian will give it more form. So it's usually me and Mike at the beginning of the process and Brian comes in to shape it up.
Memorial had a very cohesive theme, it was like an aural experience of death and the grieving process. Did you guys have any thematic points of reference writing the new album?
I feel like the new one's definitely in the same vein as Memorial, maybe a little heavier. Obviously with Kurt Ballou it's going to be heavy. I love Electrical Audio [recording studio for Memorial], but when it comes down to grit and distortion, Kurt Ballou's kind of the king of picking that up, all that good fun stuff.
Last year was definitely a weird time for us because it was the longest period of time we had spent not touring. Writing and the record was actually coming together really fast, but it was just the waiting process from the recording to the record coming out was really long as well. We needed guidance all through last year, so it definitely made sense [to name the album Guidance].Read more
08/05/2016
Fonts
Russian Circles (russiancirclesband.com)
Sargent House – Russian Circles
https://www.facebook.com/russiancirclesmusic/
(2) Russian Circles – Tema – YouTube
Brilliant trio from Dakota, well-structured melodies with impeccable virtuosity, undoubtedly one of the greatest exponents of this genre, Grande Banda.
Aryon Maiden