With a sound reminiscent of Mogwai and Russian Circles, the band's delay-heavy sound is constantly exploring sonic peaks and valleys as the band's three-guitar attack surrounds listeners in a swirling sea of sparkling sound. Formed by guitarists Jeff Kalal, Cody Kelly, and Mike Socrates, bassist Tom Fihe, and drummer Zack Kelly, the band made its debut in 2006 with a self-titled EP. The instrumental quintet eventually made its full-length debut in 2009 with the release of Above the Earth, Below the Sky, which arrived via Metal Blade. The group's sophomore effort, Red Forest, arrived in 2012, followed by The Bones of a Dying World in 2016. ~ Gregory Heaney
If These Trees Could Talk (ifthesetreescouldtalk) on Myspace
Zack Kelly: Drums
Tom Fihe: Bass
Jeff Kalal: Guitar
Cody Kelly: Guitar
Michael Socrates: Guitar
If Detroit, Michigan gave us the automobile, then Akron, Ohio gave us the tire. At one point, home to B.F. Goodrich, Firestone, General Tire, and Goodyear, the Rubber City played a large part in the advance of the auto industry. Times have changed, but Akronites continue to move forward with their intrepid spirit. This is particularly true for acclaimed instrumentalists If These Trees Could Talk, whose wondrous, coruscating sounds have captured not only legions of adoring fans, but also the attention of celebrated chef Chris Santos, who in turn played the group for friend and Metal Blade label guru Brian Slagel.
"Santos played some of our stuff to Brian Slagel," says guitarist Mike Socrates in slight disbelief. "Slagel sent us a tweet, and after a couple of months of back and forth, we were on Metal Blade! Still crazy to think back to that, but that's how it went down."
As part of inking a deal with Metal Blade, debut full-length Above the Earth, Below the Sky (2009) and its lauded successor Red Forest (2012) were re-issued, allowing new fans to encounter If These Trees Could Talk's sonic splendor without having to resort to aftermarket prices. And although Above the Earth, Below the Sky and Red Forest have sold over 30,000 copies prior to landing on Metal Blade, the Ohioans are looking to expand the footprint of the band. This includes the continuation of the organic growth strategies they've employed since forming in 2005, leveraging Metal Blade's marketing resources, and more licensing of songs to game and television studios.
"We always love hearing how people interpret our music," Socrates reveals. "One of the great things about being an instrumental band is that it breaks down the language barrier that some bands can have. It reaches across so many lines and evokes so many different feelings that it means something different to everyone. To us, that is one of the single greatest things about what we do. We don't interpret the music to the fans. They interpret it back to us."
Fans will get another chance to absorb and personalize If These Trees Could Talk with new album, The Bones of a Dying World. Unlike previous albums, this time the musical direction was set up by guitarist Cody Kelly and drummer Zack Kelly. According to Socrates, the duo acted as the creative force behind If These Trees Could Talk on The Bones of a Dying World, starting with the rhythms. Songs like "Solstice", "After the Smoke Clears", and "The Giving Tree" originated with the Kelly brothers, but they were refined with the knowhow of the rest of the band.
"Our lead guitar player [Cody Kelly] has a true ear for guitar melody over top of the groove," says Socrates. "In a way, 'The Bones of a Dying World' was definitely cut from the same cloth, but in a more progressive fashion," says Socrates. "We feel this album 'steps up the sound' in a way that could only come after 'Red Forest' and not before. The songs were constructed in a much more deliberate and cautious approach. A lot of time was spent on small parts and transitions in order to maximize the full effect of the song as a whole. In a way, we feel like this is the perfect continuation from 'Red Forest'. The dynamics and the flow just feel like a perfect next step to the story of us."
That story has its source in uncertain times. For the better part of a year and a half, If These Trees Could Talk were in the studio working on The Bones of a Dying World. Holed up with producer and engineer Zack Kelly at NE Meadow Studios, the recording process was laborious but productive. The prolonged session, however, eventually came to an end, and If These Trees Could Talk hired Alan Douches (Mono, Tombs) at West West Side Music to master the 9-song masterpiece.
"We've always recorded internally with our drummer Zack," Socrates notes. "Since the first EP ['If These Trees Could Talk', 2006], Zack has always been instrumental is capturing the sound that we strive for. He took great care to not use overdubs or samples on any of the drums to keep the natural feel alive as much as possible. We even worked up a mix where the drums were sampled and tossed it aside. We don't want to lose the natural feel of the band to technology if we don't have to."
Even though The Bones of a Dying World took four years to make, it sounds fresh and exciting. Songs like contemplative "The Here and Hereafter", the picturesque "Swallowing Teeth", the rocker "Earth Crawler", the progressive "Berlin", and the seven-minute nostalgia bomb "One Sky Above Us" are new ground for If These Trees Could Talk. Individually or as sets of music, the Akronites' new songs contain an indomitable spirit for adventure, where they effortlessly project awe, hope, or longing – without lyrics or vocals. Combine the mysterious, desolate cover art – based on photographs taken in Iceland – of Charlie Wagers, and The Bones of a Dying World was certainly worth the half-decade wait.
"We put a lot of blood, sweat and tears into this," smiles Socrates. "So, we hope the listeners can feel that and respond in kind."
If These Trees Could Talk | Metal Blade Records
Discography
The Bones of a Dying World
Red Forest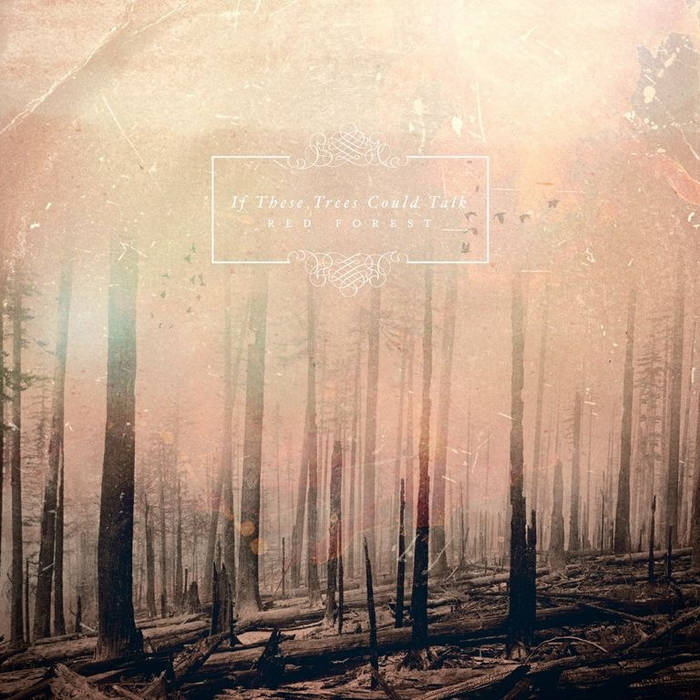 Above the Earth, Below the Sky
If These Trees Could Talk
(12) If These Trees Could Talk – Tema – YouTube
Music | If These Trees Could Talk (bandcamp.com)
https://www.facebook.com/treescouldtalk
The Trees (@treescouldtalk) / Twitter
Album Review: The Bones of a Dying World by If These Trees Could Talk
Posted by altdialogue in Albums, Discography
If it wasn't bad enough that we missed the Astronoid album in June it seems another electrifying album passed under our radar from the same month, namely the third If These Trees Could Talk album, The Bones of a Dying World. Released on 3rd June via Metal Blade Records, we're not quite sure how this managed to slip by us.
Again, don't make our mistake and nearly miss out on this album. It's a post-rock opus of the highest standard, throwing in elements of math rock and metal it makes for one of the most enthralling and engaging albums of the year. With nine tracks coming in just shy of an hour it certainly adheres to post-rock convention for epic, sprawling songs.
The Bones of a Dying World is more than your average post-rock album though. The big post-metal riffs churning at various points throughout and adding extra meat to the crushing crescendos coupled with the intricate math moments make it a varied and compelling beast. Take 'Iron Glacier' as the perfect example the brutal riffs blast through in the seventh minute in a quite wonderful crescendo that acts as the perfect foil to the mellow and intricate parts that precede it.
It's that blend on top of the atmospheric post-rock dynamics that make this such a compelling album – it's how it all comes together in a tight yet sprawling and expansive mass that make it so appealing and engaging. You'll notice the marked improvement in quality from previous If These Trees Could Talk albums too. While it may still be instantly recognisable as the band it's far more ambitious and adventurous – it feels like it takes you on its own deeply personal and explorative journey. It is a real rollercoaster of journey, with the different tones and little nuances come different and subtle emotions connecting with you in visceral and very real way.
Each track on The Bones of a Dying World contributes something special and emotive, they'll connect with you in different ways depending on your mood. They're tracks that resonate, leaving a lasting impression. If you must dip in at one point, make it the wonderful 'Berlin'. Get this listened to, immerse yourself, revel in its depth.
AD Rating 9.75/10
Album Review: The Bones of a Dying World by If These Trees Could Talk – Alt Dialogue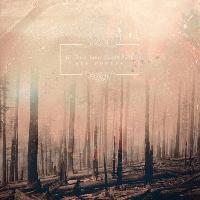 Review
by scissorlocked USER (35 Reviews)
March 24th, 2012 | 81 replies

Release Date: 2012 | Tracklist
Review Summary: One more forgivable attempt among the hundreds
Now that we have all learned to live inside the post-ness of our age and we can easily bury the tradition as a misguided attempt to ground aesthetics upon ghost terms and empty concepts, we are ready to accept our new crumbled perception as a new homeground. Post rock has become a staple for the new millennium kid who strives to find some authentic expression in popular music, and maybe that's why we are swallowing tons of boasting reviews of how "sublime" and "transcendental" the latest X post-anything album is. If These Trees Could Talk seem to be the perfect example of such a highly consumed product among underground elitists and late-teens metalheads, showing the signs of a mild and forgivable weariness.
But let me make myself clear: the Ohio 5-piece band is a good one. Red Forest is an enjoyable listen and will manifest even better in live shows- for this I'm sure. On their second LP, we find If These Trees could Talk more mature than ever, crafting an album of elegant density. But it seems that this is also a problem on its own.
For listeners familiar with the refined abrasiveness of Russian Circles or the hazy climaxing of God is an Astronaut, Red Forest will come as no surprise, but as a rather affirmative gesture of understanding. The album is a revolving trip amidst somber melodies and blatant reverberations, with generous hints of evocative outcries. Tight drumming accompanies the fluent guitarists' dialogue which flows and ebbs quite frequently, and a couple of soaring guitar lines complete the picture and raise the instrumental rockers to the status of "honest post-rock": good, adventurous music with limitations. To anyone following the accomplishments of Explosions in the Sky, God is an Astronaut and other cornerstones of the genre, Red Forest will difficultly be anything more than a two-listen sip of a "consistent and well-played" instrumental rock. "They Speak With Knives" and the closing "When The Big Hand Buries The Twelve" stand as the record's greater moments, the first with a memorable guitar fluency and the latter with a heavy riffing climaxing which serves as an ideal closure.
Still, Red Forest suffers from the prosaic approach the whole genre suffers from these days. Floating between post-rock and post-metal territories, they accomplish nothing but a quite dull repetition of stretched out compositions which lack the most important features that once constituted such genres as fresh and powerful: the subtle, wide-ranged dynamics, the use of silence as an important ally, the economy of structure, and the loquacious climaxing of simple themes. However, the demand of a self conscious rock music is long gone and we're left to wonder whether all these fans literally listen to all these second grade post-y acts or just acknowledge them as something serious and return to the good old Godspeed and stuff. It seems that post rock delves back to its unconscious, carrying a burden of remnants of sublimity, facing the fact that it should abolish its name in order to create something new. And it's cruel to think that such a strife would leave bands like If These Trees could Talk be buried under the time's quick flow.
If These Trees Could Talk – Red Forest (album review ) | Sputnikmusic
Stupendous Ohio band, their melodies are very well structured, precise and virtuous chords with a fantastic cadence and tuning, the performance and creativity of this band is really impressive, their work is exquisite and of extreme good taste.
Congratulations and guaranteed success,
Great Band, Aryon Maiden.