Instrumental post-metal, post-rock band from Novi Sad, Serbia.
Members
Eduard Tokoš – drums, keyboards
Dražen Đorđević – guitars
Alen Habek – guitars
Dimitrije Crvenčanin – bass
Discography
New Frontiers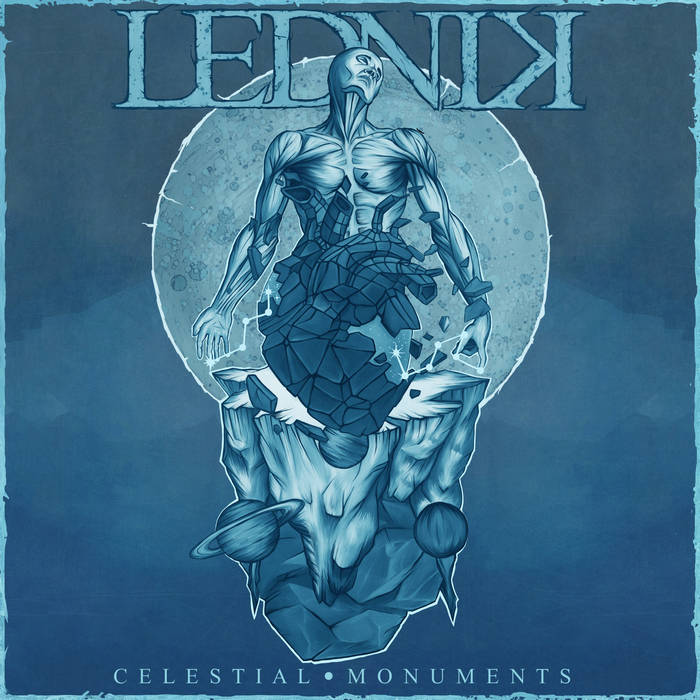 Celestial Monuments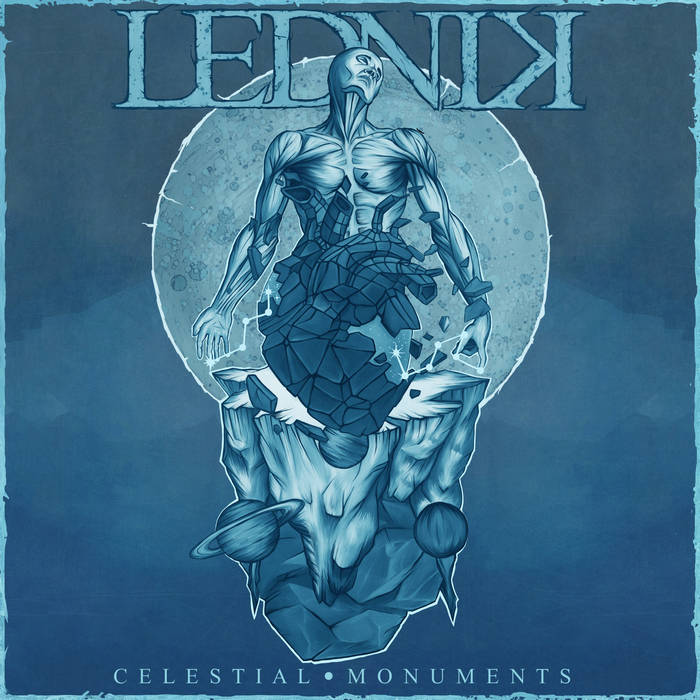 1.Celestial Monuments 05:40
2.Posthuman 07:00
3.New Frontiers 09:12
4.Ocean of Stars Between Us 01:59
5.Return to Earth 06:36
6.Primeval Dust 11:30
about
Eduard Tokoš – drums, keyboards
Dražen Đorđević – guitars
Alen Habek – guitars
Dimitrije Crvenčanin – bass
credits
released February 6, 2020
Mixing and production – Lednik.
Mastering – Sava Tomić.
Recorded by Nenad Grujić @ Studio 17C in February of 2019.
Cover art and animation by Eduard Tokoš aka Eddie Wiseman.
Copyright – Lednik 2020.
Sites
Celestial Monuments | LEDNIK (bandcamp.com)
Lednik Band (@lednikband) • Fotos e vídeos do Instagram
Reviews
Album Review: Lednik – Celestial Monuments
By Prog Sphere on March 25, 2020
Refinement and rawness seem to be completely contrasting styles in music. On one side there are the lo-fi black metal releases, which amass acclaim and disdain for their pretentious identity. On the other side you have lustrous pop recordings, which amass acclaim and disdain for their pretentious identity. However, they seem to never get highlighted in the same sentence; in a way, something that is cunningly produced can never seem to become too autocratic, nor do the ambient instances on black metal releases seem to ever succeed in achieving any form of luster, even though they are not frantically recorded.
Serbian instrumental post-metal four-piece Lednik seem to understand what is up with this disjunction and seem to mix together these vitally dissenting components into a well organized, unified whole that is their full-length debut Celestial Monuments. Part of this is the fact that they seem to swerve between musical contraries. The quartet makes use of a lot of polarities, sifting styles at the drop of a hat to deviate from what sounds like light post-rock or ambient dulcet intervals to pulverizing riffs that hark back to the grandeur of sludge metal greats like Cult of Luna or Isis. And the production seems to follow it all; the subtle moments are full of lucidity, immaculate like ice-cold water from a summit spring, but the jarring variations that are included are like that same summit actually being a volcano and spurting voluminous amounts of lava. There is a point to that naturalistic juxtaposition laying somewhere under the 42-minute Celestial Monuments.
The riffs are captivating and the contrasting techniques make heavier moments sound like the ground is being sucked away underneath, and the melodic instants feel that bit more unspoiled when they are observed within the extent of the songs. The understanding of how to follow up on these subdivided fragments the band members obviously have, and the pristine production pulls an even sharper spotlight.
Celestial Monuments is strong enough as a progressive metal release and as an expressive representation that it gets its point across with absolute energy, style, and confidence without pressing you to scan it up and down for months. With so few contemporary acts balancing progressive and metal elements in the way that Lednik do, it can be easy to misjudge the enduring influence of an album like Celestial Monuments due to a shortage of competition.
Celestial Monuments is out now; order it from Bandcamp here. Follow Lednik on Facebook and Instagram.
Album Review: Lednik – Celestial Monuments – Prog Sphere (prog-sphere.com)
Lednik – Celestial Monuments
Celestial Monuments is a highly anticipated debut album by Lednik, an instrumental post-metal band from Novi Sad, Serbia. The band operates as a unified living organism since 2015, and they have a quite impressive following on social media, so this debut has been impatiently anticipated by the wider post-metal audience. To be honest, there's no wonder about it considering a colossal sound of this recording. Celestial Monuments appears as a giant slab followed by six impressive compositions that have been pervaded with brilliant ideas, wondrous arrangements, and magnificent musicianship. Besides an unbeatable dominance of post-metal and post-rock elements, Lednik gloriously consolidates bits and pieces of other music genres such as doom metal, sludge with subtle doses of modern neo-crust. One thing is for sure, these skillful musicians appear as a singular mechanism that bursts enormous portions of energy. Guitars are delivering various orchestrations through pleasant chromatic themes that have been performed through an entire specter of shredding technics. All these musical maneuvers have been generously layered by various guitar effects, with delay and reverb constantly fighting for dominance. The bass guitar is providing a harmonious resonance that proffers a lot of massiveness and entirely fulfills the gaps between these guitar maneuvers, but it also follows impressive drumming segments. Drumming is beyond comprehension and undoubtfully one of the essential elements that uphold the dynamics of the complete band. The compositions have been thoughtfully arranged, therefore all the incorporated ideas, melodies, and omnipresent ambiance are maintaining the listener's attention throughout the entire album. Celestial Monuments has been accompanied by the magnificent artwork made by Lednik's drummer Eduard Tokoš. The illustration provides an upper body part of a character that has been trapped in a glacier heart. This abstract illustration has been encircled by a couple of celestial objects and a seemingly grungy background. The entire illustration has been made in the shades of blue to mimic the coldness of the glacier. Such a wonderful addition to the magnificent material and you'll be surely satisfied with the appearance of Celestial Monuments if you're truly a fan of experimental post-metal music. Celestial Monuments are currently available for streaming at Lednik's Bandcamp page, but you can stream it at the band's Youtube page as well.
Lednik – Celestial Monuments – Thoughts Words Action
Stupendous Serbian band, vigorous and competent at the best of post metal, very well-structured melodies, with a fantastic cadence and texture, with intense heels and a masterful performance. the album bursts energy and intensity with a nuanced creativity capable of bringing us to a dark atmosphere like a storm on the high seas. A brilliant album, congratulations to the band, Aryon Maiden.