Post-rock/blackgaze project from Thessaloniki, Greece, created by Ilias Kakanis.
Members
UpIlias Kakanis – Guitars, Vocals
Angelos Athanasiadis – Guitars
Fotis Sitaras – Bass
Nick Taras – Keyboards
Kostas Noulas – Drums
Discography
Pain and other pleasures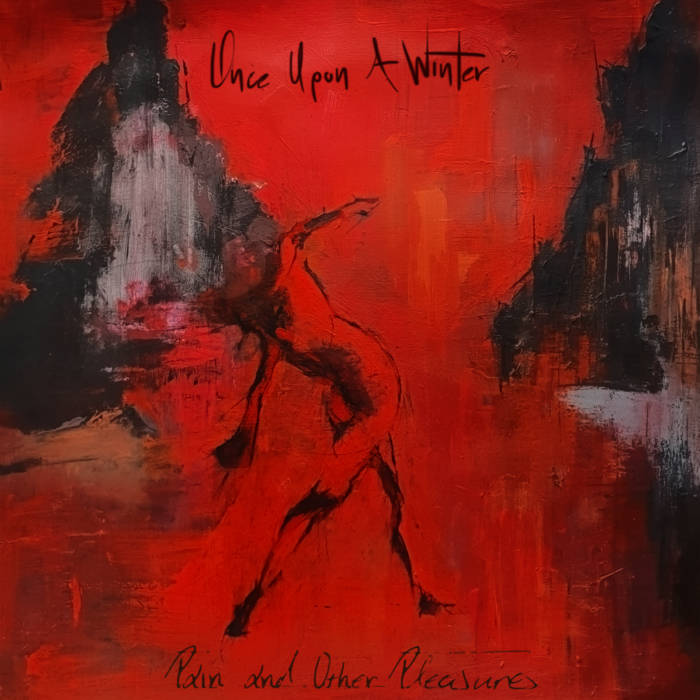 1.A loose end in time 10:14
2.Partial Fraction Decomposition 06:24
3.Pain and other pleasures 06:44
4.V Waves 04:40
5.Nepenthe (ft. Emi Path) 09:12
6.Reynisfjara 07:10
7.Forgotten 03:31
about
Music and Lyrics by Ilias Kakanis
Mix by Ilias Kakanis
Master by Raivio Sound (www.raiviosound.net)
Artwork by Dory P.
Physical release: Snow Wave Records (www.snow-wave-records.com)
Musicians:
Ilias Kakanis – Guitars, Vocals, Synths
Fotis Sitaras – Bass
Ioannis Varelidis – Drums
Ntenia Vamvakou – Violin
Fifi Alexopoulou – Cello
Emi Path – Vocals (Nepenthe)
Chrysa Kourenta – Piano (Forgotten)
Strings recorded at Sierra Studio, Athens
Drums recorded at Ioannis Varelidis' studio, Xanthi
A simple thank you is not enough to all the people involved in the creation of Pain and other pleasures. It was an honor and an privilege working with such talented musicians, and wonderful people. Through their talent and efforts I am able to present to you this album as a stepping stone to more beautiful days. As for you, each and every one of you who embraced this project…music lives because of individuals like you. Thank you for everything.
Ilias.
P.S. Kick fascism out of music, out of every society.
credits
released September 20, 2019
.existence
1.I've seen the skies shatter 05:25
2.In the chronicles of mediocre egos 08:02
3.Cognitive dissonance 03:42
4.Unsettling minds climax in the darkest hours 06:43
5.Purple Midas 09:37
6..existence 07:36
about
"..A man finds himself, to his great astonishment, suddenly existing, after thousands and thousands of years of non-existence…"
Music and lyrics by Ilias Kakanis.
Mixed and mastered by Ilias Kakanis & Dimos Stathoulis.
Artwork by Phren – http://www.behance.net/phren
Physical Release by Snow Wave Records – http://www.snow-wave-records.com
Supported by Aza Records Collective – http://www.aza-records.com
There are stories of life, stories of love and passion, stories of anticipation. In these stories, just like in music, you seek resolution to any tension. Learn to embrace the tension, for you'll find your real self in it. Tension is the creative period for all the stories you'll tell. Thank you everybody for the support.
Ilias.
credits
released February 21, 2018
Selective depression in chase of the Big Bang
1.SKG 05:44
2.The stars may be dead, but we're here and we've stopped the time 04:58
3.x→∞ 06:26
4.Once upon a winter 04:22
5.Lack of a greater possible memory 06:00
6.Purpose of stillness 05:54
7.Her lost love, my entropy 03:36
8.Selective depression in chase of the Big Bang 08:42
9.Apogymnosis 03:40
credits
released February 20, 2017
All music written by Ilias Kakanis
(3) Once Upon A Winter – YouTube
(4) Once Upon A Winter | Facebook
Music | Once Upon A Winter (bandcamp.com)
Once Upon A Winter | Ouça grátis na SoundCloud
Once Upon A Winter (@onceuponawinter_band) • Fotos e vídeos do Instagram
Review
Once Upon a Winter's Dramatic Journey Through ".existence"
JENNA DEPASQUALE Published: December 14, 2018
…
Once Upon a Winter manifested its follow-up to last year's Selective Depression in Chase of the Big Bang with the delicate magic of .existence. Despite hailing from the blissful warmth of Greece, solo artist Illias Kakanis conjures the howling winds and sparkly snowfalls of the season without utilizing the easy black metal trope. With a post-everything attitude and unapologetic atmospheric breaks, .existence still isn't above giving a nod to an old head if it serves a purpose; a few key guitar solos facilitate the ability of certain sections to reach the top of the mountain. Together, all the moving parts etch a symphony fit for the rock omnivore.…
ONCE UPON A WINTER – .existence (Official Music Video)
…
There is no better way to ring in a great year for Once Upon a Winter than a visual release for .existence's title track. A true ode to the season, breathtaking autumn-into-winter naturescapes serve as the prime backdrop for journeying guitars and well-placed vocals. Filmed in Finland, the video's tone oozes the same authenticity that Once Upon a Winter excels at embodying. More of the band's powerful, yet minimalist aesthetic will be shared as .existence prepares to be released from the gates of Bandcamp, finding a new home on CD and vinyl.
…
Physical copies of .existence drop tomorrow via Snow Wave Records. Follow Once Upon a Winter on Facebook. Here's what Kakanis has to say about the track:
".existence" was the first song that I've written after the release of the first album, and it instantly set the tone for the new album. It was a very strange and unique period of my life, dwelling with the human nature, the things that really make a mark on your life, on your existence, sort [to] speak. I was in awe of how the complexity of human relationships can lead to an oppressive state of mind, and the only way to deal with it is to bypass the mind completely and simply embrace the emotion. We create that complexity, we owe it to ourselves to eliminate it.
…
Once Upon a Winter's Dramatic Journey Through ".existence" (invisibleoranges.com)
Once Upon A Winter – Pain And Other Pleasures
16 September, 2019
The third album by Greek post-rock band Once Upon A Winter may leave you scratching your heads. If its title, "Pain And Other Pleasures", makes you expect roaring doom/black metal, you will be disappointed. If you expect any heavy metal, as a matter of fact, you may be disappointed, too. Putting this music in a box is a tricky task, therefore it is best to just enjoy it without trying to classify it as any particular genre.
The opening track sets the mood for the entire album: mystical and nostalgic, it gives out the feeling of yearning and emptiness, makes you look forward to how the composition will develop after the intro… but it turns out the whole track is pretty much an eternal intro. And, in a way, the whole album is. It keeps you waiting for the heavy part to begin… and it never fully does. There are some heavy episodes, like patches: a bit of goth, a bit of black metal, which appear as culmination here and there, only to die down and blend into the overall melancholic canvas of the album.
Once you have established that this is no ordinary heavy metal album and have ditched the expectations, it is time to appreciate what it offers. The music is beautiful and masterfully performed. There is not much signing here either. In the first track the vocals do not make an entrance until the seventh minute, and only just briefly. You will be captured by the soaring guitars and, eventually, the catchy sad tune. There is a lot of composing that has gone on here, it is well designed, goes through different stages, takes you from one sad mood to another, and ultimately demonstrates excellent instrumental skills.
A good example of what this album is about is the track 'Partial Fraction Discomposition' – rather lyrical, very gentle and tender, slowly and tastefully building up speed with drums and high hats, leading to a beautiful guitar solo. Then all goes quieter and slows down. Somehow it is all anticipation without an apotheosis.
There is not much signing in "Pain And Other Pleasure".. The only song with vocals throughout is 'Nepenthe'. It starts off with beautiful, as if angelic, classical female vocal, eventually followed by a male rough vocal, although very briefly.
Another track that can be singled out is 'Reynisfjara' which is largely dominated by violins, which somehow infuse it with the feeling of winter.
Interesting and beautiful effort.
Track list:
A Loose End In Time
Partial Fraction Decomposition
Pain And Other Pleasures
V Waves
Nepenthe
Reynisfjara
Forgotten
Wonderful Greek band, their melodies are very well structured,
environmental, with flashes of neo classic, by a brilliant sign, with post and black metal, smooth, melancholy of a complex texture full of details and feelings.
A harmonious cadence alternating with vigor and fiery explosions of growing, noisy, sliding and sharp guitars, with a refined and exquisite drums, majestic keyboards, beautiful strings and a prominent and striking bass.
This fusion of genres and styles was great, thanks to the individual technical talent with the band's creativity and harmony, the accordions and arpeggios are played with brilliance and mastery, transforming each piece into a masterpiece.
Aryon Maiden