Chicago instrumental quintet, Outrun the Sunlight, has been crafting powerful and emotional songs since 2011, bringing together post-rock and progressive metal communities through a common interest in sound and experience.
Outrun The Sunlight is an instrumental metal band from Chicago, IL, who draws diverse influence from modern metal to post-rock, from groups such as The Contortionist, Cloudkicker, Caspian and Russian Circles.
Formed in 2011 by guitarists Austin Peters and Cody McCarty, the band released both "Architecture of the Cosmos EP" and "The Return of Inertia" in the same year. Signing with Rogue Records America in 2012, they re-released "The Return of Inertia (Vocalist Edition)" which included vocalists from around the world. In 2014, the band added drummer, Pedro Villegas, and bassist, Connor Grant, and released their second album "Terrapin," on Rogue Records. Adrian Perez joined as keyboardist, performing on "Live at Electrical Audio EP" and the "Stars in the Ocean" music video in 2015. In 2016, after the departure of Perez, the band left Rogue Records, and performed on the internet music series, Audiotree, releasing the live album "Outrun the Sunlight on Audiotree Live."
The band returned to that same studio to record their third release, "Red Bird," released in 2017. In April 2018, the group performed their last show with Grant, and the position was filled by Phil Kalas. The toured the southwest US with progressive metal band, Aviations, in June 2018. In 2020, Villegas left, and the band added drummer, Luke Angle, and keyboardist, Kyle Kunkler, and are currently creating their fourth LP.
The band is set to release a live album, Emerge, on January 15, 2021, along with a brand new album in late 2021.
Members
Austin Peters | Guitar
Cody McCarty | Guitar
Phil Kalas | Bass
Kyle Kunkler | Synths
Luke Angle | Drums
Discography
Emerge (Live)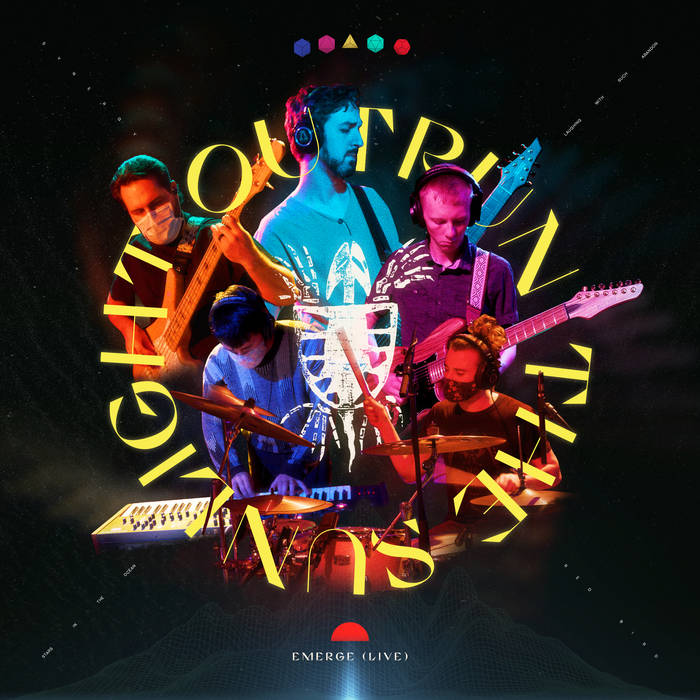 1.Introduction (Emerge) 00:14
2.Laughing With Such Abandon (Emerge) 04:31 video
3.Interlude I (Emerge) 00:41
4.Red Bird (Emerge) 04:47 video
5.Interlude II (Emerge) 00:59
6.Synergy (Emerge) 07:05 video
7.Interlude III (Emerge) 00:44
8.Stars in the Ocean (Emerge) 07:12 video
about
In 2020, Outrun the Sunlight underwent a change of line-up and began the process of reinventing the direction of the group. This live album was recorded with the incredible crew at Audiotree to showcase this new sound and presentation. This set originally debuted on December 5, 2020 for UK Tech Fest's "Techabilitation 2020: At Home" — a live-streamed festival for lovers of progressive music.
We are proud of these recordings and wanted to share them beyond just the singular event. We hope you enjoy this live album. The louder you listen, the better it sounds.
credits
released January 15, 2021
Outrun the Sunlight is
Austin Peters | Guitar
Cody McCarty | Guitar
Phil Kalas | Bass
Kyle Kunkler | Synths
Luke Angle | Drums
Recorded on October 2, 2020 at Audiotree Studios, Chicago
Recorded, mixed & mastered by Rick Fritz
Additional mixing by Austin Peters
Music written by Austin Peters
Introduction and Interludes by Kyle Kunkler
Video crew
Shan Khan
Tom Conway
Justin Kenney
Jordan Nelson
Edited & colored by Austin Peters
Artwork by Austin Peters
Red Bird
1.Red Bird 05:02 video
2.Synergy 07:43
3.The Danger of Alignment 09:20
4.Remaining in a Constant State of Discomfort 07:38
about
This album is best listened to in a quiet space on your best set of headphones.
From soaring guitar lines, complex rhythms and ambient soundscapes, "Red Bird," demonstrates the vastness of metal music, taking influence from Caspian, Cloudkicker, The Contortionist and more. Traditionally grouped into progressive metal and djent, the quartet has made a conscious effort to transcend all conventions and constraints that factor into production, songwriting and image of those genres. Leaving behind direct-in guitar recording, programmed drums and in-house mixing/mastering, all four members performed and critiqued the album, creating the most organic and truest form of the band yet. "Red Bird" evokes cathartic feelings of love, growth and uncertainty, and being that it's instrumental, it encourages the listener to create their own narratives in the music.
credits
released April 21, 2017
Outrun the Sunlight is Austin Peters, Cody McCarty, Connor Grant and Pedro Villegas.
Red Bird was written and arranged between 2014 and 2016 by Austin with additional writing by Connor.
Drums performed by Pedro on August 6, 2016 at Audiotree Studios in Chicago, engineered by Rick Fritz.
Bass & guitars performed by Connor, Cody, and Austin, August 7, 13 & 14, 2016 at Populous Chicago, engineered by Kevin Frytz.
Auxiliary guitars recorded by Austin Peters in his home studio.
This album was mixed August 2016 thru January 2017 by Auré Pereira at Flatcurve Studios in Metz, France.
Red Bird was mastered January 30, 2017 by Rick Fritz at Audiotree Studios.
Original watercolors commissioned by Stephen Sloan, photographed by Kirsten Miccoli.
http://www.outrunthesunlight.com
http://www.fltcrv.com
http://www.audiotree.tv
http://www.populouschicago.com
Ⓟ & © 2017 Outrun the Sunlight. Released independently.
Terrapin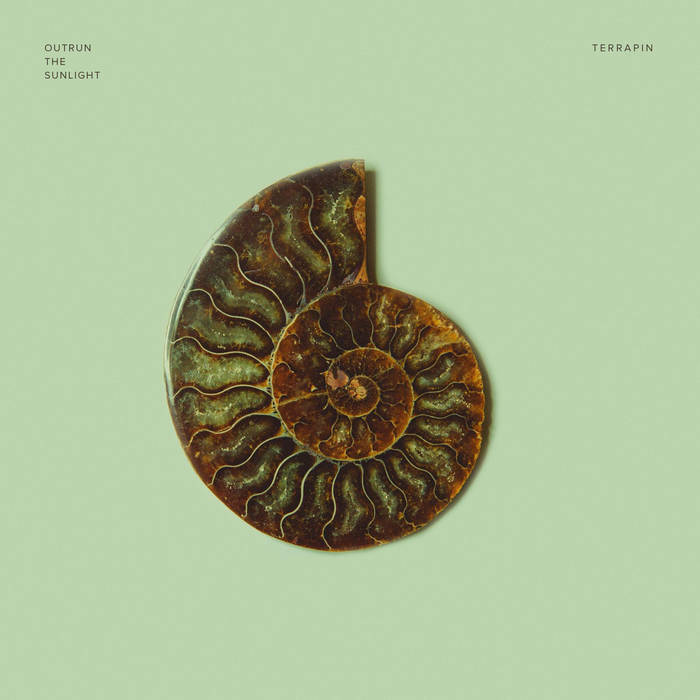 1.Laughing With Such Abandon 04:48
2.Where Every Word Spoken, Speaks 03:00
3.And Every Glance Given Has Only One Meaning 04:34
4.Spirit 03:53
5.Stars in the Ocean 07:06
6.The Pace of Glaciers 10:10 video
7.Diminishment 03:41
8.Permanence 06:02
9.Achievement 03:12
about
Terrapin is the product of three years of writing, workshopping, and experimenting with new kinds of music. Our goal with this record was to create pieces that were dynamic, focused, and tie back to a common musical theme. At the same time, we wanted to push ourselves as musicians with forceful rhythms and odd timings. Alan Lightman's "Einstein's Dreams" was a helpful tool in channeling visual metaphor into sonic metaphor, and many of the song titles are quotes from his book. Each illustration coincides with a song in the album and a chapter in Lightman's book. Without concrete lyrics, there is room for more imagination, which is why we find such beauty in instrumental music.
credits
released December 16, 2014
Outrun the Sunlight live is
Austin Peters – Guitar
Cody McCarty – Guitar
Connor Grant – Bass
Pedro Villegas – Drums
Adrian Perez – Keys
Terrapin was written between 2011 and 2014 in Chicago, IL
Produced, recorded, arranged, and mixed by Austin Peters
Mastered by Jordan Nelson
Tracks 1, 3, 4, 7 and 9 written by Austin Peters
Tracks 2, 5, 6, and 8 written by Austin Peters & Cody McCarty
Drums written by Austin Peters
Additional writing / workshopping by Connor Grant & Pedro Villegas
Album artwork and layout by Austin Peters
Turtle design by Sydnee Peters
Ⓟ & © 2014 Outrun the Sunlight.
The Return of Inertia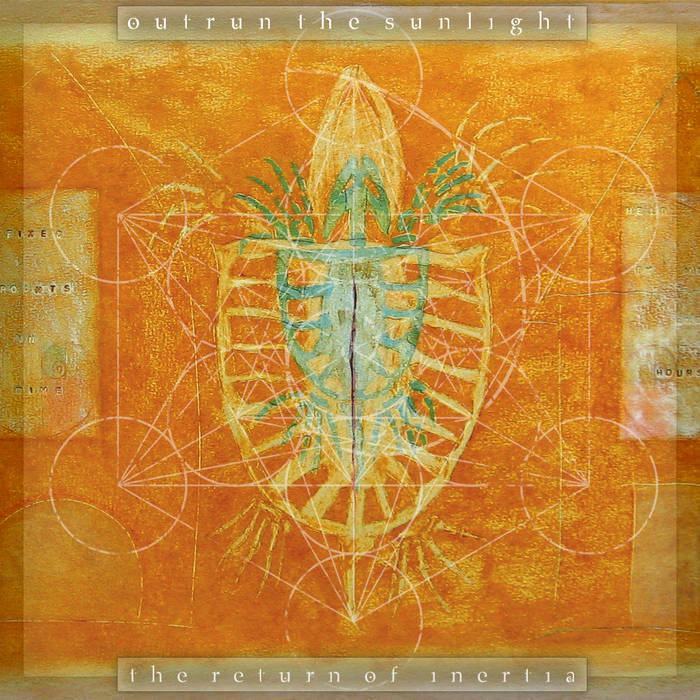 1.Being : Begin 01:24
2.The Peter Pan Complex 05:39
3.Ambivalence 06:09
4.Psychic Cycles 05:09
5.Apeirophobia 05:08
6.Archetype 04:14
7.Quark 04:55
8.Telencephalon 03:35
9.Diencephalon 05:47
10.Phyllotaxis Complete 04:24
11.Toska 07:48
credits
released December 20, 2011
Outrun the Sunlight is Austin Peters & Cody McCarty.
All tracks written by Outrun the Sunlight except "Ambivalence" written by Austin Peters and Epicure and "Psychic Cycles" written by Outrun the Sunlight and Hello, Dave.
All writing took place in Austin's bedroom, Kalamazoo, Michigan.
Recorded, mixed and mastered by Austin in Chicago.
All artwork by Sydnee Peters, from "The Einstein Series."
Cover art entitled "Fixed Points in Time."
Gatefold art entitled "Farsighted Vision."
Back gatefold & inside art entitled "No More Possible."
Outrun the Sunlight logo and album layout design by Austin.
Artist photo by Olivia Vogds.
Ⓟ & © 2011, Outrun the Sunlight
Woods / Apachee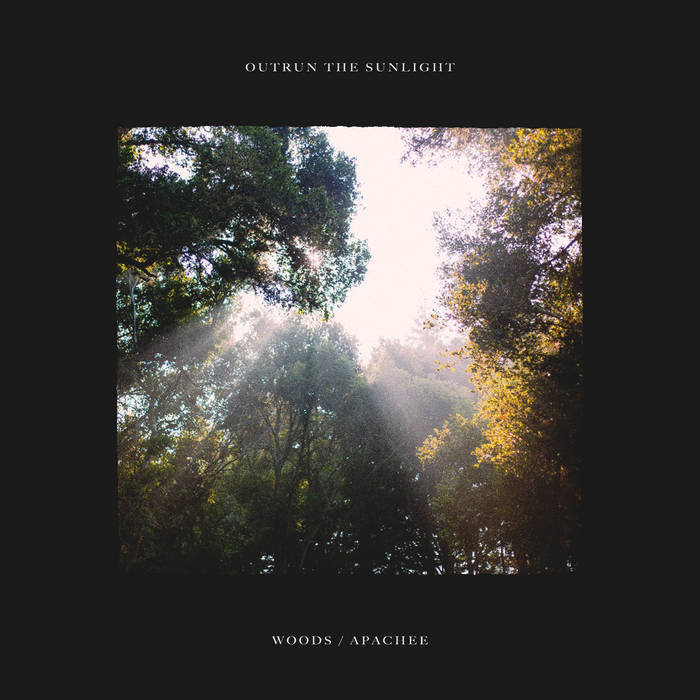 1.Woods 04:15
2.Apachee 07:38
about
The bonus tracks from The Return of Inertia re-released as a single. These tracks were written for my family's dog, Apachee, who lived 10 happy years on 14 acres of Michigan woods.
credits
released July 21, 2012
Written, recorded, mixed, and mastered by Austin Peters
Stars in the Ocean (Reimagined)
This is the re-release of the track, "Stars in the Ocean," which was reimagined both sonically and physically. Andrea Wright, a Chicago-based choreographer and performer, created a 7-minute dance piece to accompany a remixed and remastered version by Auré Pereira at Flatcurve Studios in France. The collaboration of Audiotree cinematographer, Bryan Racine, the dancers, and lead guitarist Austin Peters allowed the dancefilm "Stars in the Ocean" to come into fruition. The piece explores the relationship of the musicians movements, both big and small, to the movement of dancers.
View the film on YouTube — youtu.be/HkU2C0OrMsw
To purchase CD & vinyl, and listen to the rest of the album, "Terrapin," please visit outrunthesunlight.bandcamp.com/album/terrapin-2
credits
released June 2, 2015
All music written and recorded in Chicago, IL by Outrun the Sunlight
Guitars, Austin Peters & Cody McCarty
Bass, Connor Grant
Drums, Pedro Villegas
Keys, Adrian Perez
Mix & Mastered by Auré Pereira at Flatcurve Studios in Metz, France
Ⓟ & © 2015, Outrun the Sunlight
Outrun the Sunlight – Audiotree Live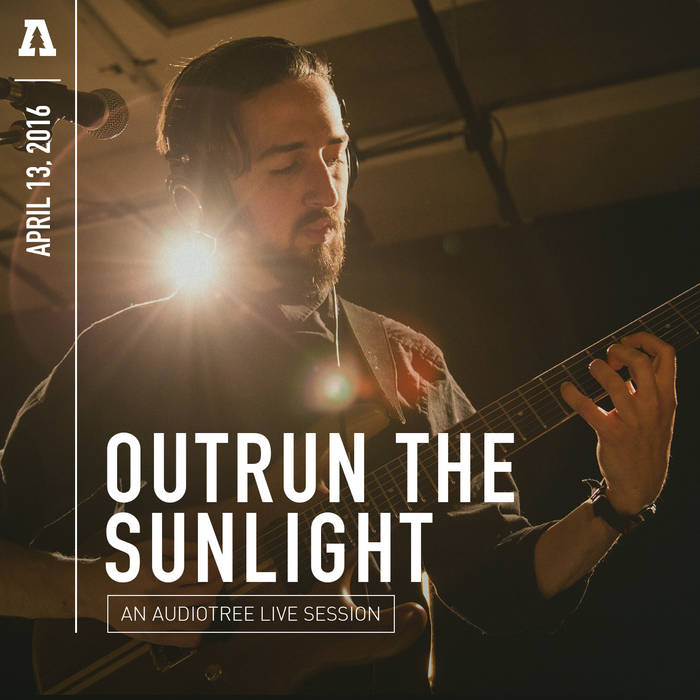 1.Laughing with Such Abandon 04:50
2.Stars in the Ocean 06:59
3.Red Bird 05:04 video
4.The Pace of Glaciers 10:07
about
Outrun the Sunlight are an instrumental band who blend flashes of groovy post-metal, heavy progressive rock, and somber post-rock into a bold but intricate sound. They mold with the ever-changing musical palette of the band's songwriters, who focus on constantly creating the "sounds they want to hear." The result is a storytelling project with chord structures that take unpredictable twists, but yield anthemic choruses chock full of polyrhythms, mathematical riffs, and emotionally expressive breakdowns.
Watch the performance and feel the groove of each distinct, precise movement here on Audiotree Live.
Band Members
Austin Isaac Peters – Guitar
Cody McCarty – Guitar
Pedro Villegas – Drums
Connor Grant – Bass
credits
released May 4, 2016
The Pace of Glaciers (May 2013)
In honor of "Terrapin" turning 3 years old, we are sharing this early demo of "The Pace of Glaciers," version 8, created on May 24, 2013.
From guitarist, Austin Peters —
The initial version of this song was written during my college years, inspired by The Ocean Collective and Between the Buried & Me while living in Wrigleyville, Chicago. My goal was to write an epic that contained every mood and influence I could muster, as sort of culmination of everything I loved about experimental metal music. I rediscovered this version in 2017, and loved the drastic differences in how the song was structured and even how many of the parts I had just scrapped and changed to try and make the current version more digestible. I hope you enjoy this version, as well as the current, which you can hear at youtu.be/PuY4QQig3vw
"The Pace of Glaciers" from the album "Terrapin" (2014), can be found at bit.ly/2pD1K3M
credits
released May 24, 2013
Written, recorded, mixed and masted by Austin Peters.
Photo by Austin Peters, taken at Torres del Paine National Park in Patagonia, South America.
Music | Outrun the Sunlight (bandcamp.com)
(9) Outrun the Sunlight – YouTube
(9) Outrun the Sunlight | Facebook
Reviews
ALBUM REVIEW: Red Bird – Outrun The Sunlight
Jimmy Dean Outrun The Sunlight, Post-Metal, Progressive Metal, Red Bird
A band typically associated with the Progressive Metal and Djent labels, OUTRUN THE SUNLIGHT's latest release, Red Bird, demonstrates a band with the strong ambition to break free from these genre constraints and deliver on an album that's much bigger in scope than anything they've written previously. Making it very difficult to pinpoint where exactly this band currently falls on the Metal and Rock spectrum, pulling away from the comfortable mould of their earlier material has resulted in what is easily the band's most varied, powerful release to date.
Exploring brand-new territory and building upon elements that were only ever touched upon in previous albums, Red Bird showcases a significant shift in musical direction for the instrumental-only, Chicago-based band as they begin to incorporate strong influences of Post-Rock and continue to push the atmospheric, textured highs found on their previous album, Terrapin, even further. Despite this change in immediate style, however, the core sound of OUTRUN THE SUNLIGHT runs deeply throughout as the best elements of their previous albums are re-spun to fit around their much bigger, bolder choice of sound and song structure.
Dialling the progressive side of their DNA several notches higher, the new album comprises of just four songs in total, but at a running time of 30 minutes each track is a lengthy, diverse offering that defies all expectation. The ingenuity behind the writing ensures that the music is anything but predictable as songs build up and soar as they please, hitting frequent moments of euphoria and transferring easily between the record's numerous flavours with such style and precision. Demonstrating this quality within the album's opener and title track, Red Bird, it slowly builds up from its spacey, ambient beginnings to heavily layered, climactic moments. Adding an almost shoegaze-like quality into the track that persists and builds across the rest of the record, the song feels extremely spacious as instruments layer up and interplay with the heavy guitar effects, creating a densely-packed sonic landscape. Combining real moments of power with shimmering guitars and beautiful melodies, it's the perfect opening for an album that capitalises on this sound, setting the scene for what's to come.
The album's second track, Synergy, goes one step further and throws even more into the mix – building up slowly once again, this song displays an admirable level of constraint as it purposefully crawls up to one of the many 'goosebump' moments of the record. Constantly teasing the listener with an ongoing onslaught of tension, the song quite literally explodes into a monstrous flurry of blast beats as the album's greatest payoff is fully unleashed. Capturing a stunning contrast that mixes the foundation of a low-tuned, heavy groove with atmospheric guitar melodies soaring over the top, you'll be left wondering whether you should headbang or cry. It's at moments such as this, of which there are several over the course of the album, where OUTRUN THE SUNLIGHT comfortably display the sheer range of their talents as the complex layering of styles work together in perfect harmony, somewhat resembling the incredible instrumental work on DEAFHEAVEN's Sunbather record – a compliment not to be taken lightly.
It's important to highlight just how inspired this album feels from start to finish. Cramming more into a tracklist of four songs than most bands fit into a full-length release, each track takes you on an incredible journey, and the album as a whole travels across such a variety of interesting styles that it's hard to not fall in love instantly. This solid execution is particularly evident in the album's third (and longest track), The Danger of Alignment, a nine minute epic that switches seamlessly from being the heaviest overall track to something far more restrained and relaxing towards the end. Masterfully pulling together the different dimensions of the band with ease, it's simply a treat to hear the music unfold.
Rounding off the album with yet another breathtaking offering, Remaining in a Constant State of Discomfort continues the album's trend of throwing further splashes of colour amongst passages of heavier instrumentation, finding the space once again to incorporate flourishes of more relaxed, ethereal material. Bringing the album full circle with its mix of familiar flavours, the album closes with such elegance and style as the layers peel away, leaving nothing more than a lone guitar riff playing off into the distance. Easily one of the record's most emotional highlights, it's hard to shake the feeling of hopefulness as it reaches the finish. Putting into perspective the sheer scale of it all, Red Bird transcends a variety of emotions through its thoughtful writing to achieve an album with one hell of a story to tell.
Making every second of the album count, this is an incredibly concise effort that does more than enough with its time to leave the listener completely fulfilled but eager to hear more. Carrying a natural warmth to its sound that elevates the writing to another level, this is a masterful and emotive piece that is telling of a band that's matured and grown significantly in confidence. Easily the band's best work yet, Red Bird deserves your attention.
Rating: 9/10
Red Bird is set for release on April 21st via self-release.
Like OUTRUN THE SUNLIGHT on Facebook.
ALBUM REVIEW: Red Bird – Outrun The Sunlight – Distorted Sound Magazine
Outrun The Sunlight – Terrapin
Outrun The SunlightTerrapinby YngwieViking at 08 April 2015, 2:20 PMShare this on Facebook | Share this on Twitter
The album was published on mid December 2014. Ok, I know I'm a little late on that particular one, so let's go; I'm pretty excited to help you discover this new instrumental pearl "Terrapin"!
OUTRUN THE SUNLIGHT is an instrumental Progressive Metal quintet from Chicago, Illinois, USA. The sound of this young band is quite atmospheric, and ambient ("Spirit") some would have call it Post-Metal as it includes some ethereal layers of synthetic textures (the longest track "The Pace of Glaciers") but "Terrapin" also contains some Groovy moments ("And Every Glance Given Has Only One Meaning"/"Stars in the Ocean"), down-tuned assaults, a few Djent elements ("Laughing With Such Abandon") and a fistfull of brutal parameters, with some incredible demanding assymetric patterns ("Where Every Word Spoken, Speaks") and some intelligent Melodic themes, that helps the music to keep its interest and its dynamics without falling into the boredom of most so-called Hyped Post-Metal stuff and its inertia!
They take ideas from everything in the artistic sphere, writing in an unlimited array of styles, combining all of those influences into the sound of "Terrapin", their second full length studio release, a three years in the making effort, in order to reinvent themselves as composers but also performers. They have developed a distinctive formula that seems to reach their goal!
Mastermind multi-instrumentalist/composer Austin Peters said "Our goal with this record was to create pieces that were dynamic, focused, and tie back to a common musical theme. At the same time, we wanted to push ourselves as musicians with forceful rhythms and odd timings"
There aren't many Modern Progressive Metal band that possess the will to be called artists and who are able to find a balanced equilibrium between a significant enough amount of hypnotics pace, mixed with some Mammoth-like heaviness and some sporadics burst of guitar Shredding – a very original patented mix of elusive and blistering moments, breaking all the stylistic rules to reach a new higher state of perception.
Their experimental focus was reinforced with the imaginative help of Alan Lightman's "Einstein's Dreams" book: "…an helpful tool in channeling visual metaphor into sonic metaphor, and many of the song titles are quotes from his work. Each illustration coincides with a song in the album and a chapter in AlanLightman's book. Without concrete lyrics, there is room for more imagination, which is why we find such beauty in instrumental music…". I'm in perfect agreement with this quote.
Talking about metaphoric ; the turtle fossil design on the cover sleeve isn't the most representative element, indeed this prehistoric organism preserved in a petrified form isn't very in cohesion with the constant moving method and the modern approach of OUTRUN THE SUNLIGHT.
"Diminishment" is the first part of a tryptich sharing the same enveoppe, that is followed with "Permanence" and that conclude the album with the rightly titled "Achievement". The track "Diminishment" is on the more ferocious Metallic type and the climax on the darkest side, improving the ultra-hi-tech sound by pushing the intricacy at the maximum, the talented performances and the obvious technical ability of the virtuoso musicians involved here are confronted with almost bio-mechanism playing / inhuman pace and the whole drives your mind to created a sonic nightmare in a few dystopian soundscapes!
Of course, this not your every day easy-listening Joe Satriani clone, this an Hell of an unique experience, an ambitious sonic device crafted with some demanding intellectual accent and some ultra technical/synchronized intercourse. The best in this category since POMEGRANATE TIGER or ABNORMAL THOUGHT PATTERNS. For Open-minded Progsters, and lovers of musical curiosity only!
Tracklist: 1. Laughing With Such Abandon
2. Where Every Word Spoken, Speaks
3. And Every Glance Given Has Only One Meaning
4. Spirit
5. Stars in the Ocean
6. The Pace of Glaciers
7. Diminishment
8. Permanence
9. Achievement

Lineup:Austin Peters – Guitar
Cody McCarty – Guitar
Connor Grant – Bass
Pedro Villegas – Drums
Adrian Perez – KeyboardsRecord Label: Rogue Records America
Outrun The Sunlight – Terrapin review – Metal-Temple.com (metal-temple.com)
Outrun the Sunlight – The Return of Inertia
Jimmy Rowe January 23, 2012 Reviews
Outrun the Sunlight
The Return of Inertia
01. Being : Begin
02. The Peter Pan Complex
03. Ambivalence
04. Psychic Cycles
05. Apeirophobia
06. Archetype
07. Quark
08. Telencephalon
09. Diencephalon
10. Phyllotaxis Complete
11. Toska
[12/20/11]
[Self Released]
Admittedly, djent — like every other genre out there at one point — is starting to get derivative and generic. So many bands out there jumping into a sound they love isn't necessarily a bad thing in itself; people love making the music they want to hear. It makes sense that at this point in a genre notorious for being easily DIY, people following the first break-out of djent have gotten around to releasing their own records. It took metalcore a little longer to reach this point, but that's technology for you.
Despite the genre's steady stagnation, there are bands that stand apart as being worthwhile and I'm not about to dismiss a genre just because of a flooded market. There are the signed bands that pave the way like Periphery, Tesseract, Uneven Structure, and Vildhjarta, but lurking around just below the surface are some bands that practice the sound and do it justice, adding a signature flair and developing their own sound that does more than rely on palm-muted chugs and glorified breakdowns. Outrun the Sunlight, a guitar duo based out of Chicago, are a smaller band that manages to do it right.
The djent staples are all here; home produced guitar-centric instrumentals with programmed drums and a rhythm section that practices syncopation and polyrhythms. However, Outrun the Sunlight builds on the sound through various influences like Animals and Leaders and The Contortionist's lighter, more melodic exploratory side without being mere copycats. The instrumentation and songwriting on The Return of Inertia runs the gamut from your djenty riffs to post-rock and jazz fusion, allowing enough variance and diversity across the songs to remain interesting.
For example, 'Ambivalence' toys with a latin percussion section that really accentuates the direction that Outrun the Sunlight are wanting to take with their approach at progressive metal; the melodies are organic and lively instead of mechanical and aggressive. 'Archetype' also impresses quite a bit with its clean jazzy guitar tone and fairly technical playing.
The duo excels at use of ambiance, synth, melody, and cleaner guitar tones. Whenever there's use of reverb, delay, and a minimalistic atmosphere, they thrive quite well. However, the band's heavier moments do need work. There is indeed a disparity between how amazing tracks like 'Quark' and 'Toska' are compared to the more aggressive 'Phyllotaxis Complete,' which stutters the album's flow with a more Meshuggah-esque tune. The Return of Inertia's biggest pitfall seems to be something that the band couldn't really help all that much; A more raw and organic production to match the record's tone could have been quite beneficial. The drums are quite digital sounding, and the mixing on the band's heavier moments is a tad spotty.
It's not like any of this ruins the experience, though. Criticisms aside, Outrun the Sunlight managed to plant their feet firmly on solid ground with The Return of Inertia. Watching them grow and develop as songwriters will no doubt be interesting. The duo are on to something here, and I'd love to see them explore it further.
Outrun the Sunlight – The Return of Inertia – Heavy Blog Is Heavy
Stupendous American post metal band from Chicago, progressive.
It mixes textures and genres of Djent, Jazz Fusion, atmosphere, ambience and shoegaze in a light and melodic way with well-structured melodies full of details and impeccable technical vigor and synthetic textures.
Its cadence is increasing, harmonious, oscillating in perfect harmony with the synthesizers, with clean and precise guitars with sporadic fragmentation explosions, with a low groove style and a striking drums.
As each album is released, the cutting takes place naturally, giving an emphasis and appreciation to the new members with an exquisite refinement that I appreciate very much.
With creativity and technical baggage, his work becomes longer and full of layered textures, enriching and brightening his melodies with difficult and fast chords and arpeggios, broken by high quality euphoric flashes.
Your last album Red Bird masterfully portrays the climax so far, from its evolutionary scale in search of perfection, my favorite album, congratulations to the band and always follow this journey in search of full and absolute fulfillment.
Aryon Maiden.