Instrumental, progressive, stoner, space and post-rock from Switzerland.
MONKEY3 have buckled up for their next interstellar journey. After the success of the 2016 album Astra Symmetry, the Swiss four piece continues its cosmic journey of space rock, psychedelic, stoner and progressive on their 6thfull length studio album Sphere.
MONKEY3 describes the new album:
"Spiraling out of a majestic landscape & its untamed environment, "Sphere" stands for an abstract interpretation of nature's phenomenons, their geometric patterns, and colorful elements.
The backbone of Monkey3's new album is a solid axis around which revolves a multitude of distinct atmospheres – like a wild journey along a winding road – sometimes brutal, sometimes sublime. Here the instrumental roots of the band refract in a prismatic soundscape where each musical beam finds its own space; and yet at the same time they all come together to weave a massive wall of sound. Moreover a feminine & graceful touch enhances the overall artwork, allowing the audience to travel through a wide panel – from the depths of Death Valley to the magnitude of Mount Ida – like a cosmic trip through a meditative canal. And whatever this opus might be, "Sphere" could be reminiscent of an ellipsis in which one omits part of what is being said in order for the listener to fill in the blanks with one's own imagination, and make it its own."

Monkey3 is:
Walter – Drums
Kevin – Bass
Boris – Guitar
dB – Keys
Biography:
Native to Lausanne, Monkey3 started in 2001 as a jam sessions community fueld by the love of psychedelic, stoner-rock and space-rock music. In 2003 they became a permanent group featuring Picasso on bass, Walter on drums, Boris on guitar, dB on keyboards. Monkey3 self-titled first album was released in 2003 as a self production and press to 1000 copies. In 2004, Monkey3 inked a deal with belgian label Buzzville Records and the first step was the re-release of "Monkey3" on a larger scale. The band started to tour Europe in the underground club circuit putting them on the map of the psychedelic/stoner-rock european scene.
2006 is the year of Monkey3 2nd release: "39Laps" (Buzzville Records). This record sets the band unique blend of pschedelic/stoner/prog/space they are known for and is often considered as a fan's favorite. Audience started to grow bigger, the band toured intensively across Europe and appeared in festivals such as Roadburn and Stoned From The Underground.
After intense touring, the band recorded and self-released "Undercover" (2009), an album filled with covers that pays tribute to the bands musical influences. Among other tracks, a live cover rendition of Ennio Morricone's timeless classic "Once Upon A Time In The West" and a heavy cover of Kiss's "Watching You" featuring John Garcia (Kyuss, Unida, Hermano) on guest vocals.
In 2011 the band signed a deal with german label Stickman Records and released the album "Beyond The Black Sky". This record features one of Monkey3's live favorite track: "Through The Desert".
"The 5th Sun" (2013) is the first step in the collaboration between Monkey3 and Napalm Records. This release features the track "Icarus" who was voted as one of the outstanding track in stoner-rock history.
After The 5th Sun Tour, band's co-founder and bassist Picasso quit the band. With new bassist Kevin, Monkey3 started to work on their next full-lenght effort: "Astra Symmetry". The album was released via Napalm Records in September 2016 and ranked 93 in the german charts.
Over the years, the Swiss quartet has intensively toured Europe and appeared in festivals such as Roadburn, Hellfest, Freak Valley, Desertfests, Burg-Herzberg, Rock Oz Arènes…The band's 6th full-length studio album, "Sphere", is set to be released on April 12, 2019, on Napalm Records.
Monkey3 Biography | Monkey 3 Official
Discography
Sphere
1.Spirals 11:19
2.Axis 06:37
3.Prism 09:10
4.Mass 06:30
5.Ida 04:22
6.Ellipsis 14:13
about
Instrumental rockers MONKEY3 have buckled up for their next interstellar journey: nestled somewhere in between space rock, psych, stoner and progressive, this four piece is infamous for its onstage intensity that has crowned prestigious festivals such as Roadburn, Hellfest and Desertfest. The Swiss act managed to distill and concentrate its cosmic soundwall on seventh longplayer Sphere down to Pink Floyd-esque surfaces that collide with gritty riffing and noisy outbursts. Tunes such as 'Axis' soar with crystal-clear melodies and dreamy jamming that really turn Sphere into an incomparable astral trip.
© NAPALM RECORDS
credits
released April 12, 2019
Live At Freak Valley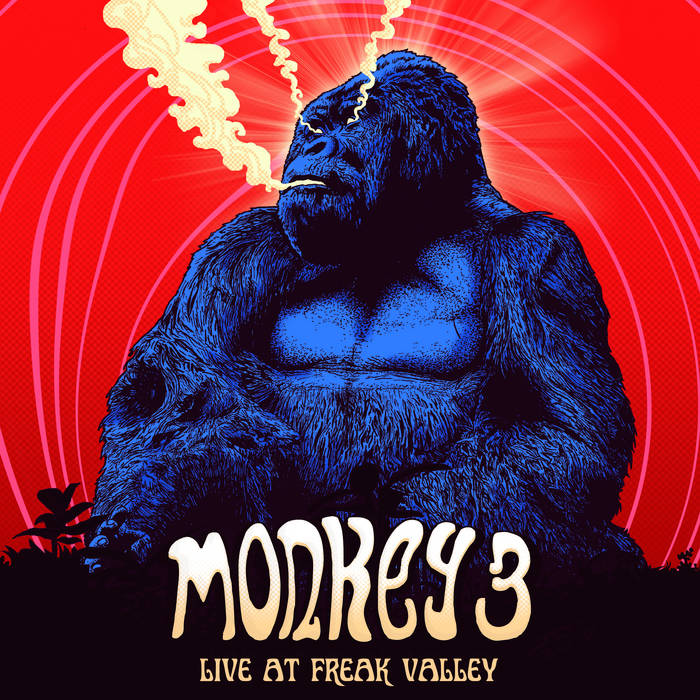 1.Last Gamuzao/Pintao 12:04
2.Bimbo 08:42
3.Jack/Driver 16:39
4.Birth of Venus/Through The Desert 16:19
about
The 5th of june 2015 Monkey3 rocked the house at the famous Freak Valley Festival. The cosmic wall of sound was on and the audience was totally psyched, quite a party, what a great evening !
Now, here it is, "Live At Freak Valley", the entire rendition of Monkey3's performance at the Festival. A 100% live and genuine record that captures what happened this very night. Enjoy the ride !
© NAPALM RECORDS
credits
released June 16, 2017
Astra Symmetry
1.Abyss 07:06
2.Moon 05:28
3.Endless Ocean 06:04
4.The Water Bearer 05:34
5.Crossroad 05:25
6.Mirrors 04:27
7.Dead Planet's Eyes 04:33
8.Seeds 08:03
9.Astraea 03:52
10.Arch 07:01
11.The Guardian 04:24
12.Realms Of Lights 06:38
about
Roadburn, Hellfest, Desertfest – it`s pretty much impossible that you missed out on MONKEY3! The fourpiece from Lausanne, Switzerland have been blowing the minds of stoner and psych rock fans alike for the past 15 years: trippiness and groove are the cornerstones of their elegant yet powerful sound, and Astra Symmetry is your magic carpet ride! Decidedly cosmic instrumental music that loves melding heavy riffing with proggy keyboard landscapes – so buckle up and enjoy the ride!
© NAPALM RECORDS
credits
released September 2, 2016
The 5th Sun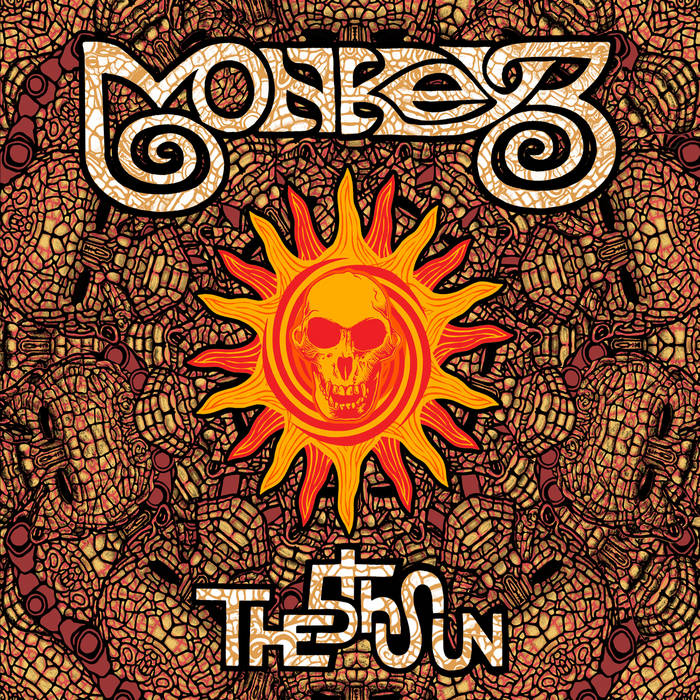 1.Icarus 14:40
2.Suns 08:26
3.Birth Of Venus 05:16
4.Pintao 04:35
5.Once We Were… 08:48
6.Circles 06:49
about
Psychedelic Epic Instrumental Stoner Rock. With their fourth album – "The 5th Sun" – the Swiss band MONKEY3 presents the definition of psychedelic Stoner Rock. The seven sweeping compositions combine Stoner Rock vibe and riffs in the vein of PORCUPINE TREE, PINK FLOYD, LED ZEPPELIN and their label mates MY SLEEPING KARMA with trippy Psychedelic influences. The experienced quartett turn this numerous styles into a perfect sound, which will welcomes new and old listeners alike. The sonic world of MONKEY3 is nothing less than breathtaking, and the new album will bring the band its well deceived recognition!
© NAPALM RECORDS
credits
released October 25, 2013
Undercover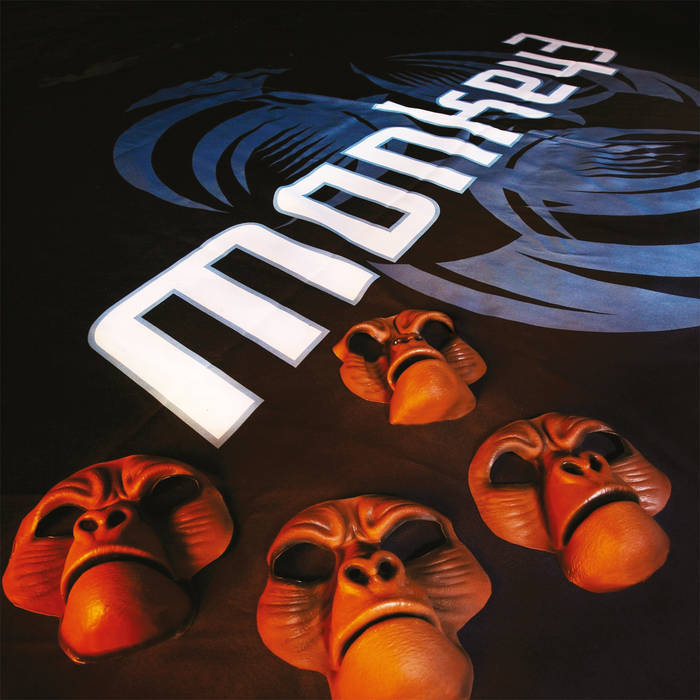 1.Numb 05:27
2.Watching You 04:27
3.One of These Days 05:09
4.Kashmir 07:32
5.Burn 06:08
6.Once Upon a Time in the West 08:41
about
© NAPALM RECORDS
credits
released October 25, 2013
39 Laps
Monkey3
Monkey3 Biography | Monkey 3 Official
Music | Monkey3 (bandcamp.com)
Reviews
Album Review: Monkey 3 – Sphere
It's like stepping into a time machine and simultaneously going back and forward. Visions of the past's future erupting from a vacuum of darkness with kaleidoscopic intensity, washing you in colors you could never have imagined existed. Caught in an endless loop, you depart from a motionless vessel and join the others in a lucid ocean of pure sonic bliss.
You are very much aware the creators of this ocean have been building up to this moment for near on two decades, the formula of which has grown in leaps and bounds with each new rendition. With 2019 now in full swing, the ocean, a glistening entity of which memories of the unknown past come back to life, awakens: its creators, the already legendary Monkey3, have returned with what will surely be their magnum opus.
A new Monkey3 record is always a cause for celebration; their transcendental blend of caustic, psychedelic hymns and heavenly space-rock have lit up our imagination ever since their first album dropped in 2003. Over the years their music has mushroomed into something much bigger, culminating in this six-song package of dancing nebulae and celestial harmonies.
The perfect soundtrack to the golden age of sci-fi cinema (think 2001 and Solaris), Sphere takes the synth-laden majesty of Vangelis and Tangerine Dream coupled with the ingenuity of Pink Floyd and Hawkwind and engulf this holy amalgamation with their uniquely smoldering formula. What this means is their music has found new ways to transport the listener to an inter-dimensional space free of the physical, and they do so with a visionary masterpiece which supernovas its way from nothingness into everything.
From its relatively calm beginnings Sphere builds from the get-go, slowly in 'Spirals' which, even at it's jaw-dropping crescendo, feels restrained compared with the interstellar train ride to follow in 'Axis.' However, it's the middle pairing of 'Prism', 'Mass', and 'Ida' which completely steal the spotlight on this record, a triage of blistering kosmiche musik lighting up the night sky, at times making one think of It's Not Night: It's Space.
Whilst the monumentally explosive masterpieces of the former two reach a state of nirvana seldom seen by other likeminded bands, the latter lingers in this heady space, peacefully gliding for all eternity even when everything else has disappeared. Much like the album's opener, the colossal closer 'Ellipsis' slowly builds across an expansive 14-minutes to scorch the sky in a dazzling display on color. It's befitting of an album reveling in a realm outside of time and space to go out with a bang, and when your entire album is that bang, you can't help but keep it on repeat until you join its hallucinatory kingdom.
It goes without saying every Monkey3 record is a masterpiece, but there's just something special about Sphere. It topples its own physical limitations, tearing down those sonic boundaries, and marches forward to the reaches of the red shift. Its intergalactic sounds are like nothing the Swiss group have ever jammed before whilst projecting itself on an unbelievably huge level. Refined beyond the scope of it's peers, Sphere is without a doubt the band's strongest album to date, seemingly achieving everything its predecessors set out to do tenfold; it's a colossal, astral trip that will linger on until the world around us crumbles to dust.
Album Review: Monkey 3 – Sphere (newnoisemagazine.com)
_______________________________________________________________________________________________
Monkey3 – Astra Symmetry
Posted on by News Team
With their fifth album, Swiss stoner troupe Monkey3 has endeavoured to create something both ambitious and monolithic. A 70-minute epic divided into four chapters, Astra Symmetry (Napalm Records) is, according to the PR fluff, "feeds its inspiration from the mapping of the stars and their symbolic associations, interpreting the constellations stranded over the dark sky."
The astral nature of the subject matter comes through well in the music. Perhaps less aggressive and straightforward than previous albums, Astra Symmetry is a record of transcendental jams; there's less focus on the riff, and more in the spacy ambience of the atmosphere. But despite that, there's a definite classic rock influences shining through.
The slow psychedelia of opening track 'Abyss' has an air of Led Zeppelin's 'Kashmir' about it, the instrumental 'Moon' harks back to the early epics of Dio-era Rainbow, while 'Dead Planet's Eyes' combines bluesy rock with symphonic elements. It's clear these guys are unafraid to engage in a minimalist jam and let it breath. The likes of 'Endless Ocean', 'Mirrors', 'Asraea' and 'Arch' could fill a whole album of normal length, but act as mere interludes to segue between acts.
While there's quality to be found throughout, the final quarter is where Monkey3 really shine. The band clearly know how to build layers in to a song, and each track in the final segment grows from nothing in an intense crescendo of classic rocks solos.
Some fans might find this new, spacey Monkey3 less exciting than previous incarnations. But while not the most energizing stoner records you'll hear all year, Astra Symmetry is certainly one of the most ambitious. One to listen to alone and get lost in.
DAN SWINHOE
Monkey3 – Astra Symmetry | Ghost Cult MagazineGhost Cult Magazine
_______________________________________________________________________________________________
Monkey3 – The 5th Sun
Monkey3The 5th Sun
by Andrija "TheIslander" Petrovic at 12 November 2013, 1:08 AM

THE MONKEY3 story starts in Lausanne (Switzerland) as a jam-band community influenced by a psychedelic and Stoner Rock vibe reminding of PINK FLOYD, BLACK SABBATH or LED ZEPPELIN. Their debut album comes out in 2004, and nine years later they are releasing their fifth album symbolically named "The 5th Sun".
The album brings six tracks. That`s all… Six tracks build up with psychedelic, one better than the other. And the best part… They`re all instrumentals, so there`s no chance in getting disappointed by the vocalist.
The sound builds up slowly as you enter the first, epic track "Icarus" lasting few seconds over 15 minutes. Then, the guitar riffs grabs you, while the keyboards carries you away from reality, the bass and the drums keeps you somewhere in between. Although the track is quite long, it never gets boring, but keeps reinventing itself, pushing forward. The repetition is there, but bit altered every time, taking you higher. The track builds up to the certain point, turning into spoken word part, and then slowly bringing one instrument at the time the musical journey continues (this part would sound even better, having the actual choir involved). Guitar solos keep growing, and sound keeps building up to almost point of breaking, but then track suddenly ends…
Industrial like beginning marks the second track "Suns". It`s more ambient track than the previous one (think VANGELIS, but with guitars instead Tubular Bells). The bass carries the structure of this track, while the other instruments accompany. But then, somewhere around the middle, the guitars come in, bringing the overwhelming heaviness of sound. As in previous track, the sound escalates near the point of exploding, but managing to keep it together, and slowly bringing it down as the ending of track comes.
"Birth of Venus" comes crushing in, later getting slower rhythm, for a while… The guitars rule this track, with extremely great drumming accompanying. "Pintao" opens with echoing guitar riffs, and drums that sound like a war call… Keyboards are adding some more mystery (not sure why, but this track reminded me of Doctor Who(?!?) or if you`re familiar with its soundtrack "The Doctor`s Theme", and a bit to "Immigrant Song" by LED ZEPPELIN). "Once We Were" is the fifth track, one of the longer ones, with more guitar oriented sound, more walking on the Metal side with incredible guitars… "Circles" are the final track, closing this incredible album. 70`s oriented sound dominates this mid-tempo track. As usual, guitars are there to add certain heaviness to the sound. Perfect track to round up this release.
MONKEY3 brings the fresh sound (not so fresh by originality) showing that Metal instrumentals doesn`t need to be extremely heavy, or extremely symphonic. They have a bit of everything, packed well, forcing you to listen to the album more than once… And still after many listens, you`ll still be able to find a new sound that hasn`t been there previous time you listened to the track.
MONKEY3 is something you most definitely need to hear, and they need to make collaboration with APOCALYPTICA (that would be a killer of a song, or an album… just throwing some ideas here…).
Monkey3 – The 5th Sun review – Metal-Temple.com (metal-temple.com)
_______________________________________________________________________________________________
Stupendous Swiss band produces instrumental rock with a fusion of psychedelic, progressive, space, post and stoner in long well-structured melodies of dark layers, with distorted, high-pitched, refined riffs and travelers in a spatial environment of the best quality.
With an oscillating cadence, full of virtuosity, grooves, with a pulsating and enveloping rhythm, with a prominent low doom rolling style, vigorous guiding drums and rotating and mechanized keyboards, which take us on a journey full of details in a spiral of emotions and feelings .
My favorite album is Sphere, the culmination of a cut of a rare diamond of absolutely unquestionable potential, with exquisite refinement in each chord uttered, a masterpiece.
Aryon Maiden.