Country: Norwich, UK
Follow Summer Now https://www.peterfellowes.com
https://www.facebook.com/petesummernow
In SUMMER NOW, Peter Fellowes has invented a completely new genre; a genre he has dubbed 'Punkstrumental' (Trademark pending) – the short, sharp, snappy sensibilities of Punk-rock blended with the dynamics, drama and atmospherics of Post-rock.
Tempered with a genuine lack of skill and musical knowledge, Peter pushes his brand of formulaic rock to it's very boundaries – how far can he take the three chords and pentatonic scale he knows before people figure out his breath-taking ineptitude? Only time will tell. Or, possibly, one more album. 'From Something, To Everything, To Nothing' is an album that reflects deeply on deep reflections; The opposites and polar extremes we experience in everyday life. Love and loss; Joy and sadness; Light and dark; Fire and ice; Milk chocolate and dark chocolate; Heaven and Hell; Dio and Ozzy… It is an album that is both intensely deep and pathetically shallow, an incredible juxtaposition of soaring triumph and complete failure. A veritable 'shit sandwich', if you will.
Musician, Author, Artist, Idiot
I love creativity – the ability to create something from nothing – whether it is a song or a guitar riff, a story or a painting. The almost magical feat of going into a practice room with my friends with nothing more than an idea and emerging a few hours later with a new song is what keeps me going. It may not pay the bills, but it keeps me sane!
I have played guitar with SOUTHPAW for over twenty-seven years and have loved it (most of it anyway – I would be a liar if I said it had all been plain sailing). In that time we have managed to record five albums, three EP's, appear on countless compilations, toured the UK and Japan, get played on Radio 1, support some top-notch bands, get great reviews in Kerrang! and Metal Hammer, run our own 'Meantime' record label, sit alongside Blink 182 on a Rocksound cover disc and even achieve the staple accolade of any band – the inevitable split-up and reunion! Over the years I have been given free-reign by my friends in the band to act as our 'in-house' engineer, producer, graphic designer and, during gigs, raconteur and Idiot. If it's creative, I will have a go at it!
After recording and producing our fourth album, 'Destination', I decided I would have a go at writing something (inspired, funnily enough, by finding some really old school books in my parents loft, filled with stories and imaginative nonsense). I had an idea for a novel, something I hadn't seen before, and started to sketch out a plot. This 'sketch' became my debut novel 'The Tale Of Rufus'. I have recently released my second novel, 'Unexpectedly, she woke up…' and have just begun work on my third. There are still enough ideas bouncing round in my head for a second 'Rufus' book, a survival story concerning an odd creature as well as a supernatural thriller. And then there is the new SOUTHPAW album to finish, and all the other side-projects that continually pop up…
I am also a Brown belt in Khong Chang – a rare form of Kung Fu that originates from Singapore, not widely taught in the UK.
Discography
Summer Now – From Something, To Everything, To Nothing
1.Venting 03:36
2.From Something, To Everything, To Nothing 06:04
3.The Solitude Of An Arctic Sunset 01:22
4.We Live, We Learn 05:04
5.Shades Of Darkwood 02:51
6.Goodmorning, Sunshine! 04:35
7.There's Something In The Fog 05:36
8.One Last Kiss 04:24
9.Make A Fist 03:43
10.Between The Devil And The Darkness 04:55
11.Bittersweet Reminders 05:00
My second solo project album is now available via Bandcamp
This album expands the territory I began to explore on 'Heavy Lays The Crown' – the atmosphere, dynamics and drama of instrumental Post-rock driven by the concise energy of Punk-rock. I even played a bit more synth on this album to create a more 'cinematic' feel in a few places.
The artwork reflects the theme of the album, namely the forces that push and pull us in our everyday lives. Love and loss; happiness and sorrow; fight or flight; make up or breakup; light and dark – all those lovely juxtaposed emotions and feelings that let us know we are alive!
Once again, drums were provided by my good friend Pete Wright and I enlisted the help of Adam Moore to craft some tasty guitar solos for a couple of tracks! 
---
Summer Now – Heavy Lays The Crown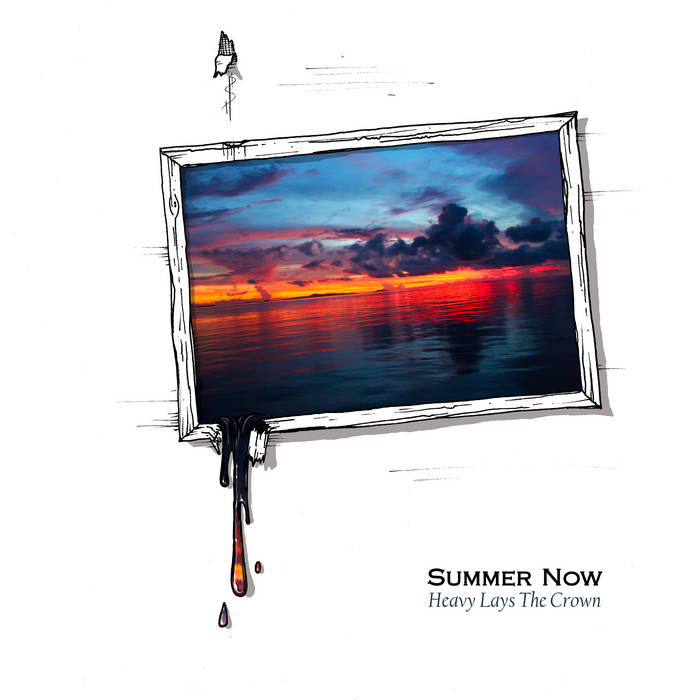 1.We're Waking Up 01:13
2.A New Day 03:06
3.Precipice 03:49
4.Hands Almost Touching… 05:07
5.Heavy Lays The Crown 03:25
6.Rainy Sunday 02:10
7.Green For Go 04:28
8.Tomorrow's Dinosaur 03:21
9.Woodwalking 02:18
10.Pools 04:52
My debut solo album – available now!
This little beauty is now available both as a physical CD and a digital download via Bandcamp. It is also available for streaming from Spotify, iTunes, Amazon Music, Deezer etc.
I was lucky enough to be working with Pete Wright, the drummer from Ducking Punches and I Said Goodbye. The drums were tracked in two days using Pete's own drum studio – The Compound. The remaining tracks were recorded here at Meantime Studios, once again by myself.
The album is a collection of instrumental songs infused with the raw, direct simplicity of punk-rock and blended with the dynamics and atmosphere of post-rock – I call it 'Punkstrumental'.
Hopefully, it will be something a little different to listen to, but familiar enough to some people that already know about Southpaw.
Summer Now – Cobalt Blue EP
1.Cobalt Blue 03:55
2.The Doormat 04:20
3.Shaolin Vs. Lama 04:12
4.Man Overboard 02:52
about
Four previously unreleased tracks from a few years ago, recently rediscovered. These are definitely more Punk-rock rather than Post-rock, but it seemed a shame not to release them…
I am happy to present the super-cheap 'Cobalt Blue' EP!
credits
released December 9, 2018
Peter Fellowes – Guitar, Bass, Vocals
Dylan Powles – Drums (Southpaw)
---
Tom Malachowski – ROOTS
This lovely project is now complete!
Tom is a wonderful, local, singer-songwriter that I have known for a few years. At the start of 2014, over a beer, we discussed the possibility of doing a collaborative album – one that blended Tom's beautiful catchy melodies and unique vocal style with my 'trademark' atmospheric overdubs. I must say, it has been a blast to do something a bit away from my comfort zone. Saying that, it has been quite similar to my writing role in SOUTHPAW, where I try to find gaps in the vocals to fit the perfect overdub or try and enhance the feel of the song with the right effect. I am really proud of this project, having both recorded and produced it, as it has allowed me to try things I could never get away with on a SOUTHPAW record! Once again, I have created artwork and illustrations to suit the mood of the album.
This is now available via the SHOP page – only £6.50 inc. P&P!
---
SOUTHPAW – This Is Ours
Our fifth and latest album.
The final mixes are done and the album is fresh back from being Mastered at NADA STUDIOS in New York. John Naclerio has done an amazing job of Mastering this album! It's full of energy, punch and definition and I can honestly say it is by far the best thing we have ever recorded – as our ex-guitarist Ian Scott used to say… Best Ever!
Once again, this album was created with 100% DIY ethics. From the writing, recording and engineering to the artwork and funding, it has been completely in our hands. As the album title states, This Is Ours. This is us, doing what we have always done, our own way. Punk rock!
The artwork comprises of lots of lovely photos taken by band members – each picture has some link to the song it represents. All-in-all, it's a really tidy package! To purchase, simply click on the cover to be taken to www.southpawrocks.co.uk. Easy peasy!
---
SOUTHPAW – Foundations split EP
Split release in 2013 with Japanese label-mates Die Communications.
This was a fun EP to make! We were part way through recording our fifth album when FIXING A HOLE RECORDS asked if we had any unused songs to put on a split EP with one of his Japanese bands. We didn't. Luckily, we found three old songs that had been written just after SOUTHPAW broke up (around 2004) by some of the guys but not released. We quickly learnt the tracks and recorded them in next to no time in order to meet the labels deadline for release!
The EP was intended to support a Japanese tour with DIE COMMUNICATIONS (hence the 'Foundations' title) but, due to some personal circumstances and bad-luck, it never went ahead. Plans are afoot to go next year.
The artwork came from a photo I took whilst walking on a local beach in winter. The splash of colour, crisp image and two stones/two bands made a classy little package!
---
SOUTHPAW – Destination
The long-awaited fourth album and our first release after a 'hiatus' of six years.
It was released in 2012 by our good friend Kei Dohdoh at FIXING A HOLE RECORDS. Kei had previously released the ARCH STANTON stuff (see below!) and he was eager to work with the reformed SOUTHPAW. Fiona Gowen provided the amazing paintings and I designed the 'packaging' background to fit with the destination theme. I tried to make the paintings look like stamps (my nod to the postal service as my dad is a retired postman, my brother IS a postman and I am an ex-postman too!)
Our bass player Simon helped to collate the images together for this one as my PC was playing up at the time – he won't admit it but he is an exceptional artist in his own right and creates awesome puzzle games as a hobby. Check his site out by clicking below:-
---
ARCH STANTON – End|Start split EP
The last ARCH STANTON release before SOUTHPAW reformed.
This was a split EP with Japanese band COBRAHEAD. We recorded our tracks at Leeders Farm, the studio owned and run by Dan Hawkins from The Darkness (nice chap, handy with a hoover!) We stayed in plush farmhouse accommodation but it was all a bit surreal and tense (we had some problems with the engineer). In truth, it was probably the final nail in the coffin for STANTON.
ARCH STANTON was formed around 2004 from the fall-out of SOUTHPAW disbanding. Originally it comprised of myself, Dylan Powles (Southpaw drummer), Kye Rodriguez (Southpaw guitarist), Steve Campion (Vanilla Pod bassist) and Dan Brown, an amazing singer from TOOL-inspired metal band DRAGLINE. We released six records in five years – fun times!
The artwork was simple and effective, marking our END and Cobraheads START – genius!
southpaw – southpaw (weebly.com)
---
Talented guitarist from Norwich, UK creator of the genre 'Punkstrumental' that mixes ambient, atmospheric, punk and post rock with metalized, distorted, vibrato, treble riffs, with precise fingerings and chords, a prominent bass and a guiding drum.
Their melodies are well structured, full of virtuosity with layered textures in a harmonious and melodious way.
Its cadence is smooth and increasing, exploring the entire creative context proposed with mastery.
The refinement and refinement is accentuated in the last album full of feeling and outbursts of euphoria, making it slide and glimpse the immensity of creation in the theme track, I loved your work. Aryon Maiden.