Cape Town, South Africa.
Described as progressive post rock. A fusion of Progressive Metal, Alternative Rock and Post-Rock/Shoe-gazing. An amalgamation of elements forming the core of the instrumental tunes created.
A Multi SAMMA winning band, claiming Best EP with their EP "Forest Feuds" and Best Alternative band from the South African Metal Music Awards. With multiple shows, national tours and festivals under their belt, Ohgod plan on taking their unique sound to all corners of the globe.
Ohgod, A fresh band in the progressive and alternative rock scene in South Africa.The band is formed from 3 of the previous and seasoned members (Stefan, Pieter and Mark) of Lane Evermore, a Pretoria Based outfit who moved to Cape Town for a fresh start and one lone guitarist and sonic architect David Houston (ex – Mazaru)
Ohgod is:
David Houston – Guitars
Stefan Bothma – Guitars
Mark Woolfrey – Bass
Danny Harris – Drums
Calvin de Swardt – Manager
Discography
The Great Silence
1.Axiom 01:19
2.Gravitate 06:03
3.Pylons 06:58
4.Hungry Ghosts 04:59
5.Resplendence 01:42
6.Kepler 07:41
7.Avalanche 04:11
8.The Great Silence 02:55
9.Bloom 05:01
10.Introspection 05:26
11.Axiom Falls 06:36
about
Debut Full Length album "The Great Silence" by Cape Town based instrumental band Ohgod!
Progressive Post Rock.
credits
released December 9, 2017
Album Produced and Engineered by David Houston
Recorded at Sound And Motion and Twelve Eleven studios in Cape Town South Africa
Album Mixed and Mastered by Dylan Ellis
Additional engineering by Yan Sanchez, Danny Harris, Carl Roberts and Massimo Meneghetti
Cello on "Avalanche" performed by Luke Otto
Artwork and Design for The Great Silence by Simon Kennedy
Hungry Ghosts
Off the upcoming debut album "The Great Silence"
Hungry Ghosts Artwork by Christi du Toit // Graphic Art.
lyrics
Instrumental
credits
released October 7, 2017
Produced and Recorded by David Houston
Recorded at Sound and Motion Studios and Twelve Eleven Studios
Mixed and Mastered by Dylan Ellis
Additional Engineering by Yan Sanchez, Pieter Matthyser, Carl Roberts and Massimo Meneghetti
Ohgod is:
David Houston – Guitars
Stefan Bothma – Guitars
Mark Woolfrey – Bass
Danny Harris – Drums
Calvin de Swardt – Manager
Forest Feuds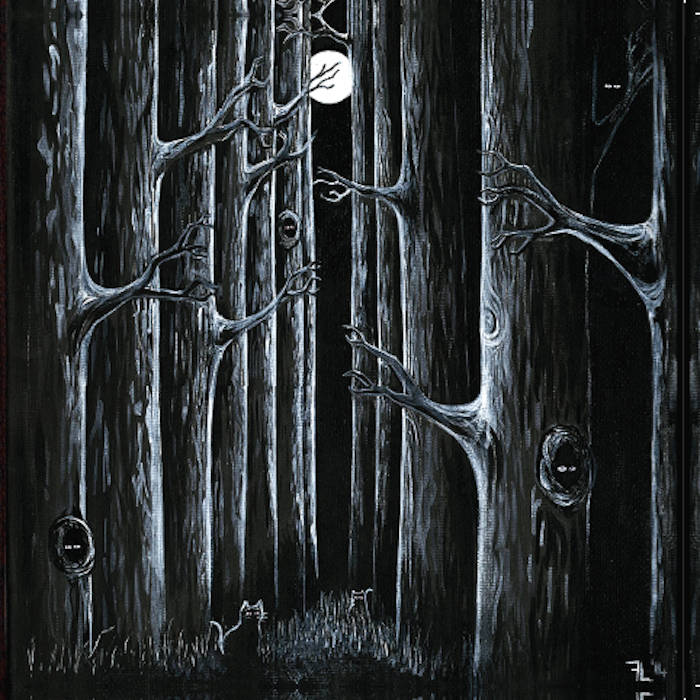 1.Old Tides 04:40
2.In Between Everywhere 04:16
3.The Voice 03:51
4.Axiom Falls 05:10
about
This is the first EP from debut Cape Town based instrumental band Ohgod .The music is designed for afflict the expression!
Ohgod = Instrumental Progressive post rock.
credits
released March 20, 2015
David Houston – Production, Editing
Yan Sanchez – Engineering
Bobby Adison – Mixing
Neil Pickles – Mastering
Frances Lawlor – Album Art
Thanks to 7 String Studios, Cape Audio College, and Paul Bothners for your support
Videos
Interview
THE GREAT SILENCE: AN INTERVIEW WITH OHGOD
Standard
Hailing from Cape Town, South Africa, instrumental prog-rockers OHGOD have just released a stellar début album, The Great Silence. Following from the success of this release, the quartet are about to make their way to Europe to play dunk!festival (Zottegem, Belgium) and Pelagic fest (Berlin, Germany), as well as supporting metalcore giants Jinjer on a German tour.
I'm planning on making a very similar trip myself, so I reached out to the band for an interview.
Bassist Mark Woolfrey was super stoked to hear that his music had reached my ears as far away as New Zealand, and chatted with me about the recent album, upcoming tour, and plans for the future.
Will Not Fade: I really enjoy your sound. It is a hybrid of progressive metal and post-rock yet isn't depressing. Who are some of your key influences?
Mark Woolfrey (bass): Wow New Zealand so rad! Thanks man glad you enjoy our music, it is always cool to know our music is traveling around. Influences are always a tough one to answer. As a band, we have a very eclectic range of music. It's also hard to answer because a lot of the time we pull fragments from all over the show, not even just bands, sometimes a single song if that makes sense. If I had to pick one band. Pick or die type vibes, If These Trees Could talk was certainly a huge influence when we started writing together.
Sorry if this question makes you groan, but did you always set out to stay as an instrumental act when you started the band?
No worries! When OHGOD was born we started just writing and at the time we didn't really even consider having a vocalist, not an intentional choice or anything, we were just focusing on the music. Then as things started coming together we kind of all came to the same point of "do we even want vocals?" It sort of gave us a whole lot of freedom as a band without a vocalist so we stuck with it..
Tell me about the South African Metal Music Awards.
The South African Metal Music Awards is a rad initiative here in South Africa that really tries to recognize specifically metal bands for their achievements. It's also a great concept to bring together a growing but niche scene in SA. At the end of the day it's just great to acknowledge bands for what they put in . We have found despite not being "metal" we have managed to find ourselves accepted in the metal scene which is pretty awesome. In short it is a really cool group from across the industry who run & organise the awards, each year they grow and improve things. We are pretty stocked to have taken a few awards home through the last few.
You have an amazing European tour coming up. South Africa and Germany are a long way from each other. How did this tour come about?
There is rather a lot of ocean and land between them haha. Well a long story short our manager Calvin does a great job at networking and talking to the right people. We have worked with him for long now, we kind of let him just do his own thing and he runs with it. He did what he does and got us on the lineup for Dunk! in Belgium and Pelagic in Berlin. Then we were super happy to partner with Turning Tricks Entertainment as our international agents who did what they do best. They came back to us with a number of dates through Germany supporting Jinjer on their Cloud Factories EU Tour 2018 with the rad dudes from The Dali Thundering Concept. So it was a great combo job of a great team and agents. Both move mountains for us.
Which acts are you most excited to see at dunk! and Pelagic festivals?
How long have you got?? haha. Can we just say both festivals and all the acts. Pretty much all the bands at both are on our playlists. We are all frothing over the headliners though.
Any guesses as to who the secret headliner for Pelagic fest is? My money is on The Ocean.
Hmmm yeah that's a tough one we have also been trying to figure that one out. Not sure where we would put our South African Rands on that one.
It looks like you've been earning lots of slots for festivals. Do you approach festival sets differently to a standard gig?
We have been focusing a lot more on festivals recently as a band. It is the kind of shows we want to focus on more. We have also been given so many great opportunities in both SA and overseas, we are constantly looking to take our shows to the next level or stage. I think we do spend a lot more time in selecting a set. We have been focusing on building our set with a lot more additions outside of just our instruments though. Quite excited for that!
I'm super jealous that you've got to play with Karnivool multiple times over the years. I've only ever seen them once. My friends in Tides of Man have toured with them in the past as well. Tell me about opening for them!
We have actually only ever played with Karnivool once. Again mad props to Turning Tricks for bringing them over to SA. What can one even say after watching Karnivool haha. What a band, they know how to put one hell of a show they break you brain and they're just sonic architects. We are all huge fans of them, so without sounding cliché jamming with was like a dream. Tides Of Man you say? Now that is another band we can't get enough of.
You crowdfunded your recent album via Thundafund. How did you find that process, asking your fans to front up money for an album before you made it?
Yeah that was mind-blowing! We received such a big response and help with our Thundafund. It was actually quiet intimidating to be honest, it really puts you out there. You start questioning it like would we hit it would we not. It really felt like a gamble. It was kind of humbling to see so many people who believed in us though, some people went all out and donated crazy amounts. Thundafund really allowed us to focus on putting out the best album out that we could. We have some of the best fans from all over.
Obviously you should be super stoked on The Great Silence. How did his recording process differ from Forest Feuds?
Well the major difference was we recorded Forest Feuds as a live multi track where as The Great Silence we did the more traditional approach of recording. We certainly learned a lot from Forest Feuds and with The Great Silence we just felt it was time to crank it up things to the next level. We wanted to put out an album that we could be like yes we are happy with that. We also had the means to put out a better album with funds and being able to work with the people we wanted for different aspects of the album. Our own guitarist David really spearheaded the recording process and Dylan Ellis from Canada took care of the mastering. Both stellar dudes who know their stuff.
What made you decide to include cello on the track "Avalanche"?
Ah man there is something so awesome about a cello. It is just a majestic instrument. We would jam "Avalanche" and just be like we need to feature something in here. This track just needs something . A little musical salt and pepper. Then it was decided, it need some cello spice and that was it haha.
The track "Axiom Falls" featured in both your 2015 EP and the album you put out last year. Why did that song in particular get revisited?
It was just a song we really enjoined as a band, we kind of felt like we never really got to give it justice as a track on the EP. We ended up changing some bits here and there but it was still such a relevant track to all of us. Plus it kind of tied in perfectly with the album concept.
Which band member spends the most effort on his hair?
I don't think anyone spends much time on their hair to be honest. We are just wash and go kind of dudes haha. Most of the dudes rock caps these days.
I see you posted about Star Wars on May the 4th. Which Star Wars film is your fave and why?
In all honesty, none of us are like crazy die-hard Star Wars fans (Unless you ask to see our managers leg – he's another story). Episode I – The Phantom Menace is up there though for me!
How long did you take you to make the Bob's Burgers "OHGOD!" montage?
OHGOD…OHGOD…OHGOD… just when you think you have heard your band name enough. Such a rad series that one. Surprisingly not as long as one would think we have a fair amount of help on that one to be honest.
You've just dropped a killer album and have an incredible international tour lined up. What can we expect next from OHGOD?
Well we want to focus on playing more festivals and start crossing more oceans as a band. Then when we get back from the EU we are going to start looking at writing some new music. We have some ideas of our next moves but we are going to sharing those quite yet.
Thanks so much for taking the time to answer these questions. I look forward to meeting you at dunk!fest in Belgium!
Awesome we look forward to meeting you there!!
OHGOD European tour dates
11 May – DUNK! FEST – Zottegem (BE)
15 May – MUSIK & FRIEDEN, Supporting Jinjer – Berlin (DE)
16 May – ROCKPALAST, Supporting Jinjer – Bochum (DE)
17 May – JUNGLE CLUB, Supporting Jinjer – Cologne (DE)
18 May – NACHTLEBEN, Supporting Jinjer – Frankfurt (DE)
20 May – PELAGIC FEST – Berlin (DE)
OHGOD is:
David Houston – Lead Guitar
Stefan Steyn – Guitar
Mark Woolfrey – Bass
Danny Harris – Drums
OHGOD links:
Joseph James
The Great Silence: An Interview With OHGOD | Will Not Fade
_______________________________________________________________________________________________
Reviews
[ALBUM REVIEW] Ohgod – Forrest Feuds EP
ARTIST: Ohgod
ALBUM NAME: Forrest Feuds EP
RELEASE DATE: March 2015
COUNTRY: South Africa
CITY: Cape Town
GENRE: Ghost Rock/ Instrumental
MEMBERS:
Stefan Steyn (Guitar)
David Houston (Guitar)
Danny Harris (Drums)
Mark Woolfrey (bass)
The album art gives us a subtle hint of what is about to happen. Then you throw that subtle hint away as the EP kicks off with 'Old Tides' and drags us into the deep-end without hesitation. The full band is in there from the get-go and feels like we've jumped on a runaway train. Throughout the album there are many extremes: happiness, longing, fullness, solitude, loneliness, excitement; and we're going to all those places. When things get heavy, eerie guitar notes call, urging one to follow. In turn, the basslines echo your misgivings, yet one is still urged to follow into the forest-filled crevices of the mind. These tracks are every bit as haunting as the term 'Ghost rock' suggests. The songs have a way of staying with you like the creature from 'It follows' but with a happier ending and a way more pleasurable stalking experience. But just when you feel so far away that you may never come back, the groove pulls you in again into the heaving, breathing, organism that has taken on a life of its own.
The music itself is well-crafted, every note placed with purpose. The absence of vocals is hardly missed, as the music is free to wander where it pleases. Despite the goose bumps, there is an irresistible, powerful groove drawing you in and you just can't help doing the 'prog-bop'. The basslines are especially tasty in 'The Voice'. While the bass and drums echo each other's thoughts, guitars weave in and out of each other, spinning their own tales. Each member knows their craft and together they are able to do magical things. The true spell is cast within the quiet and build-ups where bitter metal and sweet notes linger unanswered.
Now we get down to the nitty gritty. There is not much to fault them on save for two very small things (and now I'm really reaching here to at least pretend that I have something to criticise – because nobody is perfect). Personally I feel the production is not as squeaky clean as one would like, but still darn good. I feel it could have shown off what they can do even better, or not. Perhaps it lends itself to the sound and I'm really just nit-picking now so I don't sound foolish. The other thing is that it was pure torture only having 4 songs to listen to.
There you have it. Go and listen to their album so that if you disagree we can duel it out with our keyboards. Or you can go ahead and give these djentle-folk your money, because they're that awesome. Up to you.
!
Reviewed by: Kanga-Roo
Shots fired by: Wilder (more from Wilder)
Date: 22 April 2016
(More from The Metalist za on Ohgod)
[ALBUM REVIEW] Ohgod – Forrest Feuds EP – The Metalist za
_______________________________________________________________________________________________
Album Review Ohgod 'The Great Silence'
ARTIST: Ohgod
ALBUM NAME: 'The Great Silence'
RELEASE DATE: December 2017
COUNTRY: South Africa
CITY: Cape Town
GENRE: Instrumental Progressive post-rock
Stefan Steyn (Guitar)
David Houston (Guitar)
Danny Harris (Drums)
Mark Woolfrey (Bass)
Oh God, an instrumental progressive post rock band hailing from Cape Town, is back with their second release, The Great Silence. They've recently toured India and will be hitting Europe in May. They were nominated for four categories at the South African Metal Music Awards and took home the award for Best Progressive Metal.
Thus, it will come as no surprise when I say that this album is a thing of beauty.
From start to end the soothing echoes of haunting guitars, punchy drums and rhythmic bass are enough to calm any tortured soul. Every note is enchanting, creating irresistible desire. There is a myriad of intricate sounds, every layer revealing itself with each act of listening. The drums and bass create a pulsating heartbeat, forming the steady spine of this undulating creature. Its driven, pulsating cadences are given potency with their contrast to the moments of ethereal notes that pierce the silence, as well as contrasting with the silence itself. As Claude Debussy once said, "Music is the silence between the notes". Changes of tempo and time signatures weave together seamlessly as the music takes on a natural progression of build ups and come-downs. Each member is an artist, painting a picture with their instruments.
The album starts off with Axiom, 'a self-evident truth that requires no proof'. The song titles all hint at the story that is being interlaced – one of self-discovery and that which lies beyond. The album ends with Axiom falls, which by default suggests the fall of that which is accepted as true. A personal treat for me was the track, Avalanche, with its inclusion of the cello played by Luke Otto. I also particularly enjoyed the reappearance of Axiom falls from their EP Forest Feuds.
I had the pleasure of reviewing their first release, EP – Forest Feuds, and it has been a treat to be able to track their progress as a band. It is pleasing to say that The Great Silence far exceeds expectations and shows that the band has moved forward in leaps and bounds. While the production on Forest Feuds let down the band somewhat, the production on The Great Silence blows us out of the water and showcases this phenomenal band the way it deserves.
The only thing that can be done to give this band more justice is for you to find yourself the best pair of headphones you are able to get your hands on, (or better yet blast it as loudly as you can bear), turn the lights off and enjoy unravelling the layers.
Rating: 9/10
Reviewed by: Roushan van Niekerk
Shots fired by: Ohgod
Date: April 2018
[ALBUM REVIEW] Ohgod 'The Great Silence' – The Metalist za
_______________________________________________________________________________________________
Wonderful South African band with complex textures on layers that involve the instrumental genres of post-rock, psychedelic, ambient and progressive metal.
Its cadence is smooth, melancholy, harmonious, increasing, and abrupt, passing to the progressive metal full of feelings, euphoria and intensity, as in the case of the Kepler melody.
With beautiful structural arrangements where the anternance of scenarios is intense, virtuosity flourishes amid distorted, noisy, precise, high-pitched, traveling riffs; with a low shattering protrusion and a striking and vigorous battery, it shows all the performance potential of this incredible band.
The stoning and brilliance is evident in Avalanche with the inclusion of a wonderful cello, refining and opening new horizons to be explored.
Beautiful collection, it was a privilege to taste every chord spoken.
Aryon Maiden