Hailing from Palermo, Italy, 42DE is a great post-rock band that is known to create wonderful post-rock pieces.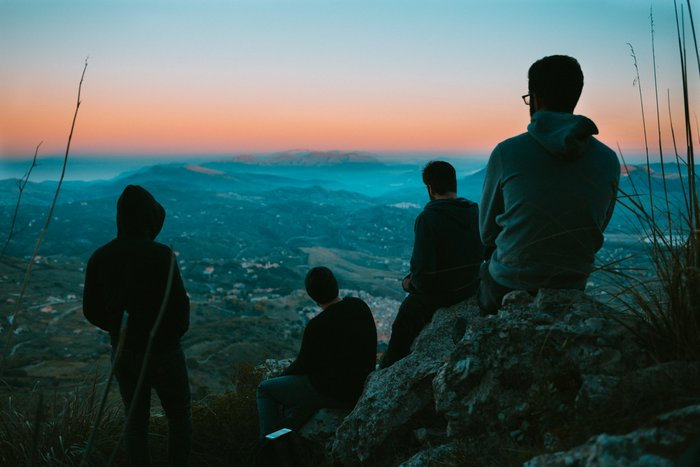 After four long years spent composing, contemplating, reviewing and improving their work, Italy's post-rock band, 42DE are coming out with their first full-length work: "Fall of the Moon". The album represents a summary of all the experiences that have reunited them under the wings of music, friendship and emotions.
42DE began playing together in Palermo, Italy, in 2014, starting from a mutual idea developed by the founders: Manfredi Anzalone, Sandro Giambruno, Nicolò Borrometi, and Valerio Ballarò. The band immediately set out on their journey concentrating on creating their own original tracks, distancing altogether from each members' past experiences, with the ultimate goal of merging their inclination for punk and hardcore with a post-rock sound and other instrumental genres. After one whole year spent composing, the band releases their first self-produced EP in August 2015. However, a few years after the release, the band formation underwent an unexpected change: Valerio leaves the band to be replaced by Massimiliano Bellavia. Their debut EP was re-issued by Fluttery Records. Now, they have their first full-length album.
What makes this record so unique is the fact that it was always meant to become a speechless concept-album, telling a story without the use of lyrics: listeners are driven by music to elaborate their personal defined storyline, helped with some hints left by the band itself (song titles, drawings etc.).
"Fall of the Moon" recounts a dreamlike scenario where earth defends itself from humanity's occupation by calling the moon to descend to its surface and delete every sign of civilization by falling. The moon – according to 42DE's imaginary – could be considered as the seed of a new life, the place where the clouds of a new Great Flood are waiting to be spread to wash everything away to start again with a new improved concept of existence itself. This album couldn't be a reality without the intervention of more than 80 faithful fans that have participated to 42DE's Musicraiser [Crowdfunding] campaign: it is going to represent a great new start for this Mediterranean post-rock band's musical journey.
Discography
Fall Of The Moon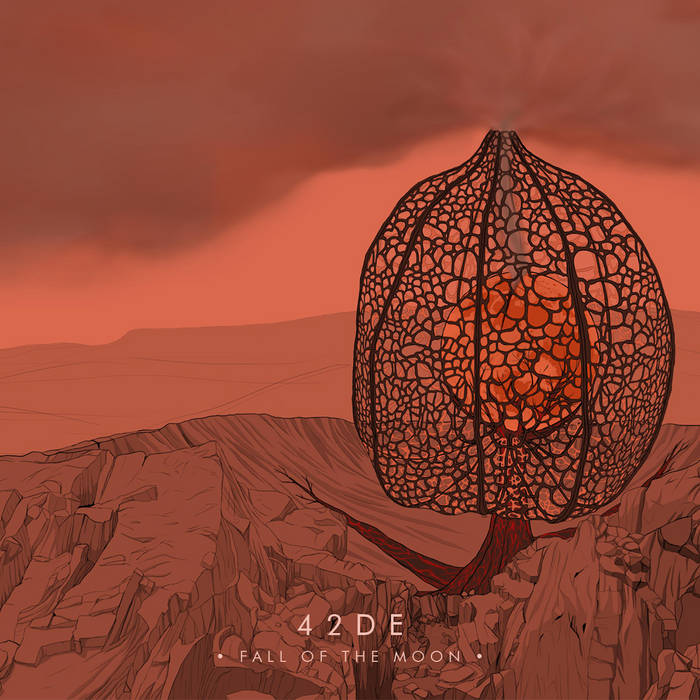 1.In Drama 05:09
2.Solitude 05:31
3.Interlude 02:21
4.Call Of The Giants 03:32
5.Creation Of Something Abstract 05:01
6.Magnitude 05:00
7.Submerge This World, Holy Rain 06:17
8.Dawn Of The Day 04:39
about
FLTTRY162
© 2018 Fluttery Records
http://www.flutteryrecords.com
EP
1.Colours Are Relative 03:00
2.4th Impact 04:03
3.Fall Of The Moon 04:31
4.Call Of The Giants 03:21
5.Creation Of Something Abstract 05:02
about
FLTTRY158
© 2018 Fluttery Records
http://www.flutteryrecords.com
The first EP tries to evoke a series of well-defined images to pass onto the audience as they listen. The title of each track provides with all the necessary information to allow the mind to wander on the five different depicted scenarios. Although it could be defined as a prototype version of the upcoming album – which is going to display a more well-defined version of the same story – the EP represents the first proper glance on what 42DE stands for. Energy, anger, melancholy, hope, desolation: they are all feelings being featured and juxtaposed during the course of the EP, in such a way to create a thought out emotional journey.
Three years have gone by since 'EP' was composed, and the record label believes that it deserves further consideration and attention: it will be in fact re-published and distributed by Fluttery Records.
credits
released July 14, 2018
Reviews
42DE
Fall of the Moon
Information
General information
Cast
Manfredi Anzalone Bass
Sandro Giambruno Drums
Nicole Borrometi Guitar
Massimiliano Bellavia Guitar
Reviews
Three years after their debut EP, the first full-time album by the Sicilian post-rock quartet 42DE was released in early September 2018. While "full-time" at a length of 37 minutes may be a somewhat daring term, in the label info Fall of the Moon is now referred to as such.
Fall of the Moon is a concept album that tells a somewhat crude story in textless form: the Earth fights back against man by letting the moon fall on itself in order to destroy human civilization. Jo. Let's go to the music. It moves in quite similar areas as Weiland on the EP, post-rock with occasional trips to metallic areas. The attentive reader will notice that two pieces (Nos. 4 and 5) were already included on the EP; however, they are not the same versions, although the differences are rather minimal.
Here, too, the quartet changes quite abruptly from filigree sounds with finely chiselled runs of the two guitars to the brutal riffs, in which they turn up a few degrees of hardness compared to other genre representatives. However, on Fall of the Moon, these passages seem to me to be a little less apparent compared to the EP; some pieces, such as Submerge this World, Holy Rain, are kept almost completely quiet. Despite the short running times for post-rock ratios, the pieces are kept quite varied, otherwise they simply move in well-known genre patterns. For this reason, in Fall of the Moon, what applies to (too) many newer post-rock productions applies: outspoken genre lovers who lust for "more of the same" will be satisfied, but those who are looking for novel or at least original sounds are here at the wrong address.
Babyblaue Prog-Reviews: 42DE: Fall of the Moon: Review (babyblaue-seiten.de)
42DE – Fall of the Moon (2018)
30/8/20180 Comments

Autumn- Stormy and dreamy
As the summer of 2018 draws to a close, it bids farewell with a memorable highlight in the genre of post-rock. Even the autumn melancholy in the next few weeks is likely to be blown away with the fresh debut album of the Italian band 42DE "Fall oft he Moon", which will be released on September 8, 2018 above the label Fluttery Records. The four-piece formation 42DE can be seen with its debut as a rising star at the post-rock firmament.
Autumn with all its characteristics – picturesque, fraught with melancholy, but also stormy and impetuous. Almost exactly like the debut album of the Italian formation. Founded in 2014, the first audio impressions followed in the form of an EP, which was re-recorded last month. The cast has remained constant over the four years, with the exception of co-founder Valerio Ballara, who left the group. He was replaced by Massimiliano Bellavia, who also pushed the idea of an album in the group.
Post-rock with progressive rock elements
Stylistically, 42DE nest the two music areas post-rock with progressive rock elements into a spherical sound carpet. The post-rock typical guitar effects are of great importance. Hypnotic soundscapes, roaring, energetic and dreamy to the same, to which one cannot listen enough enough. Dynamically rounded with the aforementioned progressive content to span the melodic arc. The tempo on the debut is just as variable, drifting pieces find their justification as well as slightly melancholic songs. On a case-by-case basis, you can often get carried away with a total of 8 songs of different lengths, on which 2-3 tracks were taken from the previous EP.
Without anticipating much, there are quite a few highlights on the debut, which could well serve as a flagship for the genre of post-rock. The opener "In Drama" shows the direction before withcatchy melodies of the guitars, reaching the climax 42DE with "Solitude" and the outstanding "Call of theGiants". Modern post-rock, as if it were a declaration of love in the music field itself.
Euphoric passages, lost harmony
One will come across euphoric passages on "Fall oft he Moon", as well as thought-lost harmony. For example, with the song "Submerge This World, Holy Rain", a piece thatalternates in terms of tempo and impulsivity. The Italians form a homogeneous structure of post- and progressive rock with "Creation ofSomething", thanks toimpressive instrumentalization. Fall often he Moon goes through like a slip, without lengthy and long-winded passages. A very positive characteristic for a first work.
As a final remark, Fall is often he Moon a very good post-rock album with impacts in the realm of progressive
rock. One can be sure that 42DE will consistently follow the path taken, the growing fan base also proves her right. As innovation progresses, we will certainly continue to hear and read about the formation in the future. Autumn may come, and the Italians have laid a firm foundation for this with their debut.


Fall of the Moon is the debut album by 42DE from Palermo.
Links to 42DE:
Facebook
Fall of the Moon Song List:
In Drama 05:09
Solitude 05:31
Interlude 02:21
Call Of The Giants 03:32
Creation Of Something Abstract 05:01
Magnitude 05:01
Submerge This World, Holy Rain 06:17
Dawn Of The Day 04:39
42DE – Fall of the Moon (2018) (weebly.com)
Stunning instrumental quartet from Palermo, Italy.
It uses layered texture in the post rock of ambient, atmospheric, melancholy, metal, progressive, doom.
With a prominent doom-style bass, sharp, precise, distorted, sliding guitars and a virtuoso drummer, he shows us an oscillating and increasing cadence, opening with melancholy and atmospheric effects, migrating to an explosive and stormy feelings of euphoria.
With riffs and chords executed with mastery, their melodies are well structured, full of performatic details and vigor.
The immersion overflows in flowing arrangements supported by intense metal passages that show the visionary potential of its members.
The creative capacity is amazing and intoxicating, with complex soundscapes of progressive in a hypnotic fusion of genres and styles, consecrating his debut album, as an unspeakable gem.
Great work.
Aryon Maiden.