Hylem is a Neoclassical / Post-rock / Post-black metal one man project from Puerto Montt, Chile. Founded in 2012 by E.L.
Sites:
Bandcamp: http://bit.ly/2NgIlpX​
Spotify: http://spoti.fi/3rFaOVE​
Deezer: http://bit.ly/2OkqIpP​
Apple Music: http://apple.co/3qc97Pc​
SoundCloud: http://bit.ly/2SwZjzz
Discography
We Will Never Be The Same
1.Queerer Than We Can Suppose 07:28
2.Now We Know How 07:31
3.Sculpted By Change 09:54
4.When We Share The Same Sky 08:00
5.We Will Never Be The Same 07:44
6.You're Just A Whisper Away 07:48
7.I Will Live, I Will Bring New Genes 03:33
8.Cubrirte Al Fin 04:18
9.Our Last Look Before Our Goodbye 07:38
10.Find And Lost 05:23
11.Wish I Could Heal Your Broken Wings 06:10
credits
released February 5, 2021
Photo cover by Lane Jackman
Her Lips Moved, Silent, In A Coral Light (EP)
1.Find And Lost 05:28
2."I Will Live, I Will Bring New Genes" (Жив буду, привезу новые гены) 03:32
3.When We Share The Same Sky 08:25
credits
released August 5, 2020
Photo cover by Christopher Campbell
Testimony of a Fragile Coincidence
1.I'll Speak To You Silently In A Whisper Upon The Breeze 06:26
2.For All Those Moments That Won't Come Back 07:34
3.A Sky Full of Ghosts 10:25
4.Remember Us Under The Night Among The Stars 05:44
5.Testimony of a Fragile Coincidence 08:38
6.Stay 04:36
7.Unafraid Of The Dark 09:04
8.From Roaming Throughout The Earth, Going Back And Forth On It 08:53
9.Say That I Stayed Here And Lay Down Beside You 04:49
10.The Moon With Silent Delight Sits And Smiles On The Night 07:21
11.Ashes In The Snow (Mono Cover) 11:37
credits
released January 29, 2020
Photo cover by John Salvino
john@johnsalvino.com
Reviews
Hylem – Testimony of a fragile coincidence
A journey to nostalgia.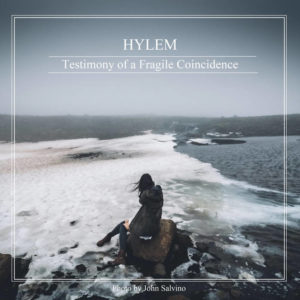 Wrapped in a mysterious haze, hidden in the unsinkable tide of bands and projects that populate the virtual world, Hylem inhabits a tiny corner of the network. Almost as if he wanted to remain hidden from ephemeral looks that jump from name to name, song to song or video to video as the indifference of those who observe the homogeneous leaf cover the fall floor. Its austere Bandcamp and its tenuous presence on Youtube reveal little information, except that it is a "one man band" from Chile.
Testimony of a Fragile Coincidence is an instrumental work that oscillates between the boundaries of very diverse genres without belonging to any of them. Paused, harmonic and graceful, it is based on post rock to build a melancholy and contemplative atmosphere, which flows very subtly and elegantly into other territories. A more metallic aspect makes use of trémolos and blast beats to approach the post black and blackgaze, although always with a clean and atmospheric sound that does not seek to convey a fierce but contemplative attitude. His energy is vital and luminous, shedding that beauty so present in nature, which calls for calm while producing a strange stage between sadness and happiness. A violin and a cello put the nostalgic and neoclassical counterpoint, dragging the cadence towards a more leisurely rhythm, reaching even border areas with a kind of synchonic doom.

When composing an instrumental work, you run the risk of trying to emulate the structures and times of works that contain a vocal section. This option is usually an obstacle, as it makes the work look like a lack of something that after minutes can end up being tedious. Hylem, on the other hand, shows its instrumental nature without artifice, expanding and developing gently but firmly until drawing places that invite reflection and relaxation.
With a duration close to the hour and a half Testimony of a Fragile Coincidence is not a work of rapid consumption, nor is it intended to be attractive at the stroke of emotional exaltation. It flows through the mind like a spring of serenity, dispensing with time to summe us in a balsamic stillness. Undoubtedly an experience that will fill those who are willing to get away from the hustle and bustle that lurks in us, both inside and out.
Stupendous composer and multi instrumental instrumentalist Chilean post rock, uses layered textures of neo classic, post black metal, blackgaze in dark tones, melacolytic and harmonious full of atmospheric effects.
Testimony of a Fragile Coincidence (2020) is smooth, creative, with long melodies very well elaborated, in a contemplative and resplendent way that invokes our sentimental side to flow between the riffs and chords masterfully rendered with post black and blackgaze strokes in counterpoint with strings , in a unique and absolutely graceful and intense harmony.
Her Lips Moved, Silent, In A Coral Light (EP) are three pieces with keyboards, woodwinds, strings guided by a majestic softness and a wealth of percussion details further enhancing this trilogy with sliding, treble and precise riffs that duel with violins and cellos in perfect sync.
We Will Never Be The Same (2021), his latest work, is a complex, creative album that brought together all the textures with an impeccable brilliance of execution and composition, with an oscillating cadence between the melancholy and intense black metal post, attenuated by beautiful inserts of strings and keyboards that lead us to a stormy and pleasurable sound delight of thematic arrangements, a masterpiece.
Aryon Maiden