Post metal instrumental band from Leipzig, Germany.
Layered textures groove heavy low end focused instrumental music with foundations in metal that also features wellplaced emphasis on more traditional upbeat rock styling.
For those post-rock enthusiasts who find themselves concerned about heading down paths characterized by reserved rhythmic tendencies or a lack of dynamic flourishes, rejoice in your discovery of jeffk, the heroes you've been waiting for. This is groove-heavy, low-end focused instrumental music with foundations in metal that also features well-placed emphasis on more traditional upbeat rock stylings. Functioning as a three piece, there is a necessary tightening of the compositional approach, making the chemistry displayed between each member paramount. The result is an inspiring fusion of drum and bass fueled swagger and post-rock textures.
Transposing drone concepts over riff-rock, jeffk builds sonic landscapes which utilize repetition as a tool to both crush listeners and inspire cathartic physical release (in the world outside of post-rock some refer to this action as "dancing"). The band takes the necessary time to construct their rhythmic patterns, but each track always feels like it is moving forward toward compelling ends. Careful listeners will also find themselves fascinated by the ease with which the bass vacillates between building the rhythm and accentuating the guitar melodies, acting as the agent of cohesion between two unique stylistic approaches. Inadequate shelter is a bright beam of light bursting through the cloud of familiarity, pulling the listener out of the prosaic haze and giving them something to get moving for.
jeffk is making their dunk!records debut with the release of inadequate shelter; for those listeners in America just becoming excitedly acquainted with the band, A Thousand Arms will be handling US distribution, so place your shipping cost worries at ease. — David Zeidler (Young Epoch)
jeffk • Inadequate Shelter [LP] – dunk!records
Members
Ziemann (Drums)
Tim Diedrich (Bass, Synthsizers)
Matthias Poese (Guitar, Synthesizers)
Discography
inadequate shelter
1.the up high down low low 08:13 video
2.vorare 10:15 video
3.oh! eightball 06:30 video
4.black hole white sheet 06:41 video
5.hawaii 05:18
about
RELEASED 29.09.2018
via
DUNK!RECORDS | DNK1856
ATHOUSANDARMS | A1KA012
credits
released September 29, 2018
Music written, performed & produced by jeffk, which are Steffen Ziemann (Drums) – Tim Diedrich (Bass, Synthsizers) – Matthias Poese (Guitar, Synthesizers)
Recorded March 2017 at Hidden Planet Studio Berlin
Recorded, mixed & mastered by Jan Oberg
Artwork by Benedikt Demmer / Druckwelle Design in 2017
IN THE DARKEST | EP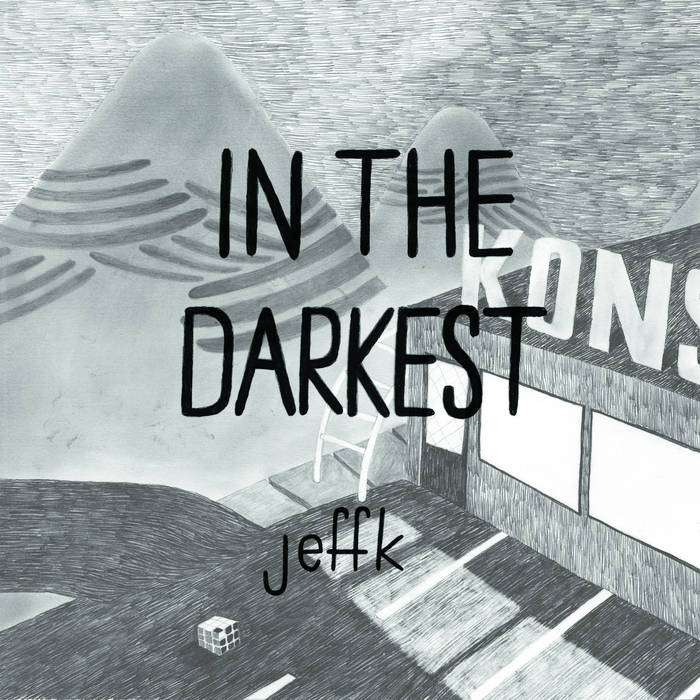 1.acht gehört zu keiner gruppe 06:56 video
2.tiefzwangkalt 05:17
3.grauer hall 09:20
4.und wenn ich mich bewege 06:06

credits
released July 20, 2012
Reviews
EXCLUSIVE PREMIERE: jeffk Peer Into the Future Once Again With "oh! eightball" Ahead of Repress
Eden Kupermintz March 3, 2020 Premieres
jeffk are a band I haven't written about nearly enough, seeing as they make exactly the kind of groovy post-rock which I adore. Drawing on comparisons like 65daysofstatic (in their darker mode) or Town Portal, jeffk have been around for a few years now, with their debut LP, inadequate shelter, seeing original release in 2018. It kind of flew under the radar not just for me but for other aficionados of the genre. Luckily, the mighty dunk!records are now gearing up for a re-press of the album, which should serve to put the excellent German back on the map for many of us. We're proud to stream an insanely cool looking video for one of the best tracks off of that album ahead of that re-press right here. Head on over the jump to check out "oh! eightball".
What I like about this video is that it captures the band's famously electric live presence while melding it with some visuals in an interesting way. The color scheme chosen works really well with both the melancholic tones of the track and the harder hitting passages, especially near the middle of it. Those hard hitting passages are what keeps me coming back to jeffk and to this track; their groove is hard to resist, just over the line to put the band into post-metal territory but with firms hooks of tone and style back in the post-rock underpinnings of their sound. This means that the atmosphere which the beginning of the track cultivates, dark and brooding in its heavily delayed guitars, can be maintained even when the band are going full ham.
jeffk's repress hits dunk!records on March the 13th. Head on over to the label's website for more details and a pre-order or check out the band's Bandcamp!
EXCLUSIVE PREMIERE: jeffk Peer Into the Future Once Again With "oh! eightball" Ahead of Repress – Heavy Blog Is Heavy
Stupendous post metal instrumental trio from Leipzig, Germany.
They use a layered texture of groove, metal, drone, experimental on an atmospheric background, with a prominent and striking bass, full of distorted, noisy, accurate riffs and a vigorous guiding battery with a traveling sound landscape in melancholy tones.
In a dark, vigorous and intense atmosphere, their albums slide through a very rich environment in details and performance, they literally peek at the instruments.
Their melodies are very well structured, with an increasing oscillating cadence marked by the groove in a creative and impressive way, it is a delight to appreciate the work of this band.
Looking forward to the next job, success and creativity.
Aryon Maiden