Spurv is an instrumental rock band from Oslo, Norway.
Spurv is an instrumental postrock/metal band from Oslo, Norway. Today, the lineup includes Gustav Jørgen Pedersen (guitar, main composer), Herman Otterlei (guitar), Hans-Jakob Jeremiassen (bass), Simon Ljung (drums), Eirik Ørevik Aadland (guitar) and Simen Eifring (trombone). The band saw the light of day in the beginning of 2011through a shared will to explore new musical terrains by the three friends Gustav, Herman and Hans-Jakob. Initially intended to be a platform for creating instrumental music in addition to other band projects, Spurv soon became the main focus of the three, who after a few months released the first demo Med enormt håp, complete with handmade cardboard covers.
Since their first live appearance at Rakels grotte (18.11.11), Spurv has earned their reputation for being an intense and emotional live act. Being particularly fond of underground scenes, the band performed a series of concerts in living rooms, art galleries and in Torpedo bookshop – including a legendary gig in their own flat.
‍
Blader som faller og blir til nye trær
In 2012, the band recorded and released their four-track EP Blader som faller til jorden og blir til nye trær, which was distributed by Diger, and later released on 12"vinyl by Doognad Records. Except from the drums, which were recorded with the aid of Sjur Lyseid, the EP was recorded in Hocus Focus studio by the band andErik Ringdal. Mix and master by Lyseid. The EP was very well received, and got an astounding 96/100 on postrockstar.com
"The level of craftsmanship in Spurv's music is simply off the charts and the way the band is able to draw the listener in with their deep thought-provoking and emotional music is something that we rarely see from young bands, let alone on debut releases. I have big expectations for these Norway Post-rockers in the future. This is a must listen to EP of 2012."
"Spurv has without doubt made one the year's best post-rock albums"
(8/10) Panorama.no
​
"Post-rock of high international standards."
(5/6) GAFFA Norge
"Myra sounds like a classic. It's the post-rock album to beat in 2018"
​
– A closer listen
​
"Grandiose, beautiful and absolutely amazing" (10/10)
– Musikknyheter.no
​
"This is indeed a landmark in the cultural landscape of 2015 and a band to follow closely in the years to come."
Skarntyde
Over the years, the band has had a changing line-up, but in 2013 Simon Ljung (drums) joined as a the fourth cornerstone of the band, contributing with an aggressive, yet detailed style of playing. After appearances at the Fjellpark Festival and the Øya Festival's club program (John Dee), in addition to venues in Oslo, Trondheim andPorsgrunn, the band started working on their first full-length album, Skarntyde.
This time, drums were recorded by Rolf-Arne Strandjord, while the rest of the recording process was done by the band themselves in their rehearsal space. The album was mixed by Strandjord, mastered by Magnus Lindberg (Cult ofLuna) and released by No Forevers records, 11.05.15. Artwork by Linda K. Røed.
After a sold-out release concert at Internasjonalen in Oslo, the album brought the band to Vivid: A post-rock festival, live appearance on national radio (P3 Ruben), shows all over Norway and Sweden, and in 2016, to DarkBombastic Evening in Transylvania, Romania. The show at DBE was canceled midway due to heavy rain and hale, but the band later went on stage and performed a final song for the enthusiastic crowd.
Since 2016, the line-up of the band also includes Eirik Ørevik Aadland(guitar) and Simen Eifring (trombone), adding new energy and enthusiasm to the band. In 2017, while writing and recording their second album, Myra, the band performed at the renowned Dunk! Festival in Belgium and returned once again to Dark Bombastic Evening in Romania in order to perform a full set.
Myra
In the first months of 2017, Spurv entered Malabar studio in Oslo and recorded their entire second full length album, Myra, there. The album was engineered by Martin Bowitz in collaboration with Emil Nikolaisen, mixed by Bowitz and Jørgen Smådal Larsen, and mastered by Magnus Lindberg. It includes musical contributions by Ole-Henrik Moe (picoletto, violin, viola, cello), Kari Rønnekleiv (violin), Cathy Donnelly (cello), Tore Ylvisaker (synth) and OleAleksander Halstensgård (fx and synth). The album cover is adorned by the paintings "Monarch" and "Sighting" by Christer Karlstad. Graphic design byGaute Terjesson​. In the beginning of 2018, the band signed with Fysisk Format who released Myra on 12" vinyl and cd 01.06.18.
Spurv is a six-piece instrumental post-rock -metal band from Oslo | Spurv.net
Discography
Myra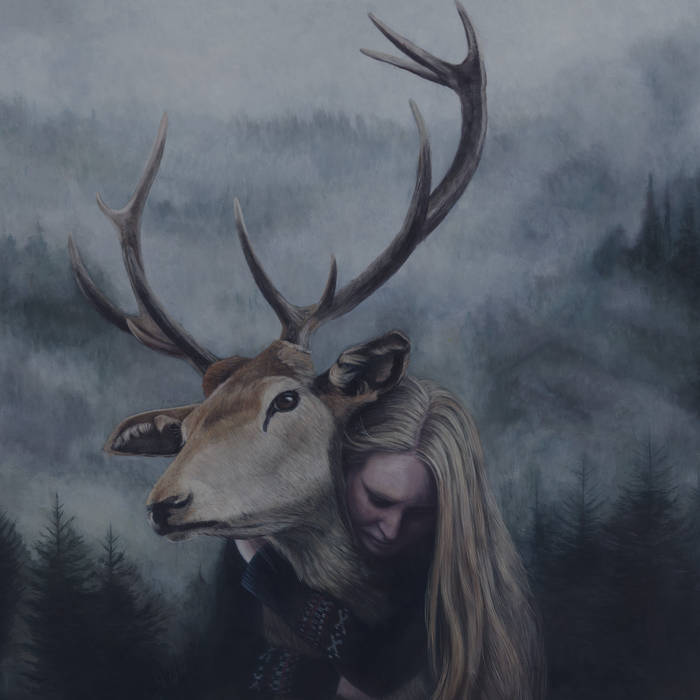 1.et løfte i fall 00:43
2.og ny skog bæres frem 03:59
3.fra dypet under stenen 08:26
4.hviler bekkenes sang 04:29
5.et blekt lys lyder 05:28
6.fra myrtempelet 03:55
7.den gamles stemme brister 09:13
8.allting får sin ende, også natten 10:15
credits
released May 31, 2018
Skarntyde
1.Passacaglia (fugler med ord i nebbet) 14:13
2.Mellom broen og elven 07:30
3.Lyden av løv som biter seg fast til sin egen kropp 08:47
4.Hvorfor er det noe og ikke ingenting 14:01
about
Spurv's debut album. Released on No Forevers Records 11.05.15.
credits
released May 11, 2015
Hans-Jakob Jeremiassen: Bass
Herman Otterlei: Guitar
Gustav Jørgen Pedersen: Guitar
Karl Kristian Støtvig: Guitar
Simon Ljung: Drums
Synøve Knudsen: Violin
Cathy Donnelly: Cello
Drums recorded by Rolf Arne Strandjord
Guitars, bass, additional percussion and strings recorded by Spurv
Mixed by Rolf Arne Strandjord
Mastered by Magnus Lindberg
Skarntyde drawn by Linda K. Røed
Music, arrangement and production by Spurv
Layout and titles by Spurv and Julie Arenthine Leding
Copyright Spurv 2015
Blader som faller til jorden og blir til nye trær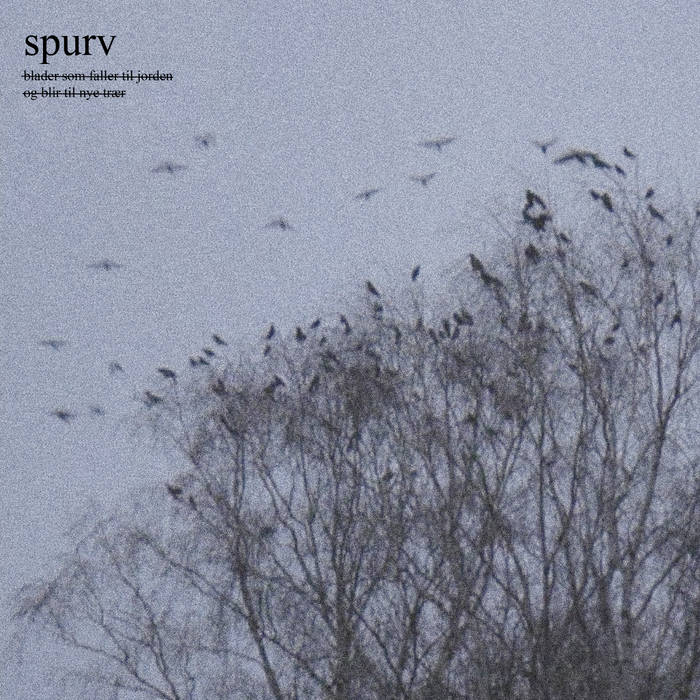 1.Store øyne, men uten gevir 07:37
2.Gamle årringer 06:54
3.Med enormt håp 07:37
4.Jeg våknet av en gren 09:45
credits
released April 5, 2012
Gaute Kjølner Andersen: Guitar
Inger Hannisdal: Violin
Hans-Jakob Jeremiassen: Bass
Jostein Lien: Drums
Herman Otterlei: Guitar
Gustav Jørgen Pedersen: Guitar
Ragnhild Tronsmo Haugland: Cello
Guitar, bass, violin and cello recorded in Hocus Focus Studio
with help by Erik Ringdal
Drums recorded in Spoon Train Studio with help by Sjur Lyseid
Mix and mastering by Sjur Lyseid at Spoon Train Studio
Music, arrangements and production by Spurv
Titles and layout by Spurv and Julie Arenthine Leding
Copyright Spurv 2012/2014
Videos
Reviews
---
Blader som faller til jorden og blir til nye trær by Spurv
Artist:
Title: Blader som faller til jorden og blir til nye trær
Catalogue Number: No catalogue number
Review Format: MP3
Release Year: 2012
---
---
Being always behind schedule with these reviews, I was actually using this EP by Norwegian band Spurv as more background music as I composed a rather long technical document. We all need to pay the rent, after all. The point of that little preamble, though, is to make it clear that this band's EP "Blader som faller til jorden og blir til nye trær" turned out to be much more than mere background music.
Although I would say that they are considerably more mainstream than their bio would suggest – fans of Portishead and Coldplay would find much to enjoy here – Spurv aren't exactly ordinary. It is, however, quite difficult to pinpoint why. Instrumental music like this doesn't lose anything in the translation and the rock into post rock extemporisations are nothing unexpected yet there is something here that works and is just a bit different.
The clue is perhaps in the length of these songs with "Jeg våknet av en gren", for example, hitting the nine minute mark. That would normally be an excuse for self indulgence but not here. Spurv have taken a carefully, and emotionally effective, approach to turning each of their songs into something a touch majestic that draws more from classical music than it does from the stadium of commercial success. Their secret is out.
---
facebook.com/spurvinnen
Reviewer: Bluesbunny
Review Date: June 26 2012
Review of Blader som faller til jorden og blir til nye trær by Spurv (bluesbunny.com)
Spurv – Myra Review
By GRYMM on June 13, 2018 in 2018, FYSISK FORMAT, INSTRUMENTAL METAL, NORWEGIAN METAL, POST-ROCK, REVIEWS, INSTRUMENTAL METAL, 40 comments
Every successful album, of every genre of music you can imagine, relies on a few key characteristics to make it the monumental album people herald over time. Perhaps it's the timeliness of the album's subject matter and how it ties in to what's going on in the world today. Maybe it's the originality of the blend of influences a band's been combining to make something fresh. Most often than not, though, most timeless albums share a single common thread. In other words, the album just flows like an everflowing stream of (insert flow-y liquid/substance here). Norway's instrumentalists Spurv harness the ability to flow on their third album, Myra.
After a short, ambient intro complete with rushing water, a horn opens up "Og Ny Skog Bæres Frem," immediately followed by a high-note tremolo melody on guitar, an off-kilter drum pattern, and a melody carried by bassist Hans-Jakob Jeremiassen. The song gets noticeably heavier towards the second half, as Jeremiassen's bass gets distorted, and both Herman Nilius Otterlei and Gustav Jørgen Pedersen trade off some intriguing tremolo melodies as the song reaches the end. While not the most effective of opening salvos, it at least got my attention long enough to wonder what was next on the menu.
And that next item, "Fra Dypet Under Stenen," could give American instrumental lords Russian Circles a run for their money. Between Jeremiassen's groove, Simon Ljung's frantic drum playing, and build-up and release of tension that swells and releases, "Fra Dypet Under Stenen" stands out for being simultaneously hefty yet also glowingly optimistic in its melodies and aura, and packs a truck-full of drama and intrigue in its eight-and-a-half minute length. Closer "Allting Får Sin Ende, Også Natten" comes closest in terms of matching its intensity, building off a beautiful opening piano melody, and riding a wave of emotions that build and crest repeatedly over the song's ten-minute duration. When Spurv are on their game, the emotional tug-of-war leaves the listener exhausted in the best ways possible.

But that middle section pulls things down a bit. I know it's not easy to build up tension without a vocalist, but as Russian Circles and Caspian have proven, it can be done. While none of the songs between "Fra Dypet Under Stenen" and "Allting Får Sin Ende, Også Natten" are bad, they don't particularly stand out, either. But as a collective whole, though, Myra makes for an engaging listen when you're in the mood to (mostly) sit down, kick back, and unwind for about 40 minutes. Aiding in this journey is a lush production, sounding both natural and organic, whether it's in Jeremiassen's bass, Ljung's kit, or the layers upon layers of horns and strings that perforate the album.
And that's exactly how Myra is best listened to: as a creative, flowing whole rather than just bits and parts here and there. While it won't replace Geneva or Memorial as my go-to album for an instrumental fix, Myra definitely intrigued me enough to keep an eye out for Spurv's future offerings, as there's a lot to enjoy here. Definitely a band to keep an eye out for.https://www.youtube.com/embed/1S99YhuQV88
---
Rating: 3.0/5.0
DR: 8 | Format Reviewed: 320 kbps mp3
Label: Fysisk Format
Websites: spurv.bandcamp.com | facebook.com/Spurvinnen
Releases Worldwide: June 1st, 2018
Spurv – Myra Review | Angry Metal Guy
Stupendous Norwegian post metal instrumental band, using layered textures of neo, melancholy, folk, metal, ambience, stuffed in strings on an atmospheric background.
With long, complex, very well-structured melodies, they explore all their creative potential with an impressive resourcefulness, full of details in a refined harmonious sound landscape full of distorted, noisy, precise, accurate riffs that duel each other in a hypnotic scenario that slides by intense layers and interpreted with an ecstatic brilliance.
I thank Sadou for introducing me to this fantastic band, his collection is magnificent and engaging, I recommend an appreciation.
Aryon Maiden