Spellbound Circle is an Italian instrumental rock trio, formed in 2014 in Bergamo.
Their sound Is a blend of genres encompassing progressive, post rock, grunge and a tad of psychedelia. In November 2019 they released their debut LP titled Escalation.
Home | Spellbound Circle (wixsite.com)
Line-up
Michele Banfi – Guitar and Pedals
Aurelio Pizzuto – Fretless Bass
Ylenia De Rocco – Drums
Discography
La processione della volpe
1.Murena 03:33
2.Giacomo di cristallo 03:41
3.The butterfly men 04:56
4.Primo quarto crescente 04:00
about
Another genre blending effort in instrumental music, progressive meets post rock meets grunge all packaged in 4 tracks
credits
released November 19, 2021
Recorded by Stefano Pavoni, mixed by Michele Banfi
Cover artwork by Marco Bergamini
Music by the mighty Spellbound Circle:
Ylenia DeRocco – drums
Aurelio Pizzuto – bass, cello
Michele Banfi – guitars
https://distrokid.com/hyperfollow/spellboundcircle/la-processione-della-volpe
Escalation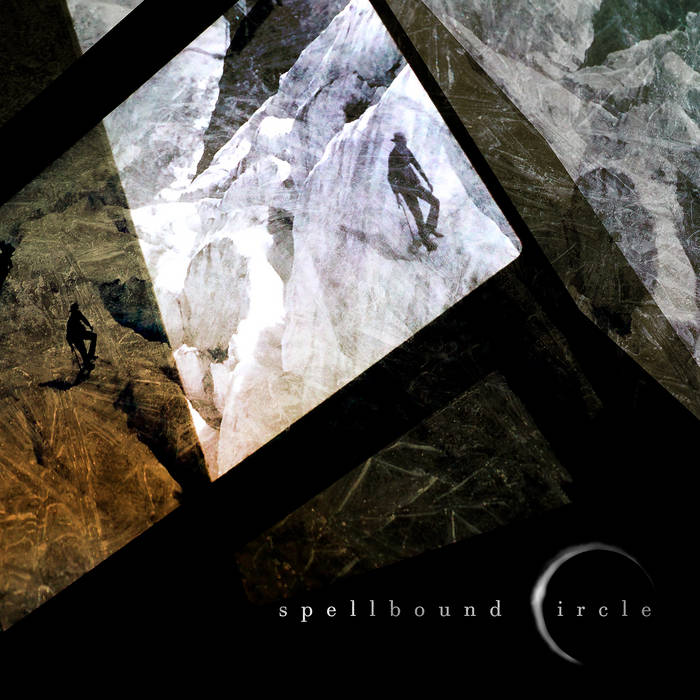 1.Orange 04:54
2.Nebulosa C 05:34
3.Radiotherapy 04:09
4.The coin under the tree 05:55
5.County devil 05:20
6.Paris in N.Y. 04:19
7.Froggie 04:56
8.Awakenings 05:30
9.Carousel 03:25
10.Episodio 9 04:34
credits
released February 8, 2019
All music written and performed by Spellbound Circle
Live recorded in 2017 at Capannone Grande Grande studio
Engineered, mixed and mastered by Michele Banfi
Artwork by Marco Bergamini
"This album is almost an instrumental tale divided into ten chapters, in which the subject seems to be "the quiet before the storm". The three musicians from Bergamo bring this dark painting to life with the classic rock formation: guitar, bass and drums. Only three instruments that can produce well over fifty shades of gray, going from the lightest and most melancholy ones to the darkest and most tormented ones.."
[Rockit.it]
(6) Spellbound Circle – Tema – YouTube
(6) Spellbound Circle – YouTube
▶︎ Escalation | Spellbound Circle (bandcamp.com)
Spellbound Circle (@spellboundcircle) • Fotos e vídeos do Instagram
(2) Spellbound Circle | Facebook
Reviews
Spellbound Circle excel on Escalation
Spellbound Circle is a direct, driven, prog-rock three-piece from Northern Italy. Or, as their Facebook bio describes them, "Two nice guys and a kind lady bashing strings and skins in the name of music." I prefer my description…
The band released their debut LP Escalation back in November and it's been blowing my ears off for the last few days. What's immediately evident is the chemistry and passion the band has for making music together. Like our very own God Is An Astronaut and Overhead The Albatross, Spellbound Circle masters the tricky art of instrumental on this record.
Without vocals to direct the songs, instrumental rock can sometimes be difficult for listeners to connect with. That's not the case here however, as Escalation stirs reaction by way of dense intensity.
Take "The Coin Under The Tree" for example, a song that builds in sections, retreats momentarily and then relapses into an even greater cacophony of drama. It's all encompassing, violent at times and heavy throughout, even in the lulls. That said, I could say the same for most songs as each becomes its own story. "County Devil", "Orange" (video below) and "Awakenings" are just three more tracks that you could drop into and become immersed in.
As a whole, Escalation is a journey and, more importantly, one that doesn't bore or cause you to drift off for even a second.
Escalation is available on Spotify and I would advise turning the volume down BEFORE you press play.
And for all things Spellbound Circle, follow the band on Facebook, Bandcamp and Instagram.
Spellbound Circle excel on Escalation – reclessreviews
Wonderful Italian post-rock instrumental trio, using layered textures of melancholy, dark, grunge, metal and progressive.
His debut album "Escalation" is intense, vigorous, full of distorted, sharp and precise riffs, a prominent bass and a drummer who gives himself body and soul.
With well-structured melodies, creative and precise fingerings, the creatives execute an oscillating and growing cadence that explodes into performative feelings with impeccable ease.
With an impressive synergy, his soundscapes explore and dominate the intensity of sensations emerging in the opposite duality in each chord masterfully pronounced.
On November 19, 2021 the album "La processione della volpe" was released with four intense, immersive, well-structured, refined and multifaceted melodies, showing an indescribable potential in performance and creativity, with wonderful cello details and immersive fingering in a sea complex arrangements that show all the resourcefulness of the band, great album, I recommend.
Aryon Maiden