Poppy Ackroyd is a composer from London, currently based in Brighton. Classically trained on violin and piano, she makes music by manipulating and multi-tracking sounds from just these two instruments.
Her debut album 'Escapement' was released in December 2012 and a DVD – 'Escapement Visualised' – featuring bespoke visuals by Lumen for each track on the album, was released in September 2014.
'Feathers', her second album, followed in November 2014, and builds on the concept behind her debut, with most of the sounds again coming from the violin and the piano, however this time the tracks also feature other keyboard and string instruments.
In 2017 she signed to Bjork's label One Little Independent and released a mini album 'Sketches' in August. 'Sketches' is an acoustic solo piano album comprising of 10 tracks. Six of these are reworkings of tracks from 'Escapement' and 'Feathers', the other four are arrangements of new tracks from latest full album 'Resolve'.
Resolve was released on One Little Independent Records in February 2018. Again largely piano and violin based, it features guest instrumentalists for the first time – Manu Delago on hang, Mike Lesirge on flute and clarinets and Jo Quail on cello. 'Resolve Reimagined' followed in 2019 featuring remixes from Max Cooper, Hidden Orchestra, Hauschka and others.
In 2020 Poppy released her first sheet music book featuring the tracks from the solo piano album 'Sketches'.
Poppy is a member of Joe Acheson's live project Hidden Orchestra (Tru Thoughts Recordings) and has worked on numerous projects with other musicians, artists, filmmakers, animators, dancers and actors.
Poppy Ackroyd gratefully acknowledges support from PRS for Music Foundation.
http://www.prsformusicfoundation.com
Discography
Resolve Reimagined
1.Paper (Max Cooper Remix) 06:21
2.Light (Hauschka Remix) 04:51
3.The Calm Before (Daisuke Tanabe Remix) 05:52
4.Resolve (Floex Remix) 07:40
5.Quail (Hidden Orchestra Remix) 05:41
6.The Dream (Penelope Trappes Remix) 04:58
7.Time (Lone Figures Remix) 05:17
8.Luna (Ben Lukas Boysen Remix) 11:11
9.Trains (Nuage Remix) 05:57
about
A year after 'Resolve' was released to critical acclaim, breath-taking post-classical artist Poppy Ackroyd releases 'Resolve Reimagined' with One Little Indian Records.
The pianist, violinist, producer, and composer has teamed up with a collection of friends and artistic peers, including Hauschka, Penelope Trappes, Max Cooper, Ben Lukas Boysen, Hidden Orchestra, Floex, Daisuke Tanabe and Nuage. As remix albums go, 'Resolve Reimagined' is in a total league of its own; each track embarks on its own journey between genres, embracing unmistakable sounds taken from the original pieces yet each one radiates the essence of the artist that remixed it.
The ground-breaking album explores life's constant challenges, and many of the songs are extremely personal to Poppy. In her own words: "Resolve is about the determination to embrace the good things in life whilst dealing with unexpected and challenging difficulties. Finding the light in the dark, facing sadness and loss head-on, and developing a growing inner strength."
Although a keen collaborator outside of her solo work – having created soundtracks for film, dance, physical theatre and radio – Resolve is the first record for which Poppy employed other players, including Manu Delago (Bjork, Cinematic Orchestra, Anoushka Shankar) playing hang, Mike Lesirge (Bonobo, Andreya Triana) playing clarinets and flute, and Jo Quail on cello.
Ackroyd creates percussive textures from traditional classical instruments, and the result is almost the emulation of an entire orchestra, using very few instruments combined with the artist's incredible production skills. The gifted artist works by recording improvised contemporary classical piano motifs and then rearranging and manipulating these sounds digitally. The result is a fantastic fusion of acoustic and electronic in a post-classical setting.
"Ackroyd's most rewarding collection." – 7/10 Uncut
"Resolve puts her comfortably on par with neo-classical giants Nils Frahm, Max Richter and Hauschka." – **** MOJO
"Occupying a space somewhere between Nils Frahm and warped electronic composer Anna Meredith." – *** Q Magazine
"It's a beautiful, elongated five minutes or so and Ackroyd makes the whole thing seem completely effortless." – The Line of Best Fit
"…exceptional stuff." – 8/10 Loud & Quiet
"Poppy Ackroyd can conjure whole worlds of sound out of the barest essentials." – Stereogum
"…a neo-classical force to be reckoned with." – Electronic Sound
credits
released February 22, 2019
Resolve
1.Paper 04:34
2.Light 05:20
3.The Calm Before 06:09
4.Resolve 04:16
5.Quail 04:54
6.The Dream 05:23
7.Time 06:09
8.Luna 04:41
9.Stems 01:33
10.Trains 04:35
about
On February 2nd 2018, Poppy Ackroyd releases her first full-length album with One Little Indian Records, Resolve.
A classically trained pianist, violinist, producer, and composer, Ackroyd turned heads in the neo-classical world with her previous works Escapement and Feathers, as well as her involvement in Hidden Orchestra (Tru Thoughts).
Having played alongside giants of the genre, Hauschka and Nils Frahm, the unique musician has returned, fresh off the back of a mini-album Sketches, and set to release her brand new self-produced full-length record – her most ambitious and progressive piece of work to date.
Ackroyd plays a combination of both upright and grand piano, and even plays the inside of the instrument using fingers, drumsticks and plectrums – and then arranges and multi-tracks the resulting sounds. The artist employed the same technique to record herself playing violin, pianino, harmonium and spinet, as well as record other musicians who played cello, flute, clarinet, bass clarinet and hang.
Although a keen collaborator outside of her solo work – having created soundtracks for film, dance, physical theatre and radio – this is the first record for which Poppy has written for and employed other players, including Manu Delago (Bjork, Cinematic Orchestra, Anoushka Shankar) playing hang, Mike Lesirge (Bonobo, Andreya Triana) playing clarinets and flute, and Jo Quail on cello.
Through studying contemporary classical piano works and listening to electronic music, Ackroyd quickly developed her signature compositional style on previous albums, using contemporary pianistic ideas whilst also inhabiting the world of sound beyond the keyboard, using extended techniques to 'play' other parts of the instruments as well. The intelligent artist works by recording improvised contemporary classical piano motifs and then rearranging and manipulating these sounds digitally. The result is a fantastic fusion of acoustic and electronic in a post-classical setting.
credits
released February 2, 2018
Sketches
1.Resolve 04:35
2.Light 03:12
3.Feathers 06:42
4.Rain 03:06
5.Time 05:51
6.Birdwoman 05:39
7.Strata 04:33
8.Glass Sea 05:11
9.Croft 05:15
10.Trains 03:52
credits
released August 4, 2017
Composed and performed by Poppy Ackroyd
Recorded by Ben Thackeray at Retreat Recording Studios
Produced by Joe Acheson and Poppy Ackroyd
Mastered by Mandy Parnell at Black Saloon Studios
Artwork by Norman Ackroyd and Poppy Ackroyd
(p) 2017 One Little Indian Records
© 2017 One Little Indian Records
The Birds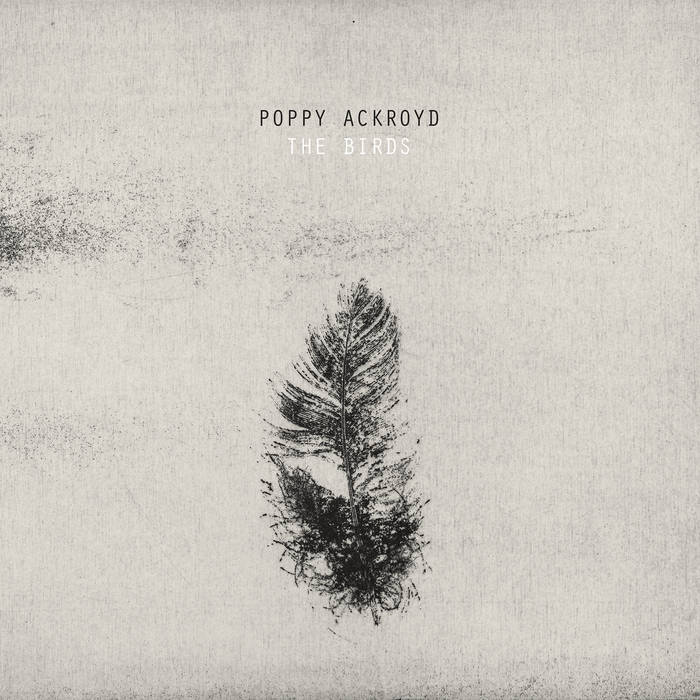 1.Feathers 06:42
2.Birdwoman 05:39
3.Glass Sea 05:11
about
'The Birds' are three tracks released together as the lead singles from the upcoming album, aptly named 'Sketches', due to its stripped down nature, is bejeweled by thematic undercurrents.
'Sketches' serves to reintroduce listeners to Ackroyd's most stunning pieces from her previous albums, all of which have been reworked into 'acoustic' solo piano arrangements alongside four brand new unheard pieces, which offer a taste of a new forthcoming record. The mini album sees a July release in preparation for a brand new full length album to be released in October, and One Little Indian will also reissue Ackroyd's back catalogue on CD and vinyl alongside the new mini-album.
credits
released May 26, 2017
Feathers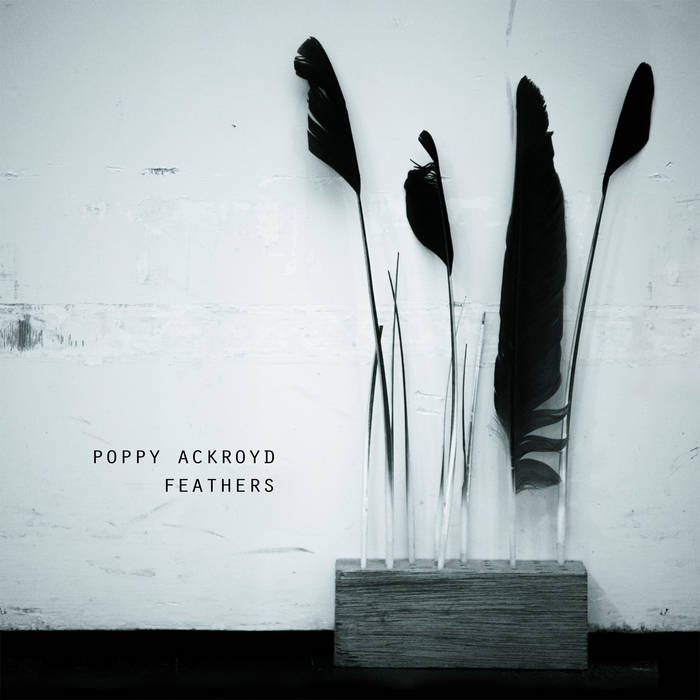 1.Strata 04:48
2.Salt 04:27
3.Timeless 05:50
4.Feathers 06:06
5.Roads 05:15
6.Croft 05:30
7.Taskin 03:16
8.Birdwoman 05:35
credits
released March 15, 2015
Escapement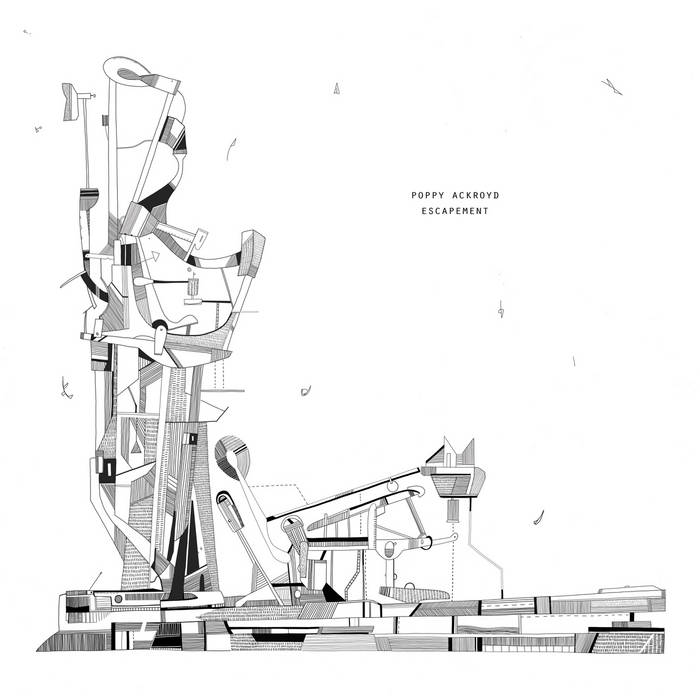 1.Aliquot 04:32
2.Rain 05:10
3.Seven 03:46
4.Glass Sea 04:54
5.Lyre 04:06
6.Grounds 04:44
7.Mechanism 04:14
credits
released December 14, 2012
(5) Poppy Ackroyd – Tema – YouTube
Music | Poppy Ackroyd (bandcamp.com)
Reviews
Poppy Ackroyd
Resolve
8/10
Words by Chris Watkeys
Neo-classical, as a genre, is a big deal these days, and one of its most interesting exponents, Poppy Ackroyd, has made the step to One Little Indian for this, her third album. Ackroyd is an artist known for her non-conformist approach to producing the actual sounds she makes in her music – various inventive new ways of making a noise with a piano or violin – but that's of consequence only to the muso geeks amongst us.
For everybody else, the end result, especially so this time around, is something rich, sweeping and enveloping. The string section on 'Light' is just magnificent; it carries you with it, inexorably, like a huge wave on an open sea, possessed of huge drama and power. Stylistically, this record doesn't differ wildly from her work so far, but where it really excels is in its sublime consistency and the range of emotions it engenders. Listen to 'Resolve' casually and it's a wonderful record; but really engage with this music and it'll reciprocate tenfold.
Poppy Ackroyd – Resolve – Album review – Loud And Quiet
(((O))) : POPPY ACKROYD – ESCAPEMENT
Poppy Ackroyd
Out now through
I love reviewing music and I love most reviewing great music. This is the turn of very great music and therefore I couldn't be happier than this. Being a fan of Hidden Orchestra I discovered Poppy Ackroyd as a member of this great Scottish band and when I heard about her solo experiment I was really curious to listen to it. The result is that Escapement – this is the title of the British artist's first album – is in each of my playlists since that day.
Poppy Ackroyd is a performer and composer from London who is currently based in Edinburgh that made proof of her artistry not only playing as a member of the wonderfully eclectic Hidden Orchestra but also collaborating with choreographers and filmmakers. Her first solo album, Escapement, is a journey through 7 tracks that in a bit more than 30 minutes is capable to excite the listener, both the attentive and the random one.
There are three actors on this beautiful album: the violin, the piano and the elegance of the artist. The basic idea of Escapement is to melt classical themes, in this case the ones of the violin and the piano, with a post attitude where the instrument complexity of an entire band is replaced by a wide range of field recordings and sound effects. The album, in effect, has been recorded with a single microphone and then edited, manipulated, remixed, and refined on a personal computer by Poppy herself. The outcome of this fusion goes over each expectation since we are in front of an album that consists of the sweet and quiet mood of classical music together with the avant-garde world of the electronic music. That's why it will be impossible that this album will remain dust covered on your shelf.
The opening 'Aliquot' begins with a soft piano introduction and soon the violin enters into the scene adding persuasive moments into the song. The two instruments go together in this quite intro to the album and the protagonist of the song is the unconventional way in which Poppy Ackroyd plays them since she always add something different – can be her hands or the e-bow on the piano strings – to create unusual timbres and textures. In 'Aliquot', for example, you have the impression that there is also a guitar but she creates this effect simply plucking the strings of the violin. This is original, this is art.
The following 'Rain' is one of my favorite songs of the album. A masterpiece! 'Rain' opens up with the sound of rain and gently the violin steps in between the sound of the drops falling on a surface. Violin and piano sound grows up in a rhythmic crescendo till achieving a peak from where the piano softly leaves the scene to the violin. This is an everytime and everywhere song. It's suitable to a wide range of situations, is relaxing, is moving, alone in your room or in a bar full of people. 'Rain' is perfect in each situation. The perfect soundtrack to a driving journey on an empty road. This song can have each shape you want, it's up to your imagination.
I saw Poppy Ackroyd live at the Denovali Swingfest event at London's Scala last April and when she started playing 'Seven' all the people was astonished. Her picking on the piano strings is the proof of her artistry. Really unforgettable. The only pity is that it was too short. The cinematic 'Glass Sea' will blow your mind with its continuous changes in the rhythm. This song is like a overwhelming wave. Just let 'Glass Sea' seduce you. 'Lyre' is a densely emotive work. It' s a simple song, built on a few notes performed on the piano, and really minimalistic. But even from this simple approach Poppy Ackroyd has been able to realize a song so deep and so powerful that no one listener could remain indifferent. It's your song, the one that will bring you to talk with yourself.
'Grounds' and 'Mechanism' conclude the album and I'm particularly fond of 'Grounds' since it was the first song I heard from Poppy Ackroyd music as a solo artist. It was love at first listening and, as all first loves, I won't forget it. This track is gentle, evoking and hypnotic. The rhythm won't leave your mind even when the song will finish. Field recordings are also used in this last song. 'Mechanism' closes the album as a celebration of all the techniques that Poppy Ackroyd uses on Escapement. The violin tapping is the undisputed protagonist of the song and the field recordings add the rhythm to this already rhythmic track. It's a beautiful end for a stunning album.
Escapement has been released last year and now it will have a full physical release through Denovali Records. I recommend this album to anyone who is a fan of music. With its seven tracks of pure and simple music, Escapement is an experience in which the music returns to be more an art rather than an entertainment.
Poppy Ackroyd – Escapement | Echoes And Dust
Interview
POPPY ACKROYD // INTERVIEW
By Geoff Cowart -JULY 19, 201
It's great to see the minimal music of pianist Poppy Ackroyd finally getting some love. Newly signed to Bjork's One Little Indian label, Poppy is celebrating with Sketches, a new 10-song overview of her work as a solo artist. Reissues of her earlier albums and a fresh new album are set for later this year.
You may not have heard of the thoughtful 36-year-old musician but she's got big friends in quiet places. Nils Frahm and Hauschka, both pioneers in the meditative piano scene, have tipped her as a force to be reckoned with.
For Poppy, the process of creating the handy guide to her music was one that felt like she was reinventing, rather than introducing herself. "It surprised me how much work it took me to nail down the 10 tracks for Sketches," she says.
https://embed.spotify.com/?uri=spotify%3Atrack%3A2o2pdiXDvhzcCPsGuCOQfZ
Originally it was just supposed to be simple re-takes on existing material. But Poppy admitted she became "obsessed" about curating it. "I wanted to really focus on the compositions and it took me a huge amount of time. I've gone on a massive journey with some of these songs. Like 'Birdwoman'. I originally wrote it in 2009 for a short black and white animation for an artist in Edinburgh. And that became a track that I worked into my second album, and now I've reworked it into a solo piano piece."
Although Poppy plays violin and keyboards in the rather more bombastic band, Hidden Orchestra, with her partner Joe Acheson, she has long craved the opportunity to concentrate on her solo piano playing.
"I've always wanted to do more solo work. I've been talking about it for years," she admits. "There is something really special about communicating simply through the instrument alone. In a band, there is always something to hide behind. But with only the piano you can focus on your technique and expression, everything feels very audible and exposed and that is very exciting. Especially when playing live."
Born in London Bridge, she grew up in a warehouse that she describes as being in a nice neighbourhood – these days, at least. Her father is a dogged piano player, she says, who's been playing the same handful of tunes and improvisations for most of her life. "We've always had a piano. He plays lots of Irish folk melodies," she explains. "And he plays some Mozart. But generally he just picks up a melody and plays harmonies around it for, like, 10 years."
Poppy was only seven or eight when she decided that her future career would be as a pianist. Her choice was informed by listening to a cassette of pianist and Ealing resident Murray Perahia play Schubert's Impromptus in the family car. "My father had a Bob Dylan cassette as well," she says with a laugh.
But Poppy's tastes were always closer to the Impromptus with their spacious, unhurried setting. The first time her father heard her playing any modern classical pieces – by composers such as Toru Takemitsu and Helmut Lachenmann – he told her simply: "You are outrageous!"
"EVERYTHING FEELS VERY AUDIBLE AND EXPOSED AND THAT IS VERY EXCITING."
"I don't think he understood," she says. "I think it was his polite way of saying to me that it was horrible." While these modern composers were big influences, the most important were electronic pioneers such as Aphex Twin and Steve Reich. Her own music is made in a similar fashion by being carefully constructed from loops of her keyboard musings with a digital pick up and the help of Ableton. The rest is down to her – the use of strategic pauses and repetition to ratchet up the dramatic tension, and how she lets the room provide the natural atmospheric details.
"With loops, it's always the trick of trying not to repeat yourself – but also to avoid being too theatrical or grandiose. I love music that creates a tranquil mood. I wanted to hold back."
—
See Poppy Ackroyd play as part of Piano Day at Barbican on March 29th.
Poppy Ackroyd // Interview | LONDON IN STEREO
Brilliant composer, pianist and violinist of neoclassical instrumental uses layered textures of cinematographic, electronic, immersive, in an atmospheric background, manipulating sounds of these two instruments in a combination of melodies and piano chords played conventionally or created inside the piano using fingers, and -bows and reeds – violin textures, pizzicato melodies and riffs and, finally, delicate beats composed of hits, fingerings, touches and scratches made using the hands, drumsticks, beaters and small plates on the structure, strings or dampers on the piano.
With a smooth cadence and growing compositions, they are creative and engaging, full of details and sentimental effects with a preciousness and virtuosity in an impeccable and impressive way.
A great work and a beautiful collection for refined and demanding connoisseurs.
Aryon Maiden