Post rock from southern Sweden.
Sejd are:
Anton Toresson,
Mårten Wiklund,
Robin Sandquist,
Sebastian Falk,
Joel Wååg &
Sebastian Mårtensson
Dear friends.
After the release of Stella and the lovely response it got we'd like to give you a small update of the bands current status.During the last few months our drummer Anton and our guitarist Mårten decided to leave the band. Both have been with us since our first album and Mårten was also one of the founding members. There are no hard feelings between any of us and for them it was the right decision to make. We are very thankful for the time we've spent and played together with these wonderful people and musicians, we wish them the best of luck!This, combined with the rest of the band also having different creative and musical priorities has led to our decision to have some "down time" ahead. We will still exist as a band, some of us will continue to have jam sessions now and then and we'll see what it will lead to in the future.We are all very grateful for your support, kind words and love over the last couple of years. If you'd like to continue supporting us you can listen to and share our music and check our Bandcamp if you'd like to buy our music digitally or a tote bag (there might be a few left, while stock lasts). https://sejd.bandcamp.com Take care of each other out there!Much love from Sejd; Robin, Sebastian F, Sebastian M and Joel
Discography
Stella
This tune is a bit special to us. Sejd started as a high school project about 8 years ago and was at the time called Stella. The first tune we created during our first jam sessions has been with us since then and has gone through different versions and creative processes. Last year we won a competition held by Signalverket Studios where the price was to record, mix and master a single together with them in their studio and thus we decided to record our first song, now called Stella.
Finally, we contacted the very talented Francesca Bonci and asked for a collaboration. This resulted in her creating this beautiful visual art for the tune.
We are very grateful for the hard work by Signalverket and Francesca and we hope that you will appreciate it as well.
Love, Sejd
credits
released February 26, 2020
Anton Toresson: drums
Joel Wååg: percussion, trumpet
Mårten Wiklund: electric guitar, percussion
Robin Sandquist: electric guitar
Sebastian Falk: electric guitar
Sebastian Mårtensson: bass
Ben & hjärta
1.Storm & stiltje 14:54
2.Pablo Diablo 07:49
3.Dipsomani 06:14
4.Kråke 08:05
5.Ben & hjärta 01:33
6.Brevet i havet 06:00
7.Spasm 05:20
8.Notting Hilda 08:32
about
Ben & hjärta, second album written and recorded by Sejd.
credits
released October 18, 2018
Anton Toresson: drums, percussion
Mårten Wiklund: electric guitar, baritone guitar, percussion, glockenspiel
Robin Sandquist: electric guitar, electric bass, double bass, percussion, pipe organ, tapes, trumpet
Sebastian Falk: electric guitar, electric bass, percussion, harmonium, melodica, hurdy gurdy, piano
Mixed and produced by Sebastian Falk and Sejd.
Mastered by Sebastian Falk.
Artwork by Buddie Backman and Sebastian Falk.
Special thanks to Buddie Backman and Chanon Daniel Borgström.
Sejd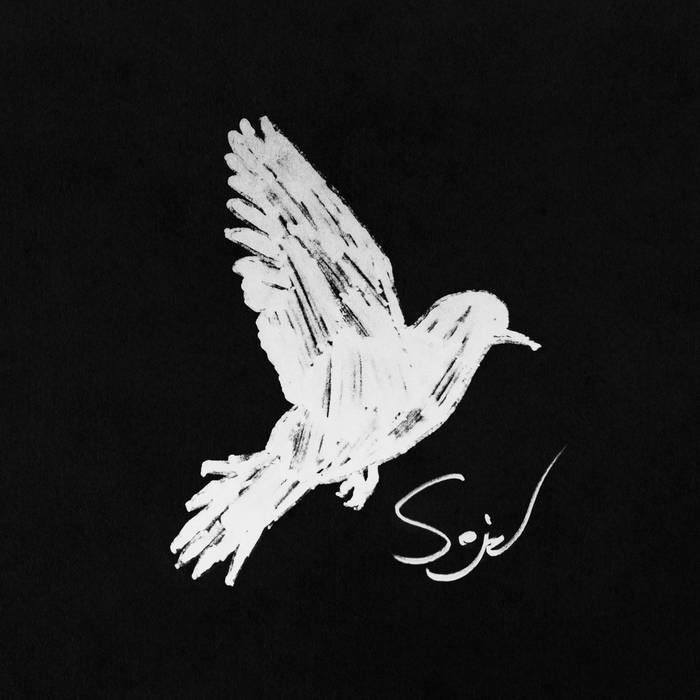 1.Duvan från Tuvalu 09:46
2.Och du Vackra 06:27
3.Båtsman 07:10
4.Irrbloss 05:45
5.Hefaistos Komplexet 06:23
6.Henry, Haiti & de Härliga Semlorna 05:59
7.Del II 02:14
8.Vinterstråket 05:49
about
Sejd debut album.
Recorded by Sejd, mixed and mastered by Sebastian Falk.
Artwork by Buddie Backman.
Special thanks to Anna Dahlin, Jonas Sandquist, Café Kryptan and Noak Esbjörnsson.
credits
released June 22, 2015
Interview
Sejd
From the very southern parts of Sweden we find the alternative rock band "Sejd" which bring us songs and compositions which sometimes runs for some 7-8 minutes and more. The term "Post-Rock" has been used to death and is quite worn out by now. Yet this is perhaps the easiest, laziest and fastest way to describe this band.

Courtesy by: "Sejd"
Many bands tend to put riff after riff as fast as they can, yet with "Sejd" there´s more of a quiet and slow "build-up". Not calling your music explicit "crescendo music" or "Diminuendo music", yet one can usually hear an idea slowly build up with different layers and grooves on top. How do you usually come up with your compositions?
Sejd: On our early songs we used to come up with specific ideas and riffs that we then worked around together. Recently our latest approach to composing has been to simply jam. Most of our ideas just come up when we play together.
Could you tell us a bit on how and why you started the band in the first place?
Sejd: It was actually a high school project by Mårten where he asked some of us to join in. Most of us come from the same school and had similar projects going at the time. Later it evolved to the band that it is today.

Since the earliest days of the band and up until this day and two albums later, how has the journey been so far?
Sejd: To be honest it has been a slow journey and a bunch of setbacks on the way. Everything from band members getting injured to gigs getting cancelled. Also it's a very nische genre and there isn't really a scene established in Sweden, even less so in Skåne. However since our latest release and last year we've had a lot more continuity and things are looking better.
Courtesy by: "Sejd"

Not sounding pretentious, yet would you agree to some small amounts that your music is quite intellectual and perhaps for the sound nerds?
Sejd: Our music is more about evoking feelings and emotions. See it more as an art piece than "commercial music". We think you need to have some patience to get into this kind of music. We've got international listeners and followers and our music seems to translate well.

People not familiar with the broad spectra of "Post Rock", "Alternative Instrumental Rock" and so on, might when they hear you for the first time perhaps call your music for "Modern Jazz with elements of rock". Do you come from a jazz background or is this just pure coincidence?
Sejd: Pure coincidence. We all have our very different musical backgrounds but we've actually never heard our music being called "modern jazz".

Here´s a question which we tried long ago with another band. How would you describe your music for someone who can not hear?
Sejd: It's like an art piece being made or painted. Something like that.

Talking a bit about live concerts. "ICIT Webzine" also records concerts with bands from time to time. Do you prefer to play live or is your main focus to deliver studio albums and why so?
Sejd: Definitely live performances. The music can develop in another way and we like to see people's reactions to it.

When listening to your music it´s not hard to picture one of your songs on a soundtrack to a film. Perhaps a SCI-FI movie or a movie with slower tempo when zooming in a forest or standing up on a mountain and looking down at the landscape below. Have you thought of including your songs in other areas than on your albums and which soundtrack that already exists would you have wanted to be on?
Sejd: We actually had our music on some videos but we'd love to be featured more. Not a specific soundtrack, but anything with scenic landscapes like you're describing. Also anything with David Attenborough.

Last question for this time. Many bands always tend to describe every new album as a new effort and different to their last one. Is it important for you to evolve or is it more important that the songs come alive by themselves?
Sejd: It goes hand in hand. We want to develop our own style by experimenting with new sounds and instruments. It usually comes quite naturally and we think that's a good thing.Many thanks for answering the questions for us!
Sejd are:Anton ToressonMårten WiklundRobin SandquistSebastian FalkJoel WåågSebastian Mårtensson
For more info about "Sejd" check:
https://sejd.bandcamp.com/music
http://www.facebook.com/sejdband
Sejd (icitwebzine.blogspot.com)
Reviews
Sejd – Ben & hjärta
A Closer Listen
Swedish post-rock septet Sejd wastes no time getting to the good stuff. Opener "Storm and stiltje" ("Storm and lull") is a bold move. A quarter-hour in length, it's also more than a quarter of the album. The title is perfect for a post-rock piece, summing up all that we love about the genre. Most importantly, Sejd uses the extended work to to share its stacked hand: in addition to the powerful bass, drums and guitar, the opener offers segments of trumpet, glockenspiel and lyric-free vocals. It's fair to say that we prefer this breed of post-rock, which touches upon modern composition. As the genre continues to fight for relevance, newer bands can still make a mark by expanding their repertoire.
The advertised lull arrives mid-piece, providing time for fog to roll off the mountains and smoke to seep beneath the doors. We run outside to secure the loose items in the yard. When the clouds break, they surrender the rain in slowly-increasing sheets rather than in a torrent ~ the rest of the set will provide the thunder. For Sejd, it's more about establishing a mood, piquing the interest through nuance before entertaining with power. The trumpet keeps its distance until the final minute of "Pablo Diablo," but we anticipate its return.
While the tracks grow progressively shorter (the briefest being the title track, at 1:33), they flow so well we hardly notice. The album imitates the opening track by offering a lull in the middle as well. Storm clouds gather and the humidity rises once more, breaking with the drum rolls of "Spasm." We'd have liked just a little more brass in the finale, but that's a minor quibble. The opening track is better than most post-rock albums, and alone is worth the cost of admission. On Ben & hjärta, Sejd proves it has the talent to match its ambition. (Richard Allen)
Sat Oct 27 00:01:07 GMT 2018
Sejd – Ben & hjärta — album reviews — mjuziq
Stupendous instrumental band of post rock music, using layered textures of melancholy, progressive, metal and neoclassical in an atmospheric background.
His melodies are long, well structured, refined, exquisite with trumpets, hurdy gurdy, piano and harmonica, his soundscapes are creative, immersive, with energetic and intense nuances.
Evolutionary and polished work on each album, very rich in details and with an impressive performance that entrances feelings in chords and arpeggios.
A rare and immense scenario is outlined in waves that provide an outbreak of feelings for this valiant and creative Band, changes happen in the natural, and for sure new pearls will be uttered.
Great band
Aryon Maiden