Echo Says Echo is a post-rock band from Paris, France who creates complex ambiences, merging bright and gentle melodies with massive distorted guitars. The atmospheres constantly change and evolve while they explore different soundscapes. Emotional, powerfuland full of nuances, the sound captivates the listener.
Behind the mysterious name, we see four musicians who met in 2015 and immediately started composing music together. Their music being full of energy and the live dimension is essential to them. They performed a lot of shows and they eventually decided to record the songs they had been playing around for months. They became the part of Fluttery Records artist roster with their 2021 debut album "Pause".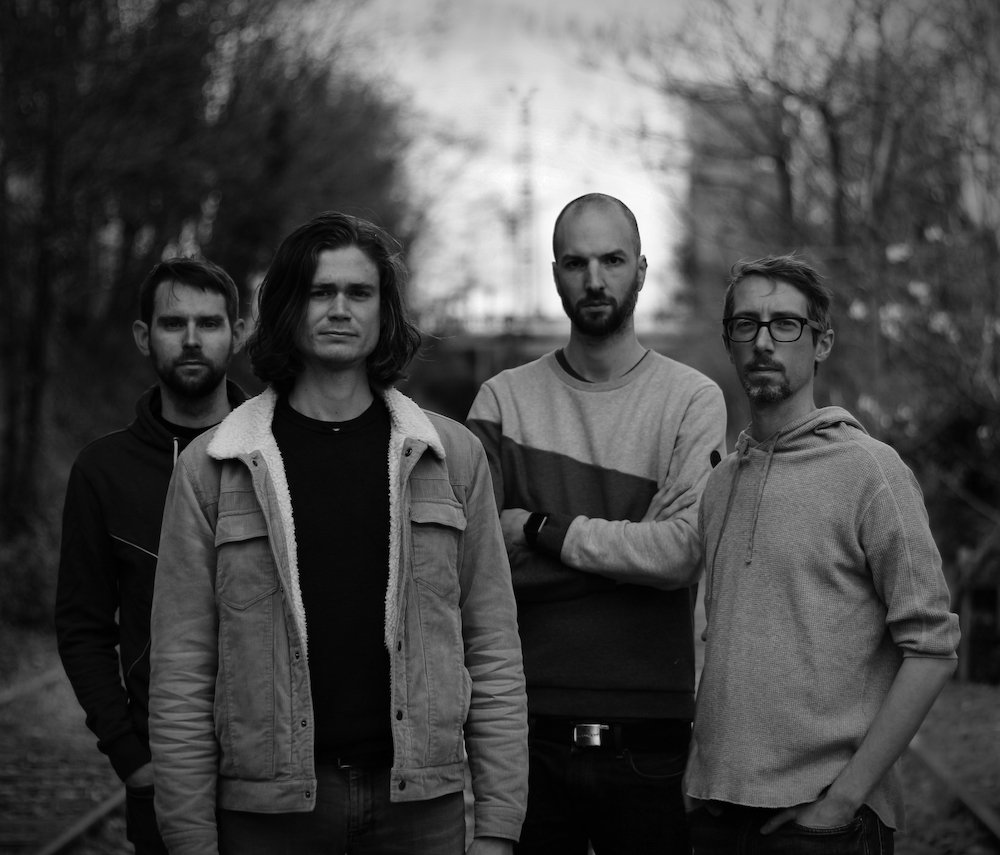 Members
Alain/ bass
Alberto / guitar
William / guitar
Aurélien / battery
Discography
Pause
1.After the Bombs, The Silence 08:18
2.Our Toxic Surroundings 06:01
3.Dystopia 07:40
4.Sitting by the Lake 08:04
5.Monsters in the Maze 12:09
about
FLTTRY187
© Fluttery Records
The atmosphere constantly changes and evolves, exploring different soundscapes in Echo Says Echo universe. Sometimes emotional, sometimes powerful, always creative and full of nuances, the sound captivates the soul and the heart.
"Pause" is a story. It's a story about darkness, but also about beauty, it's about four people that met and never stopped making music together. It will take you to a trip in their world. Imagine a land where everything has been devastated. The sky is red and dusty, the wind screams a gloomy lamentation. A simple melody can be heard afar. Pure, joyful and melancholic at the same time, the notes repeat themselves, hauntingly.
credits
released June 24, 2021
Reviews
ECHO DIZ ECHO Pause – totoromoon (wordpress.com)
Brilliant Parisian quartet of post rock instrumental, using layered textures, ambient, melancholic, metal, psychedelic, shoegaze, in a dark background.
The quartet exists since the end of 2014 and makes its debut with the album Pause with five immersive melodies, intense, complex, long, very well structured, filled with distorted riffs, high, precise, noisy, slippery, wrapped in a melancholy immersive sensibility and disruptive.
Their guitars duel in opposing scenarios creating beautiful landscapes marked by a prominent bass and drums in both times.
His creativity impresses through the countless variations and nuances performed with mastery and with a vigorous intensity full of technique and feelings.
All the melodies are great, my favorite Monsters in the Maze, an exquisite masterpiece that brings together countless textures with an intensity that borders on brilliance in chords and arpeggios showing the antagonism with intoxicating scenarios that completely involves our perception, great album and band, I recommend.
Aryon Maiden