Biography
Jana Draka is an Italian Progressive band composed of Valerio Magli, Danilo Pantusa, Federico Aramini and Valentina D'Angelo.
The project began in the Autumn of 2014, when Valerio Magli decided to form a Rock band with Luigi Conte on the drums, Lorenzo Cecchetti on the bass and Danilo Pantusa on the guitar. This group worked on the arrangement of original songs until the end of 2015, when they started to record their first EP with just a a PC and a small sound card.
On December 29, 2015, Jana Draka performed in their first live concert, which had a great success among the audience. One month later pianist and keyboardist Francesco Straface joined the band and completed the first line-up.
On May 7, 2016, the EP Introspection was published and in June the band released the videoclip of the single Portrait of Fancy.
Due to some divergences with the other members of the band, Luigi was replaced by the young drummer Riccardo Lirangi. With this line-up Jana Draka resumed their work for the realization of anew Album, but in Summer 2017 Riccardo and Lorenzo left the project. Although the band kept on working on the Album and they succeeded in the release of their second single A Gem's Last Moment. When also Francesco decided to leave the band, Valerio and Danilo moved to Rome to start everything from scratch.
In September 2018, Giorgio Belluscio, keyboardist in the EP Introspection, was immediately included in the project and after some months Federico Aramini, a second keyboardist, joined the band. In May 2019, with the entrance of the drummer Valentina D'Angelo, the line-up was completed.
With this new members and a lot of determination (and some new preamplifiers) Jana Draka self-produced their first Album, Where the Journey Begins, released in December 2019, from which two singles were extracted: Salem and Daydream.
The Album obtained 90/100 on the review Metal Winds, it was well received and transmitted in Holland by the radios TVRDO and IKSC, together with Novena, Karfagen, Neil Morse Band, Porcupine Tree, Pink Floyd, Tool and other Prog artists. On January 12, 2020, IKSC chose Where the Journey Begins as Album of the Week.
In March 2020, They were selected by Intervallo…Prog as finalists for the2Days Prog + 1Festival and they obtained the second position. Due to Covid19 the band had to interrupt any Live Concert but in this period Where the Journey Begins is still broadcasted by a lot of radios, reaching France, Germany, United Kingdom, Brazil,Portugal, USA, Canada and Australia. The Album reviews are increasing almost daily.
In September Giorgio had to leave the band for personal reasons and Jana Draka came back towork with a line-up of four members and the aim of strengthening their sound and beginning to write new material.
On December 8, 2020 the new single A different Kind of Christmas was released and it has been broadcasted by some radios and reviewed on the famous website Musicoff- Where MusicMatters.
Font: https://janadraka.altervista.org/
Discography
Where the Journey Begins
1.Overture 02:46
2.Coming Home 08:12
3.Salem 03:52
4.The Outsider 05:35
5.A Gem's Last Moment (Pt.1) 03:20
6.A Gem's Last Moment (Pt.2) 04:48
7.Carcosa 04:45
8.Limbo (Pt. 1) 01:54
9.Limbo (Pt. 2) 02:43
10.Limbo (Pt.3) 05:47
11.Daydream 04:36
12.Awaken 03:53
13.Notturno 02:41
about
"Where the Journey Begins" is the first self-produced LP by Jana Draka. It is the result of two years of composition ad arrangement and represents a huge change of the band's style from Alternative to Progressive Rock, without losing the Lyrical and Narrative elements of their first release.
credits
released December 17, 2019
Valerio Magli: Bass, Lead Vocals, Double bass
Danilo Pantusa: Guitars, Choirs
Giorgio Belluscio: Synth, Choirs
Federico Aramini: Piano, Organ, Synth
Valentina D'Angelo: Drums, Perc, E.Drums
Guests:
Sara Mun: Vocals on track 3
Lorenzo Caristi: drums on track 12
Benedetta Manfrinetti, Chiara Scordino, Alice Guercio, Veronica Bartolomei: female choir on track 4 and 12
Mix & Master: Danilo Pantusa
Cover Art: Rachele Morganti
A Different Kind of Christmas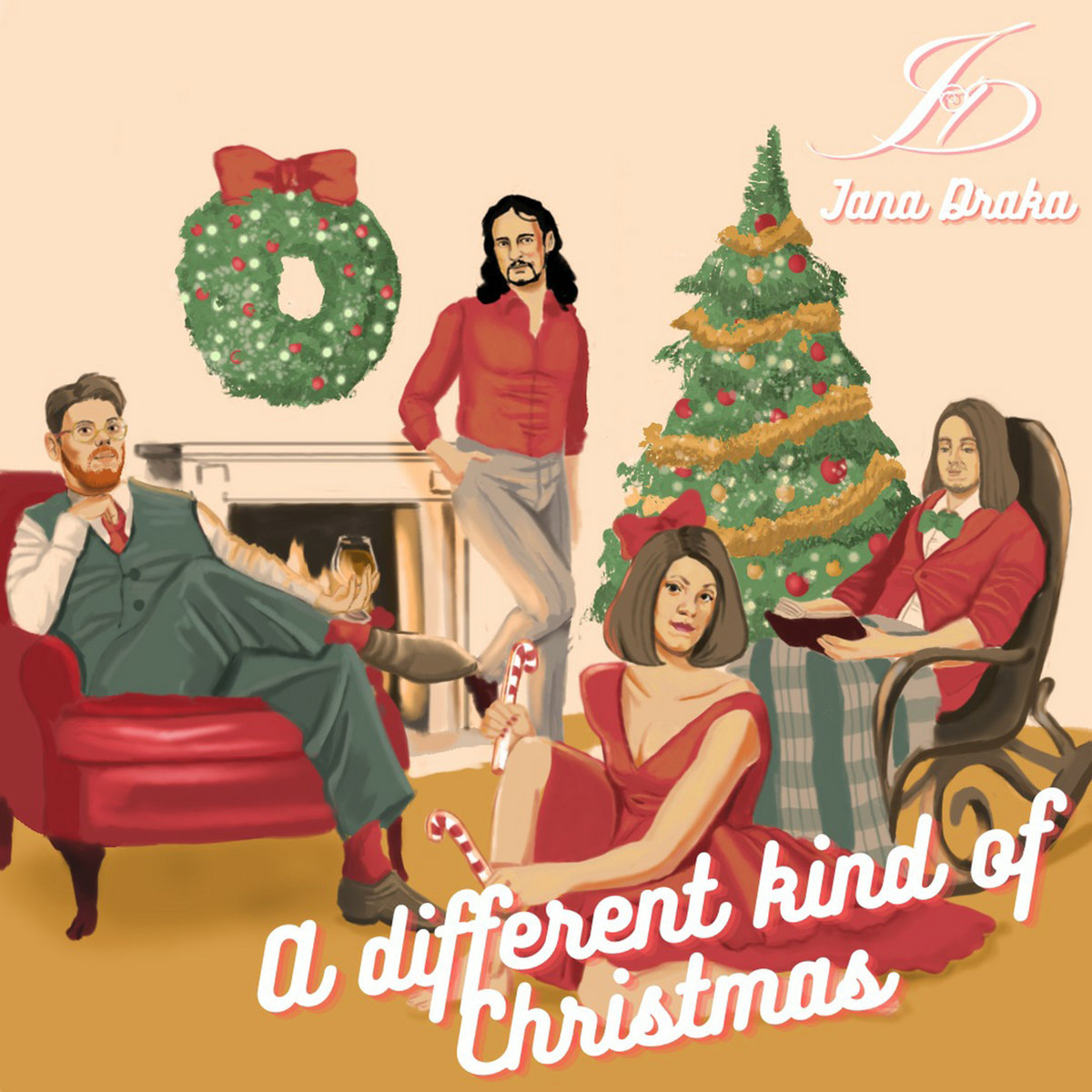 Here's our brand new Christmas song. We know that everything is odd this year so we hope to at least put a smile on your face with our music!
lyrics
So many years spent singing
christmas songs
many decorations after
you just notice you're grown old
another tree and other eyes to see
that holidays are not
ponies gifts and cheers…not anymore.
Christmas time
in your mind
lots of bills
and relatives you don't see anymore,
don't waste your time
it's all about
the love you share
and not that glass of scotch, i swear.
i know it could be quite sad
when you realize you're grown,
when that christmas sweater starts
to look quite cool
Christmas time
in your mind
lots of bills
and relatives you
don't see anymore,
don't waste your time
it's all about
the love you share
I'ts my last drink, i swear
Lights shine
in christmas time
bells chimes,
food satisfies.
Children scream,
sweets with cream
some warm hugs…
please Santa, pass me now my reserve wine!
credits
released December 8, 2020
Valerio Magli – Bass and Vocals
Danilo Pantusa – Guitars
Federico Aramini – Keyboards
Valentina D'Angelo – Drums
https://www.youtube.com/channel/UCOyZrDsFDc5xVJbRDbzdUqQ
https://janadraka.bandcamp.com/music
https://www.facebook.com/JanaDraka
Brilliant Italian band, using neo-progressive, experimental, alternative, art, rock, and progressive textures in a lyrical and narrative atmospheric background.
Its melodies are long, refined, well-structured, full of distorted riffs, high, precise, with beautiful fingerings, bouncing bass, immersive keys, wonderful guiding drums in both tempos and clean and intense vocals.
Her debut album "Where the Journey Begins" is an indescribable gem, in creativity and performance, filled with magnificent and ecstatic chords and arpeggios capable of taking the most demanding of the genre to climax. that express an immense baggage of competence and virtuosity, a masterpiece.
"A Different Kind of Christmas" shows a humorous irreverence with talent and competence.
It was a privilege to appreciate the work of this magnificent Band, success and creativity always.
Aryon Maiden